Are you looking for a sports watch to keep an eye on your heart rate during your workouts? Heart rate monitors have become a standard piece of equipment for athletes of all levels. And rightly so in my opinion! The sports gadgets allow you to fully exploit your potential and properly control your exercise intensity. There is often a differentiation between sports watches with and without a chest strap. This article is about the variant with a chest strap and all the advantages of this measurement method. 
Sports watches with chest straps measure your heart rate extremely accurately and, above all, extremely reliably. In today's article, you will learn everything you need to know about this topic. At the end you will also find my personal favorites. Have fun! 😉
Why You Should Use A Sports Watch With A Chest Strap
Most sports watches can measure your heart rate without a chest strap. This wrist-based optical heart rate measurement works by detecting the change in color of the skin due to increased or decreased blood circulation. In many cases, the values are quite accurate and reliable, but as soon as the watch does not fit tightly on your wrist, or particularly much sweat or hair complicate the measurement, inaccuracies can and will occur.
Chest straps, on the other hand, measure the heart rate as an electronic ECG. For this purpose, changes in the electrical voltage resulting from contractions of the heart muscle are recorded. This type of measurement is much more accurate and reliable.
If you are a sports beginner or looking for a good heart rate monitor for the beginning, then you are certainly well advised with a simple sports watch! However, if you are a little more ambitious and want to get the most out of your workouts, then I would recommend a sports watch with a chest strap. After all, especially in the advanced range it depends on a few percent and the smallest changes already play a big role.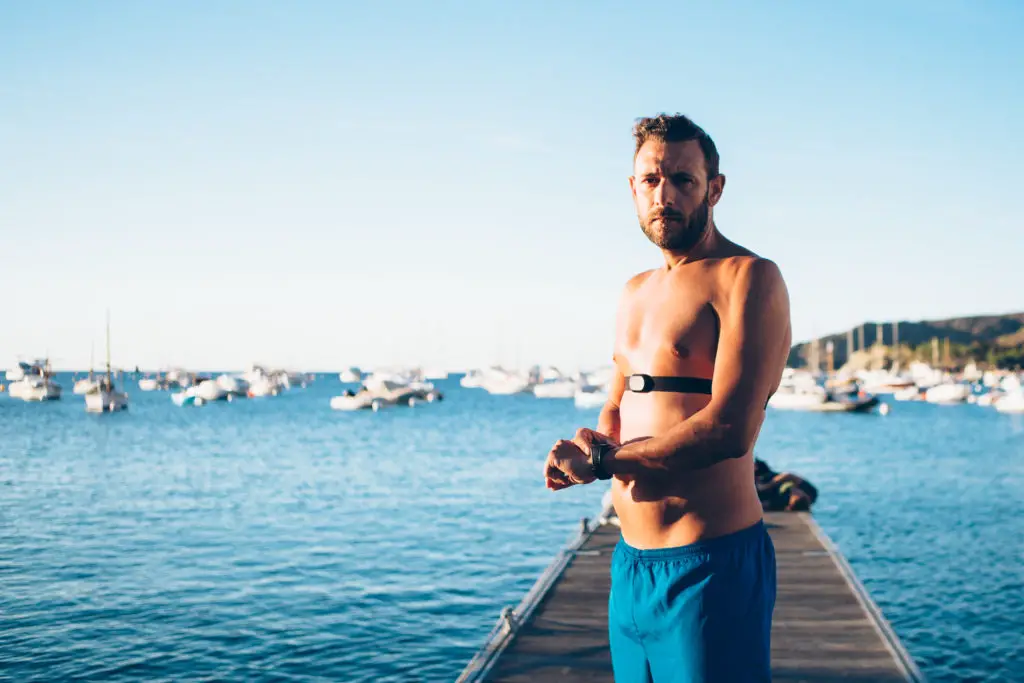 Advantages and Disadvantages of Using a Chest Strap
Like almost everything in life, sports watches with chest straps have their advantages and disadvantages. As already mentioned, one of the advantages is the higher accurateness compared to the wrist-based measurement. Here once briefly and succinctly summarized, everything that speaks for and against them:
✅ very accurate heart rate measurement
✅ very reliable: no erroneous or completely missing data
⛔ wearing the chest strap all day long is very impractical
⛔ the chest strap can chafe or disturb you during your workouts
After all, I can tell you about the advantages and disadvantages of both options, but I cannot take the decision from you. Simply put, in this case it depends on your personal goals: Are you extremely ambitious and want a heart rate monitor that provides very detailed results without exception? Then choose a watch with a chest strap. However, if you do sports mainly for your own fitness and health and not necessarily in the professional area, then I would rather recommend using a heart rate monitor without a chest strap. In this article I have compiled the best heart rate monitors without a chest strap.
Features of a Sports Watch With A Chest Strap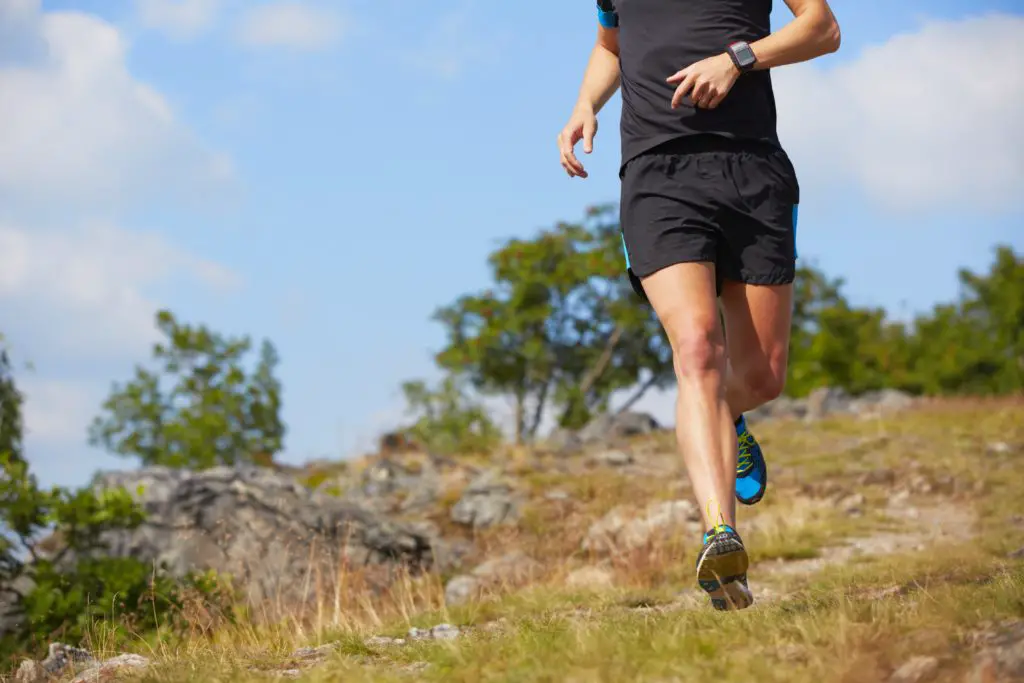 Nowadays, sports watches are no longer just heart rate monitors, but true all-rounders! Which features should not be missing depends on your sport, your goals and last but not least your personal preferences. For swimmers, for example, a waterproof heart rate monitor is essential, while for long-distance road cyclists, for example, a GPS feature or a speed measurement could be helpful.
Here is a short overview of some additional features of sports watches:
Distance measurement
Speed measurement
GPS recording
Pedometer
Smartphone connectivity
And here again are some features that could serve as buying criteria:
Comfort of the chest strap
Waterproofness
Battery life
Design
touch display
For swimmers, I have compiled an extra article with ideal heart rate monitors and chest straps. You can have a look at it here.
The Best Sports Watches With A Chest Strap You Can Currently Get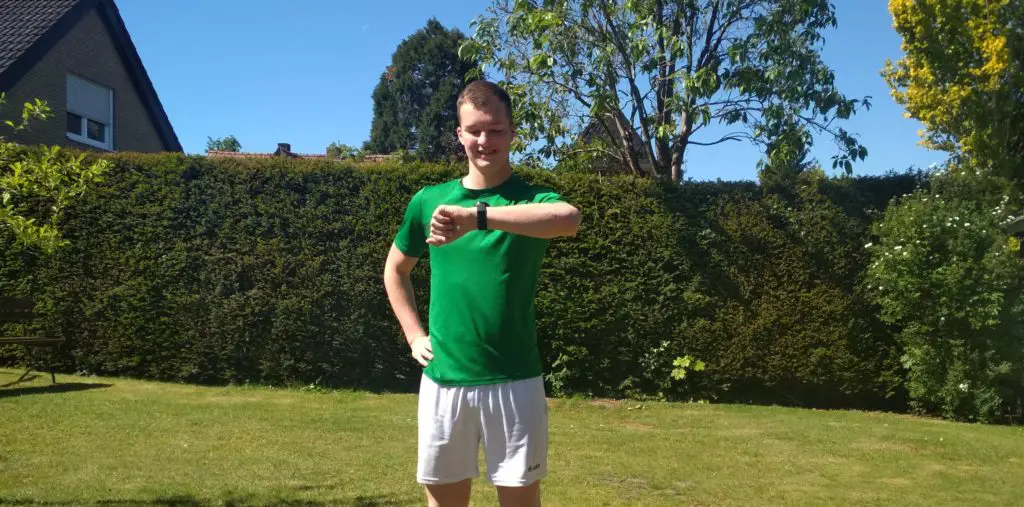 Here you will find the best current sports watches with chest straps in my eyes. I don't want to recommend cheap Chinese goods to you and in this case I have mostly deposited models that come from the pioneers in the field of sports watches, which have already convinced countless athletes with their quality for years.
Almost all heart rate monitors of today also offer an optical heart rate measurement without a chest strap, but also almost all of them can be paired with a chest strap. Therefore, the following models should not be missing in my eyes when it comes to the best sports watches with chest straps.
The Polar Vantage M: My Favorite And An Absolute Classic
The Polar Vantage M is currently one of the most popular heart rate monitors and rightly so! With its insane functionality and its amazing training mode, it has become a very popular choice among all athletes.
You can find my full review of this watch here. In short: For me it's the detailed training features and the very helpful post-workout analysis, that make the Vantage M stand out.
And most importantly, Polar also offers a matching chest strap with the Polar H10. This has to be purchased separately, but it is one of the absolute kings among chest straps.
Overall, I consider the Polar Vantage M and the H10 chest strap to be optimal and I can highly recommend it to you. But it's best if you just take a quick look at both products yourself. Here you will find the sports watch and here you will find the Polar H10 chest strap.
The Garmin Vivoactive 4: Also always a good choice
What would an article about sports watches be without a product from Garmin? I think "incomplete" sums it up quite well here.
Along with Polar, Garmin is THE big player in the field of sports watches and I would almost have a guilty conscience if I didn't say a word about this manufacturer in this article.
The Garmin Vivoactive 4 has been one of the most popular models for years, and it is one my personal favorites as well, because it really is a top-class heart rate monitor.
You can find my full review here. I can tell you that I was particularly convinced by the very good suitability for everyday use, the nice design and the many, great sports functions.
As with the Polar model, the corresponding chest strap can be purchased separately and paired quickly with the watch. Again, I guess that it would be best if you just take a look at both products for yourself or read my full review. Here you will find the Garmin Vivoactive 4 and here you will find the chest strap.
The EZON Heart Rate Monitor: A Simple Sports Watch Without Bells And Whistles
Finally, we come to a very simple sports watch that can certainly not keep up with the functionality of the first two products, and yet should not be missing in the list of the best sports watches with a chest strap: The EZON heart rate monitor.
The EZON heart rate monitors are known for their simplicity and strong price-performance ratio. It really concentrates purely on sports-related measurements, such as the current and maximum heart rate, calories burned and similar data, and does without things like music control, smart notifications, etc. For this reason, however, it is also by far the cheapest in this list at just below 100 dollars.
The nice thing about this watch is that the chest strap is already included in the delivery even at this bargain price and thus does not have to be purchased separately.
If you are looking for a simple sports watch with a chest strap and you can safely do without other bells and whistles, then you should definitely take a look at the EZON heart rate monitor. Here you will find it.
What You Have To Pay Attention To When Using A Chest Strap
The goal should be that you do not even notice the chest strap when wearing it. It is therefore important that the chest strap fits correctly and that you set and adjust it correctly beforehand. I advise you to integrate the chest strap into your normal everyday life for a few hours before you go running for the first time. Wear it while watching TV, while cooking and simply round the clock. You will quickly notice whether the chest strap becomes a burden or whether it does not restrict you at all. The latter should be the case, of course!
Here's how it works: The chest strap sits just below your chest and is not too loose, so it doesn't slip. You can easily test this by coughing several times in succession while standing. If the belt slips, it is too loose and should be adjusted a little tighter. After that, I advise you to do a quick test run with your chest strap. Quick for the reason to provoke the slipping of the belt. If it withstands a 10-15 minute quick test run without slipping and does not constrict, it is perfectly adjusted. You are ready to go! 😉
What To Do If The Chest Strap Chafes?
Especially if you run extremely long distances with a chest strap (e.g. a marathon), it can sometimes happen that it chafes despite a perfect fit. Don't worry: Chafing is mainly caused by friction and we can prevent this to a large extent by adjusting the chest strap correctly.
Otherwise, there are a few more tips and tricks for preventing chafing. For example, it helps to rub the affected areas with milking grease or petroleum jelly beforehand. Since the skin absorbs these ointments over time, you should not skimp here. For a very long-term protection, you could also use anti-chafing products, which were created specifically for these cases. These products contain silicone and are therefore not absorbed by the skin and can maintain the protective film over a longer period.
Last but not least, there remains the option of taping the affected areas beforehand. This should help, but I personally prefer the first options. Just try out what works best for you. 😉
Final Thoughts on Using A Sports Watch With A Chest Strap
I hope I could help you with this article.
Which watch you ultimately choose depends on your personal preferences. I can only recommend the watches to you that have convinced me personally and are useful training aids from my point of view. This is the case with all the three models mentioned above.
Finally, I wish you a lot of fun with your new sports watch and chest strap! 🙂