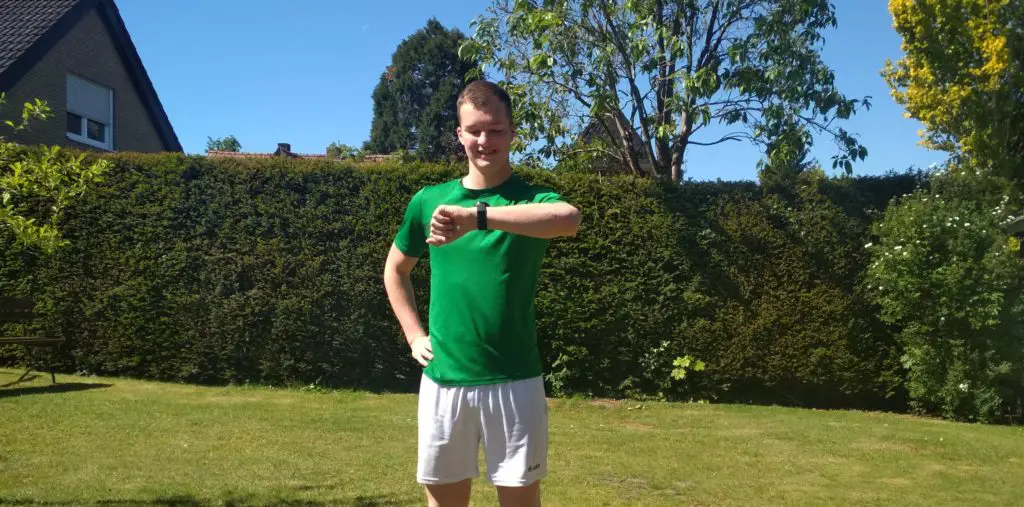 The Polar Vantage M is one of the most popular sports watches. The model's full name is "Polar Vantage M Allround Multisport Watch with GPS", or in other words: A true all-rounder. I have simply heard and read so many positive things about this sports watch in recent weeks and months that I couldn't help but review it myself.
In the last 4 weeks, the Polar Vantage M was my faithful companion. What are my findings after the first month and can the sports watch meet my high expectations? This is what we'll figure out together in today's product review. Have fun! ?
| Pros | Cons |
| --- | --- |
| ✅ sensational battery life | ⛔ no touch display |
| ✅ very accurate and reliable heart rate measurement | ⛔ GPS mediocre |
| ✅ detailed training mode (+App) |   |
| ✅ display easy to read |   |
| ✅ excellent price-performance ratio |   |
Unboxing Experience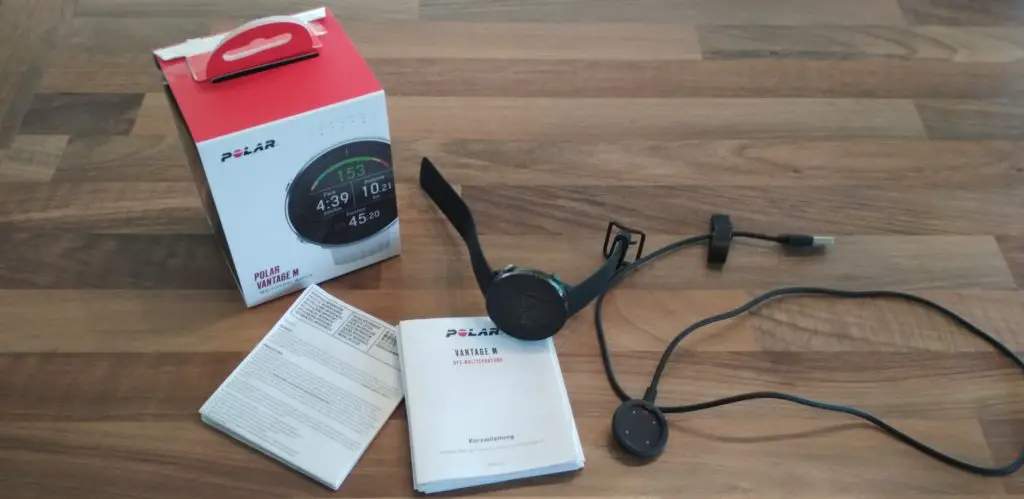 Even though the Polar Vantage M is like my 100th sports watch that I've had the pleasure to review, I still wait in anticipation for the day of delivery as much as I did for my first review. When the day finally arrived and I heard the doorbell ring, I sprinted to the front door so fast that even Usain Bolt would probably have been proud.
The glow in my eyes, it is still there even after so many tested products. Before I put the sports watch through its paces, however, I first took a close look at the scope of delivery:
Polar Vantage M
USB charging cable
Instruction manual
Safety instructions
So far, so good! High time to take a closer look at the Polar Vantage M! ?
First Impressions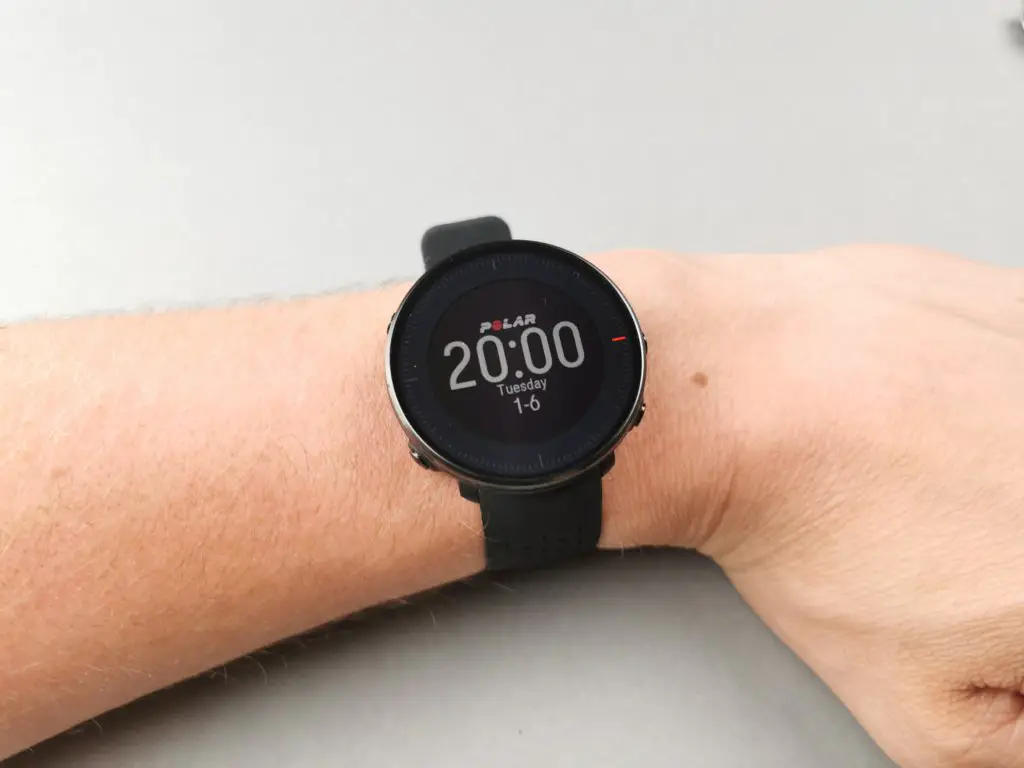 First impressions count but this is also a matter of taste! I myself must say that my enthusiasm, which I have already developed in advance, has not subsided even with the first impression – quite the opposite!
I've put together a few pictures here, so you can get a first impression yourself. For my part, I can only say that the Polar Vantage M looks to me like a modern and sporty watch.
The Wristband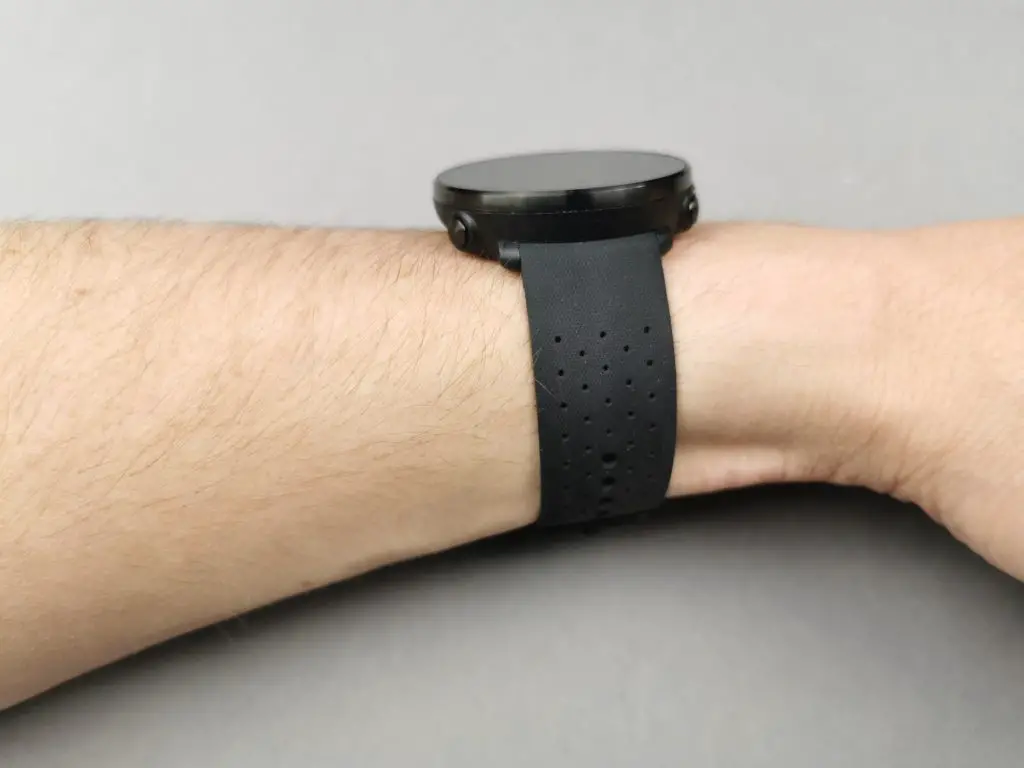 Unlike the V800 and M430 models, which are also popular Polar watches, they have not opted for a rigid wristband for the Polar Vantage M. In my review of the Polar M430, I criticized that it's not the most comfortable watch to wear.
The flexible and removable wristband of the Vantage M has improved this considerably, so that the sports watch now fits very comfortably on the wrist. In this respect, Polar has finally caught up with the competition!
The strap of the Polar Vantage M is made of silicone and combines robustness with good wearing comfort. It is also breathable due to the many small holes.
As I almost always do, I have opted for the simple, black wristband. Quite boring, I know… However, you can choose from a bunch of other wristbands and even after some time, you can easily change if you feel like trying out a new color.
You can choose between the colors black, white, blue, green and red. So, there should be something for everyone! ? You can find offers for single wristbands for the Polar Vantage M here.
The Case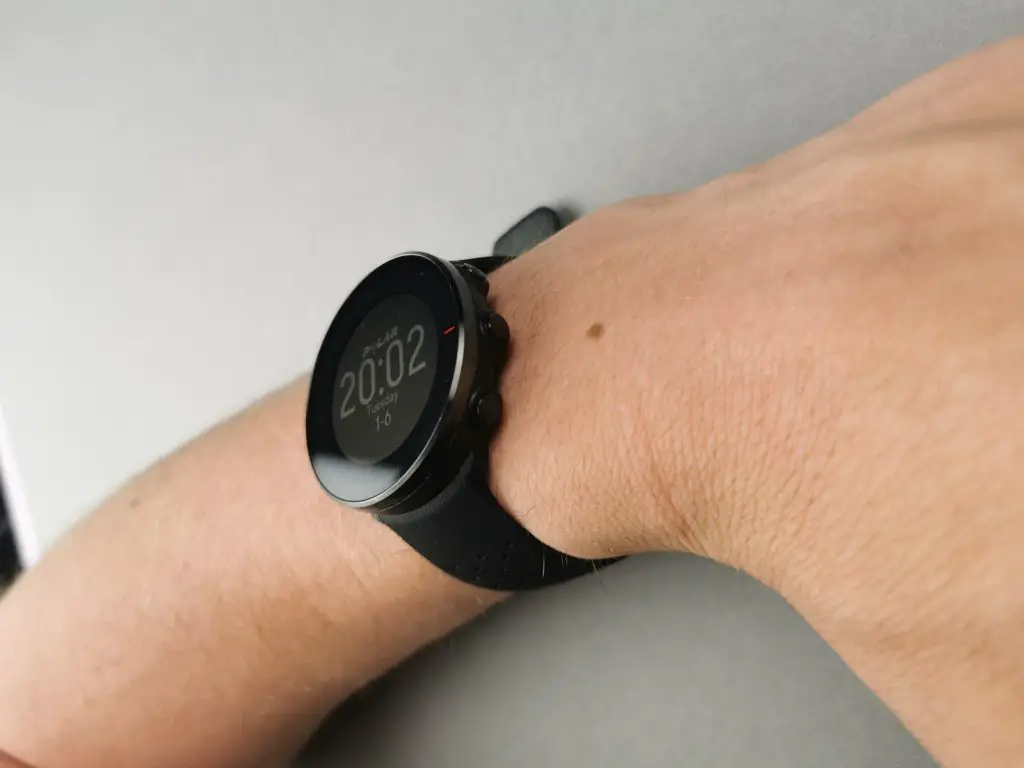 From the wristband further towards the core of the sports watch: what is the first impression of the Polar Vantage M case?
Polar has changed from the typical angular look of its predecessor models and chose a round, classic watch design for the Vantage M. Of course, this is a matter of taste, but in my opinion, a nicer and more elegant solution has been found here!
The case comes with a total of 5 buttons, three of which are on the right and two on the left. We'll get to the exact features of these buttons in a moment, for now it's just about the first impression.
The case itself is made of plastic but is surrounded by a stainless steel ring. Among other things, this ensures that it is very light at just 45 g, which should also please your wrist! ? Nevertheless, the quality of the watch does not suffer from the lightweight construction. To me, the Polar Vantage M looks like a very well-made, high-quality and robust sports watch.
The back of the case includes a total of 9 LED sensors for the heart rate measurement (more on that later). In addition, 4 magnetic sensors are also placed here to detect whether the watch is being worn or not.
The Features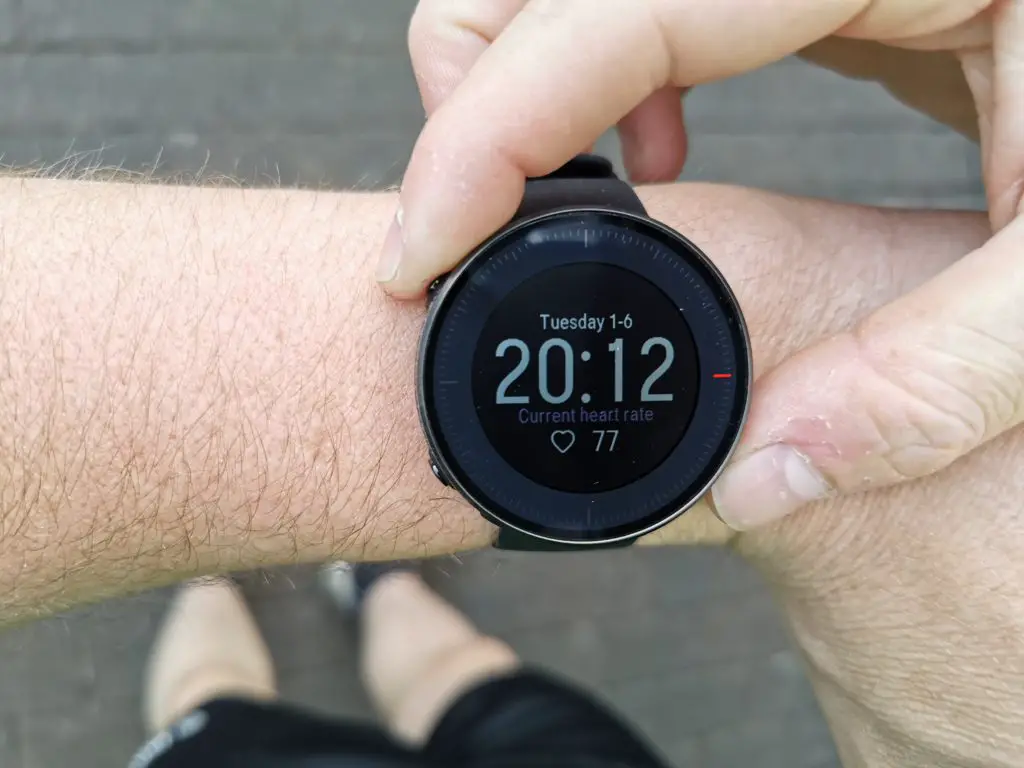 As we all know, Beauty is only skin deep – it is what is inside that counts! So far, I have only referred to the optics of the sports watch, so it is now high time to take a closer look at the heart of any sports watch: What about the features of the Polar Vantage M?
For scrolling through the many menu items of the watch, as with many predecessor models, there is no touch display, but haptic buttons on the edge of the housing. However, this does not make the operation worse, no, you can also manage wonderfully with the buttons!
In addition, it is often the case during sports – at least for me – that there are problems with the touch display due to sweaty hands or rainy weather conditions…
At first, you may have to get to using the buttons a bit, but after a very short time, the operation is fairly easy and intuitive!
With the right buttons you jump back and forth within the menu items. The upper button leads you to the upper menu item, the lower to the lower one. With the middle button you confirm the selection and go to the detailed view of the menu item. Up, down, confirm. Easy as pie, right? ?
In the menu item for heart rate measurement, you will initially only see your heart rate. If you now click the middle, right button, you will get to the detailed menu, where you will see more data about your heart rate. Of course, you can also jump back and forth in the respective menu items with the upper and lower buttons.
On the left side there are 2 more buttons. With the upper button you can turn the backlight on and off, while the lower button takes you back to the main menu. If you are already in the main menu, clicking the lower left button will take you to the training mode, as well as some other functions (settings, timer, …).
Here are a few more tips and tricks on using the buttons:
Keep light button pressed: Key lock
Keep confirm button pressed: Go directly to training mode
Restart watch: Settings > General settings > About your watch > Start your watch
The Basics
The main screen of the Polar Vantage M initially shows only the time and date. You can also choose between different designs (digital and analog) in the settings.
As already mentioned, you can use the menu buttons on the right to jump to the various menu items. The following features are available here:
Time + date (main screen)
Activity level/daily goal
Training status
Heart rate
Overview training sessions
Sleep analysis
Training coach
The Training Mode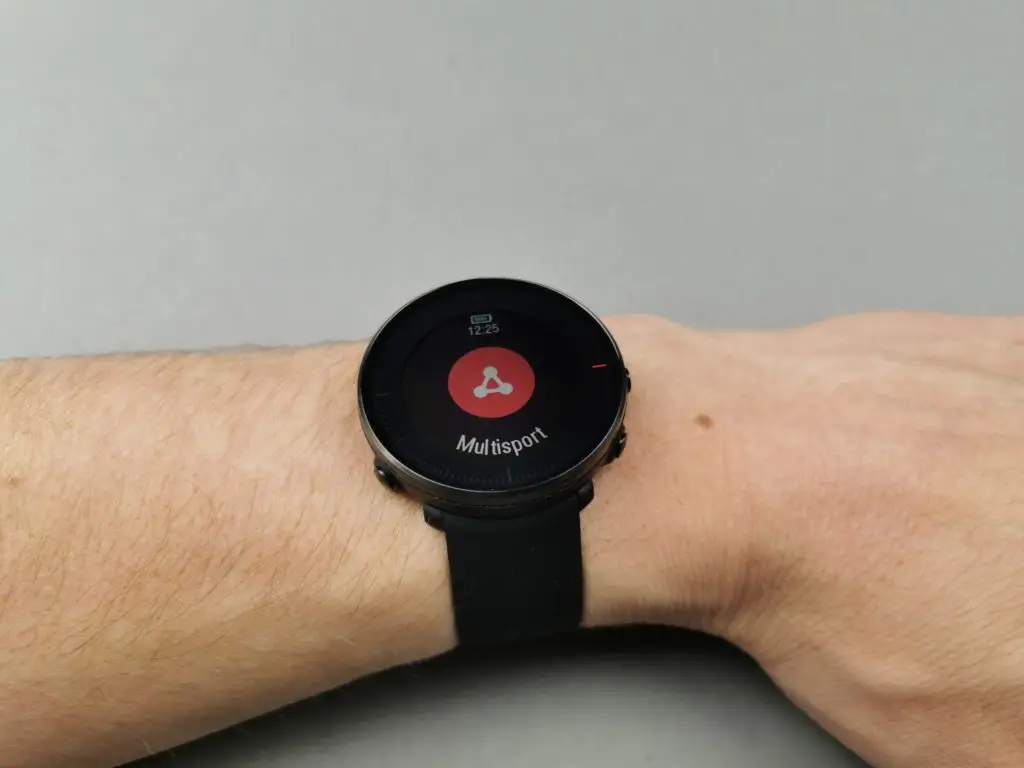 Now we come to the part that really makes the Polar Vantage M a SPORTS watch. I myself am working in the sports sector which is why I am always particularly interested in this part of the review.
In the training mode, the following options are available by default:
Running
Cycling
Other outdoor sport
Other indoor sport
Multisport
By the way, I deliberately used the term "by default", because with the help of the Polar Flow app, you can add more options. Here, the choice is almost limitless. More about that in a moment ?
With a click on the sports profile of your choice, the recording starts automatically. Your heart rate, distance, pace, duration and calories burned will be recorded.
That's it for now. The training mode is really self-explanatory and intuitive to use. In the "Smartphone App/Polar Flow App" section of this review, you'll see just how detailed the Polar Vantage M's sports features really are. So much up front: The sports watch can truly be considered as your personal trainer! ?
The Heart Rate Accuracy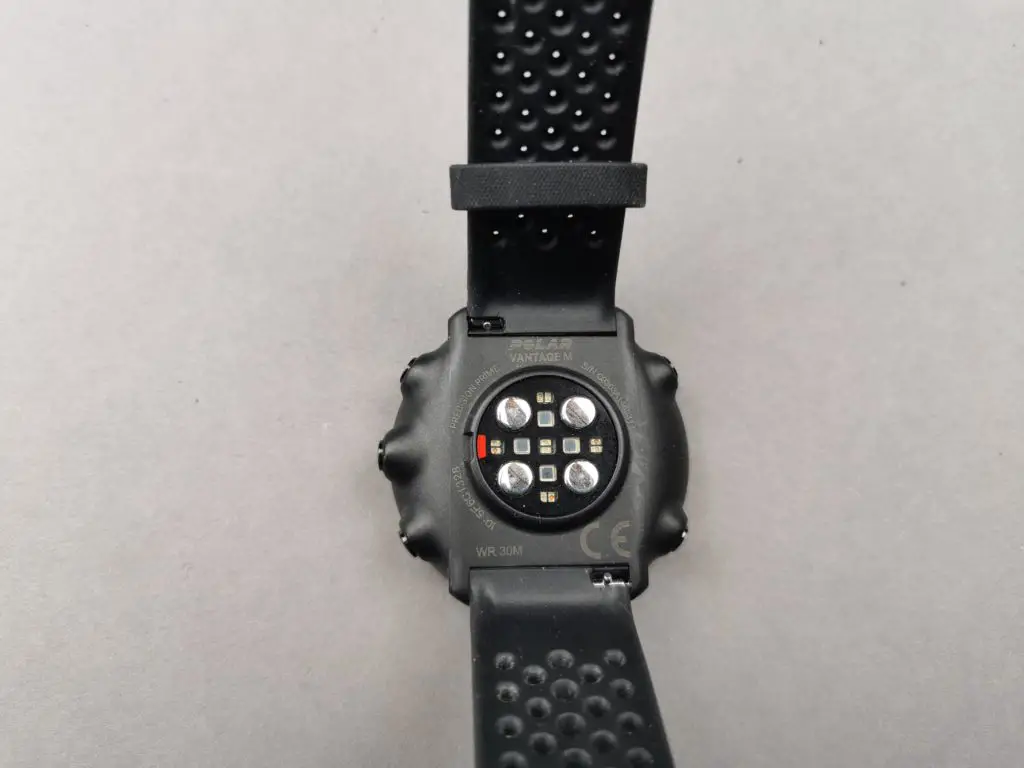 Sports watch, fitness tracker, smartwatch, heart rate monitor… Somehow, every model is a true all-rounder these days. Heart rate measurement is one of those features that started the whole development and it is still one of the main criteria for many people when choosing the right model. So how does the heart rate monitor fare in my personal test?
The Polar Vantage M measures your heart rate using optical sensors that detect color differences on your skin when your heart rate is elevated.
Despite many advantages (especially wearing comfort and suitability for everyday use), the critics of this measurement method still persist and many still swear by the much more accurate heart rate measurement of a chest strap.
However, if you look at the optical heart rate measurement of the Polar Vantage M, it seems as if the times of the chest strap could soon be numbered. I am simply speechless. Polar has always been one of the pioneers of optical heart rate measurement anyway, but with the Vantage series, the so-called Polar Precision Prime sensor fusion technology has now been introduced, which has once again set new standards.
In addition to the optical pulse measurement, other sensors are used, which try to filter out motion artifacts. This eliminates disturbances of the pulse signal during jerky movements.
I'm a big fan of wrist-based heart rate measurement anyway, but it usually reaches its limits at some point, especially under difficult conditions. However, the Polar Vantage M really does a very good job!
I have compared the heart rate values in several tests with those of a chest strap, and could not find any significant differences. So, the new, innovative technology with the complicated name seems to work very well! ?
However, I know that there are still some people who have problems with optical pulse measurement. I've put together a few tips for you to ensure a good accuracy:
Wear the watch at least one finger width above the wrist bone!
Tighten the strap as much as possible
Wait 1-2 minutes after putting on the watch before you start your workout
The first of these points is especially important! Your wrist is uneven in the area of the wrist bone. If the watch rests there, it will not be close to your wrist and the measurement will be inaccurate! This is one of the most common causes of inaccurate results.
Otherwise, of course you'll also have the option to pair the watch with a chest strap.
Swimming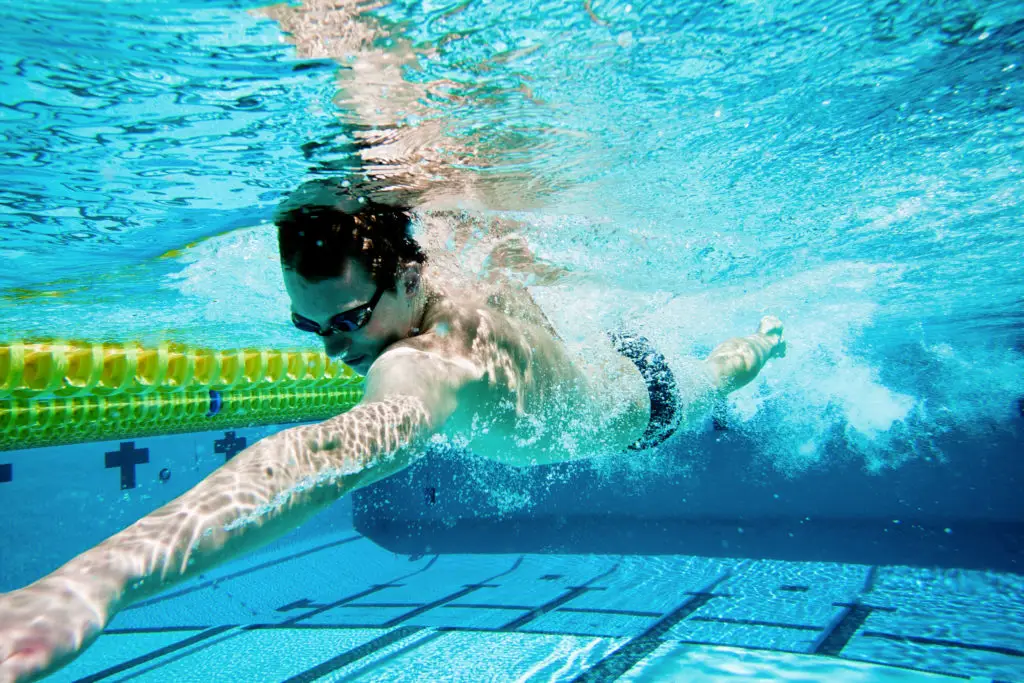 I have to admit that I really am a bad swimmer! And to be honest, I don't really like going swimming either. Nevertheless, I know of course that many of you would also like to wear the sports watch for swimming and so of course, this part could not be missing in my Polar Vantage M review.
So off I went… I got on my bike and rode to the nearest indoor pool to do a few laps with my new sports watch.
First realization: swimming isn't so bad after all ?.
More importantly, however, we can also fully rely on the Polar Vantage M when swimming! The sports watch is waterproof and not only on paper. The heart rate measurement still works flawlessly and there are no other restrictions either.
The only thing you have to keep in mind is that Bluetooth does not work under water. So if you have, for example, an external chest strap or other sensors paired with the watch, you will unfortunately have to do without them when swimming.
GPS/GLONASS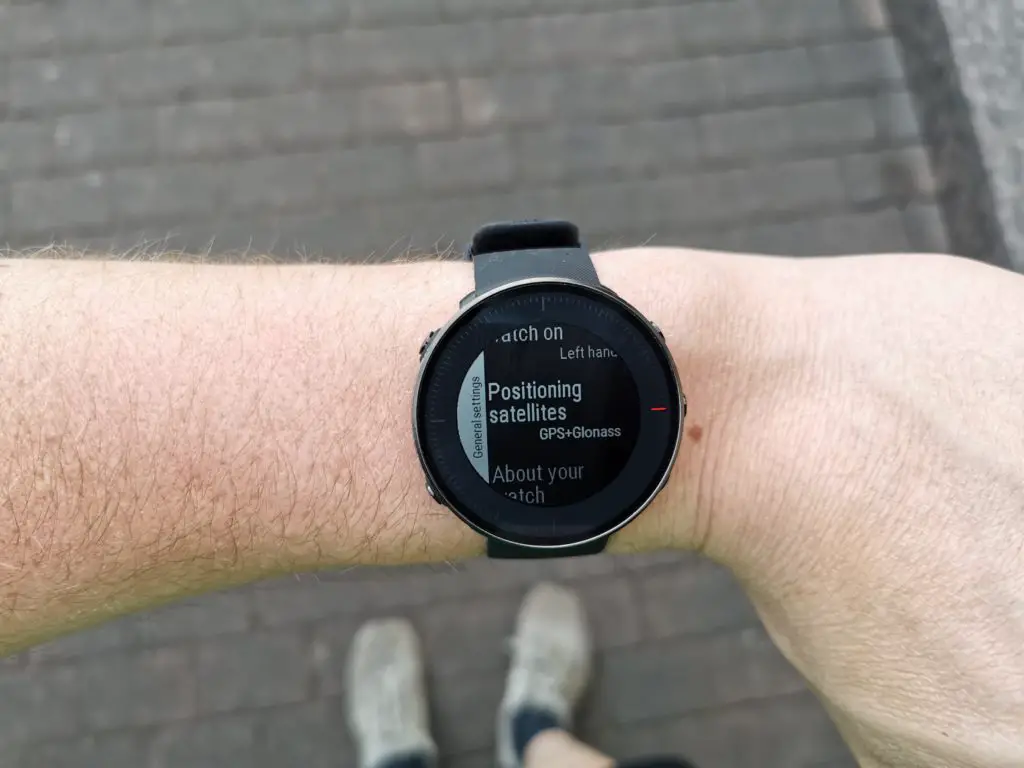 The days of using an atlas are over… Finding a place or a feature in an Atlas can be like finding a needle in a haystack! Nowadays, a glance at the smartphone is enough and we already know where we are and where we want to go. And even most sports watches are now equipped with the smart GPS system. And so, of course, is the Polar Vantage M.
The whole name of this sports watch is "Polar Vantage M all-round multisport watch with GPS". A sonorous name. How does the GPS perform in my practical test?
First of all, the Polar Vantage M also provides GLONASS, which is the Russian equivalent of GPS. If you combine both navigation systems with each other, you usually have a better connection. Cooperation simply always leads to a better result! ?
Time for a quick test: I put on my running shoes and let's go! I run my usual workout track and let the Polar Vantage M record the distance. What are the results?
8 miles and a lot of sweat later, I come to the following conclusion: The GPS does its job and does it very well. Over the entire distance, I had a total deviation of about 0.03 miles. This is a very good and satisfying result for me.
A little tip from my side: If you call up the sport profile and the signal is already up, you should still wait about 1 minute for the signal to stabilize. From experience, this leads to a more accurate GPS measurement and a lower deviation.
With apps such as Satellite Test or GPS Test, you can see which satellites are currently moving above you. In some regions, the use of GPS + Galileo or GPS + QZSS can therefore also make sense. Galileo is the satellite system of the European Union, QZSS is of Japanese origin.
Smartphone App/Polar Flow App
As with all Polar sports watches, using the Vantage M also gives you full access to the Polar Flow smartphone app. This is the perfect addition for all athletes and hobby athletes and helps you keep track of your fitness data.
For example, you'll get an overview of the data measured over the day such as your heart rate, activity time, steps taken, calories burned, as well as all data on sleep and you can also observe trends over longer periods of time.
You can also set your own daily goals and see at any time how far you have already come in achieving each goal. For me personally, this has mainly led to a boost in motivation.
For example, when I've seen that I haven't reached my goal yet on days when I don't get much exercise, I've been able to motivate myself to lace up my running shoes or get on my bike.
The Polar Flow app isn't just for monitoring your sporting activities though, the web version can also act as your personal coach. You can simply select your sport and specify when and how often you want to train and the app provides you with an individualized training plan.
By the way, the Polar Flow app offers many more sports than the watch itself. While browsing through the various sports options, I was simply speechless.
I would claim that I know quite a few sports and am basically quite knowledgeable, but there are really so many options here that I have actually never heard of some of them.
To be specific, there are 130 different sports profiles. In addition to the classics, such as running, cycling or swimming, you also come across exotics, such as disc golf, Finnish baseball or snowshoe trekking. You'll always learn something new! ?
I'm going to go out on a limb and say that there won't be anyone here who doesn't find what they're looking for. If you want to have a sport displayed on the watch itself, you can easily add it using the app. Piece of cake!
In my opinion, the Polar Flow app is really well done and always an additional reason to buy a Polar sports watch. Otherwise, you also have the option to synchronize your data with other online sports communities, such as Strava or TrainingPeaks.
The Display
Before starting this review, I have of course already read tons of articles about this sports watch. Doing so, I have stumbled across the criticism that the display of the watch is too dark. Is that really true?
First, let's speak some facts: The display has a diameter of 31 mm and resolves with 240 x 240 pixels, which is a very good value. The resolution really seems very sharp to me!
The display is a transflective LCD display, which, unlike the classic LCD or OLED displays, is very easy to read, especially in direct sunlight. The transflective display ensures that incoming light is reflected so that contrast and legibility increase in these cases.
However, if there is no longer enough ambient light, e.g. when used in dark rooms, the transflective display of the Polar Vantage M itself loses contrast and brightness.
In dark rooms, the display itself is therefore also dark. However, I don't really understand the criticism, because for these cases there is the built-in backlight, which you can easily activate with a click on the upper left button.
Basically, when it comes to sunlight, i.e. when used outdoors, the display of the Polar Vantage M is one of the best on the market. In dark environments without much light, however, the display is a bit darker and loses contrast. Here, you have to help out with the backlight. In my eyes, that's a perfect solution and I never had any problems reading the display.
Most importantly however, this type of display makes a decisive contribution to the sensational battery life, which we are going to talk about now! ?
The Battery Life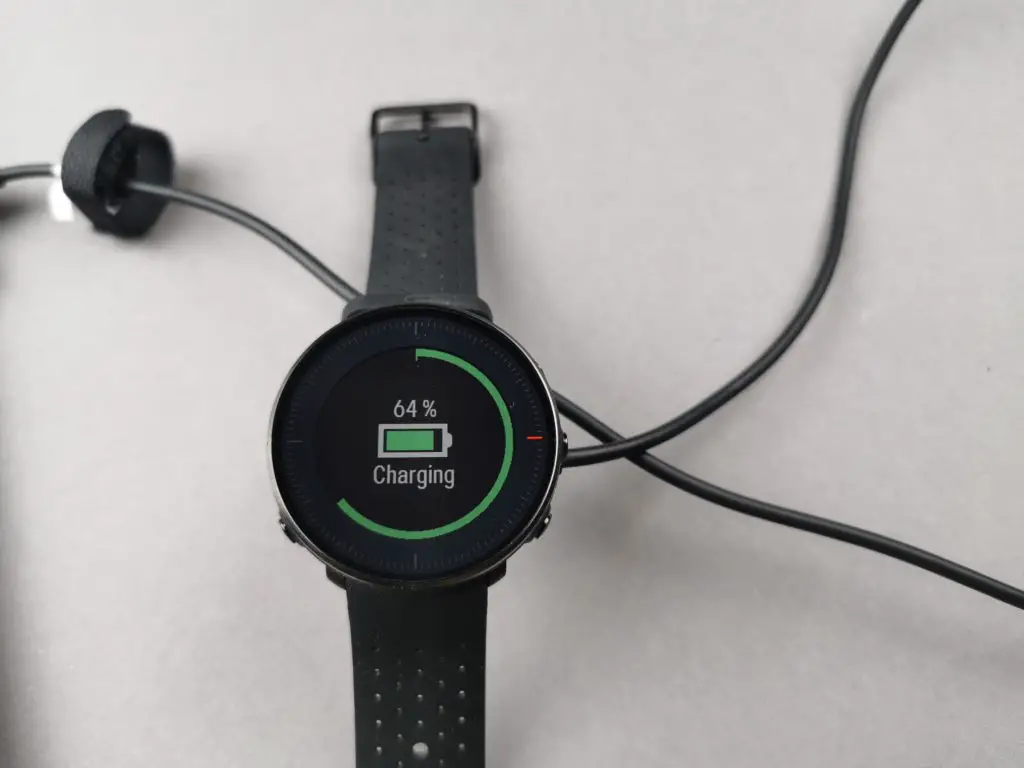 There is nothing more annoying for me than having to charge the battery of electronic devices every few hours. For this reason, one of my main criteria in choosing a smartphone, or a sports watch, is the battery life.
The Polar Vantage M has really been my faithful companion in recent weeks – even while I was sleeping. I have tested it intensively and tried to push it to its limits. But where is this limit? When does the battery give up?
I honestly don't even know if the battery ever gives up, because the words "battery" and "empty" are simply two absolute opposites in the Polar Vantage M.
In the first week of my Polar Vantage M test, I used the all-rounder watch quite normally and simply had it with me as a constant companion in my everyday life. In this time, I did two fitness workouts, as well as 2 running sessions. For my soccer training, however, I took off the watch. Safety first!
How often did I have to charge the watch in this one week? Zero times! Zero! Nada! Niente! Or whatever ?
And that is also one of the very big advantages of the Polar Vantage M! The battery life really is sensational! Polar itself states the battery life at continuous training with activated GPS at 30 hours. Whether it is really exactly that many hours, I do not know, but I can assure you that the sports watch will not let you down even on a 2-3 day hiking or biking trip!
Considering their suitability for a daily use, in many of my reviews, I wear the watches all day long, but then quickly switch to putting them away more often and only using them for sports. Things were different with the Polar Vantage M.
It is still my faithful companion in everyday life and I wear it with me even now just writing these lines. The wearing comfort is simply great, it looks nice and I would not want to miss all of its great features.
Comparison With Other Models
We humans always need a certain benchmark. Or just something that we can use for comparison. As a result, I often receive questions about comparing different sports watch models with each other. So how does the Polar Vantage M perform? What makes it better or maybe even worse than its competition?
Polar Vantage M vs. V
The most obvious alternative to the Polar Vantage M is of course the Polar Vantage V, which as you can see differs from it by only one letter. At least as far as the name is concerned. But what really sets the two models apart?
When you read up on both watches, the first thing that stands out is probably the biggest difference: The price. The Polar Vantage V is almost twice as expensive as the Vantage M.
Functionally, the higher price is because of a few more features. For example, the Vantage V provides maps in addition to the classic GPS feature, so it could even be considered a small navigation system. Additionally, it comes with a barometer, which the Vantage M lacks.
Other differences: The Vantage V offers a touch display and is also the first sports watch that can measure running performance directly on the wrist without additional running sensors.
The Polar Vantage M is not inferior to its big brother in many respects, and it is also impressive at a low price. However, if you are a true professional or particularly like to be out in nature for several days, the Vantage V could also be interesting for you.
Garmin Vivoactive 3
The Garmin Vivoactive 3 was my absolute favorite sports watch for a long time, and even now I can't and won't say a bad word about it. After testing a few more sports watches in the meantime, I actually think that I have now found one of my new favorites with the Polar Vantage M, which will probably accompany me beyond the limits of this review. What exactly is the difference between the two models?
The reason why, after the Vivoactive 3, the Polar Vantage M has now also convinced me so strongly is probably that the two models are quite similar. I would describe both models as true all-rounders, which are characterized by their functional diversity as well as their very good suitability for everyday use.
The Polar Vantage M is of course a few years younger, which expresses the technological progress. In a way, it is an update to the Vivoactive 3, even though it comes from a different manufacturer.
The battery life is gigantic and even better than that of the Vivoactive 3. In addition, the heart rate measurement is on another level thanks to the new fusion technology.  The Vantage M is operated via buttons on the edge of the casing, while the Vivoactive 3 is equipped with a touch display.
The Polar Vantage M is currently about 50 Euros more expensive. It offers all the advantages of the Garmin Vivoactive 3 and even goes one better in many aspects. At the end of the day, of course, personal taste is the deciding factor! ?
Final Thoughts on my Polar Vantage M Review
When I started this test, I didn't yet know it but now, I am all the more convinced: I have a new sports watch! And most likely one that I will also carry with me for a longer period of time.
My high expectations could almost all be met in the course of my review. The display can sometimes be a bit dark, which might be a thorn in the eye of one or the other. However, the backlight makes it very easy to correct this, so the problem does not really exist. Personally, this did not bother me at any time.
Additionally, there are probably sports watches with a slightly better GPS. For outdoor athletes, the Vantage V could be worth considering as a big brother.
In all other aspects of my review, the Polar Vantage M could absolutely convince me and all in all, you get an excellent sports watch for less than 200 dollars! ?
I suggest that you just take a look at this sports watch for yourself. Here you will find all you need to know including the current pricing, further customer reviews and more.
I hope you enjoyed my review of the Polar Vantage M and that it gave you a good overview of the sports watch. If you have any further questions or would like to share your own experiences with this model, I am always happy to receive an email or a comment below this article!
Otherwise, I would just say: Have fun with your new Polar Vantage M! ?