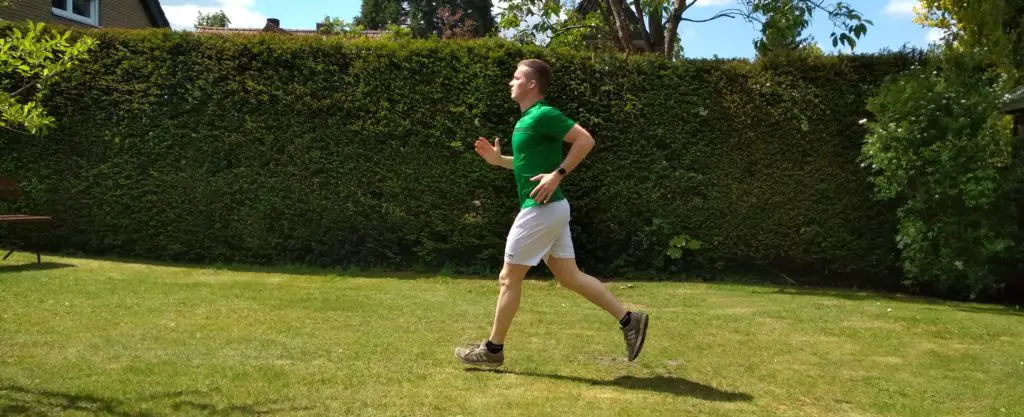 The Garmin Vivoactive 3 was one of the hottest items in the sports watch world for years and is still one of the most popular models today. So, it's no wonder that it also impressed me a lot during my review back then. Since that moment, I, like millions of other people, have been eagerly awaiting the release of the successor model. So now the time had finally come and I was allowed to put the brand-new Vivoactive 4 through its paces.
What makes the Garmin Vivoactive 4 so successful? What makes the sports watch better than its competitors? And is the upgrade to the Vivoactive 3 worth it? I would like to explain this and much more to you in my personal Garmin Vivoactive 4 review and take you on a journey from the first unboxing of the product to the final conclusion. Have fun! ?
| Pros | Cons |
| --- | --- |
| ✅ very high functionality | ⛔ no maps |
| ✅ great design | ⛔ no multisport mode |
| ✅ easy, intuitive operation via touchscreen | |
| ✅ good training mode including animated fitness exercises | |
| ✅ music memory with up to 500 songs | |
| ✅ smart features | |
Unboxing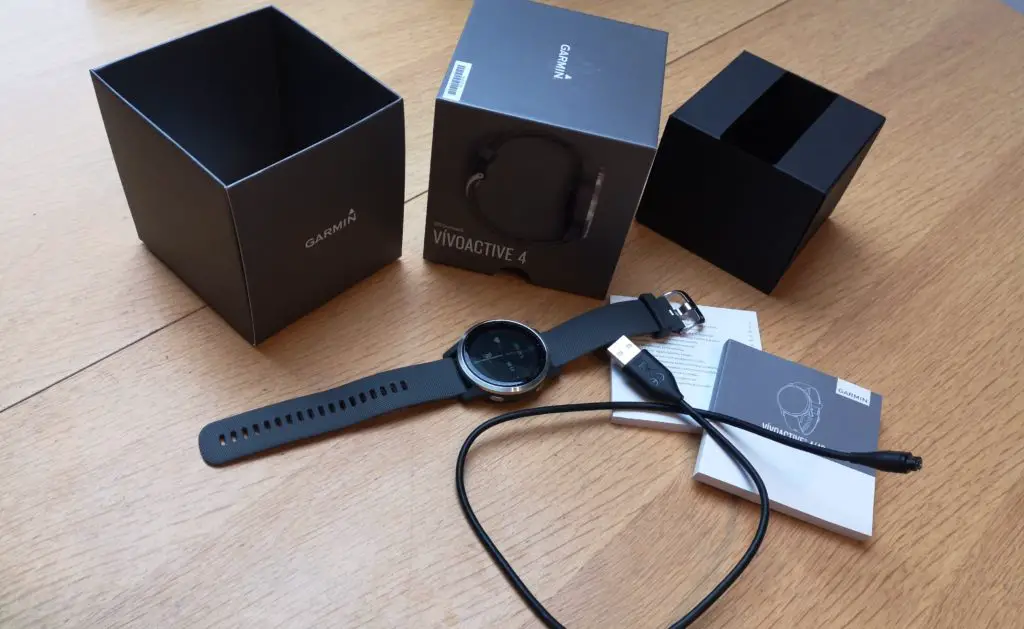 I already mentioned it briefly in the introduction, but I just have to say it again: I loved the Garmin Vivoactive 3! Above all, for me it was the perfect combination of a sports watch and a smartwatch.
When I could finally order the successor model, the Garmin Vivoactive 4, my anticipation was of course immense! The delivery took only 3 days, but this time seemed like an eternity to me. Almost every minute I looked out the window to see if the mailman was coming around the corner.
When the moment finally arrived and I heard the bell ringing, I rushed to the door as fast as Usain Bolt in his record-breaking race to welcome the mailman with the biggest grin.
Finally, there it was, my brand-new Garmin Vivoactive 4. I could hardly wait to put the sports watch into operation and put it through its paces. But first things first: First, it's time to take a look at what's included in the delivery. Here we go:
Garmin Vivoactive 4
USB charging cable
Instruction manual
Safety instructions
The First Impression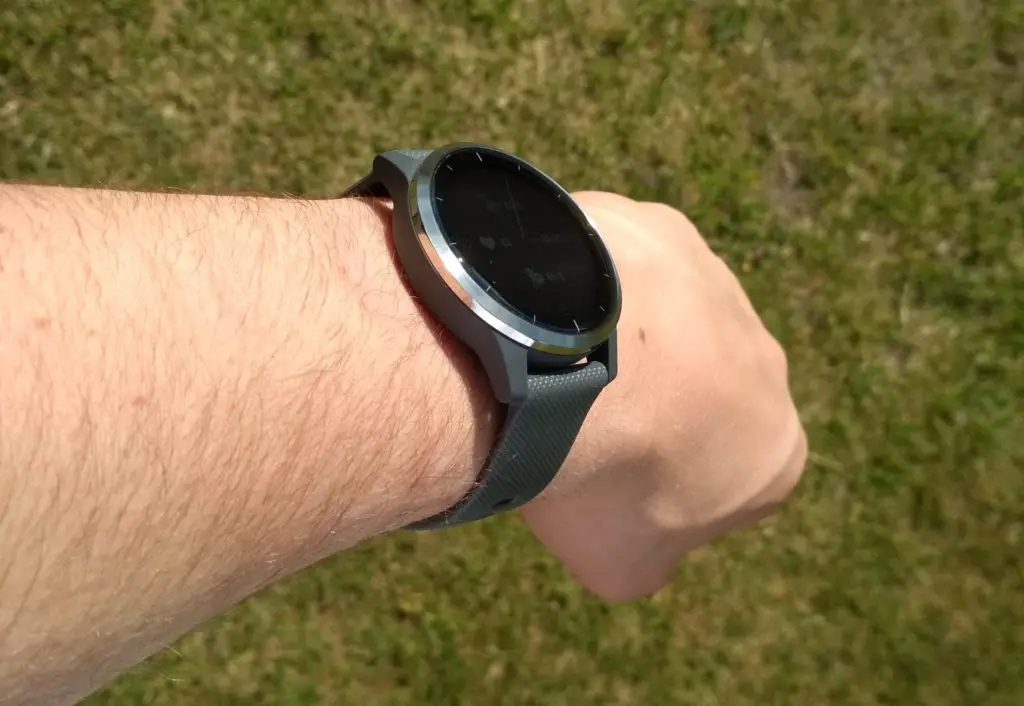 So far, so good. We've already talked about the scope of delivery. Admittedly, you could have found this point out yourself within a few seconds with the help of Google, and for many people the scope of delivery is rather uninteresting. After all, it is only one thing that matters: The Garmin Vivoactive 4 watch itself.
What kind of first impression does it leave? Does my initial anticipation quickly turn into disappointment or can the watch tie in with the awesome design of its predecessor?
In my eyes, I got a really appealing and high-quality-looking sports watch here. Visually, not much has changed compared to the Vivoactive 3, which is not meant as a criticism, quite the opposite! Like its predecessor, the Vivoactive 4 is a real eye-catcher!
I am certainly not a fashion consultant and the first impression is of course also a matter of taste. I have left you here a few filter-free pictures that show you the Garmin Vivoactive 4 just as I perceive it right now.
What is your opinion? Does the sports watch leave a similar impression on you? If you confirm me in my first impression, I might really play with the idea of becoming a fashion consultant… Ok, don't worry, it will probably not come that far after all… ?
The Case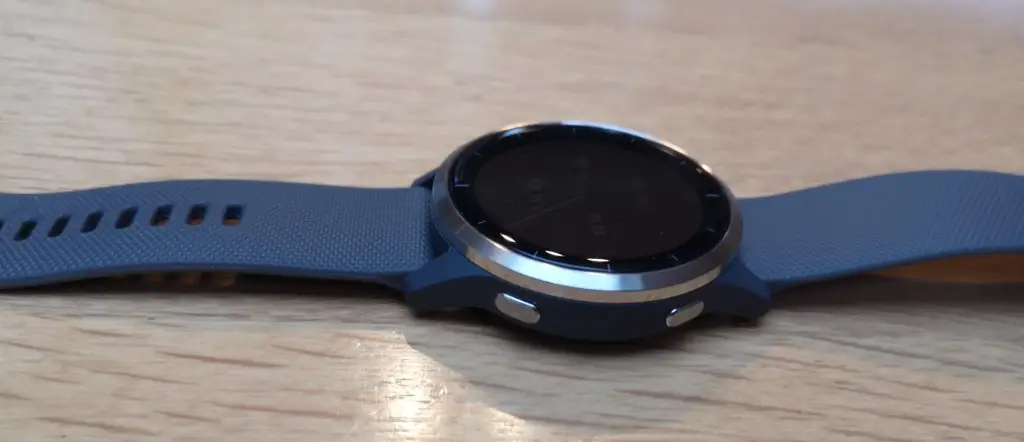 When you take the Garmin Vivoactive 4 in your hand, you immediately notice how light the watch is. Ok, I have to say that just a few weeks ago, I had the pleasure to review the Garmin Fenix 6X Pro, which is comparatively heavy (you can read the whole review here if you're interested).
In contrast, the Vivoactive 4 is really lightweight. At just 50 grams, it is very comfortable to wear and at times, you even forget that you're wearing it. Whatever diet this watch is on, it seems to work wonderfully ?.
Despite the light weight, the watch looks high-end, classy and well-made to me, which is mostly due to the stainless steel bezel. The rest of the case is made of plastic.
The bottom line is that the first impression of the case convinces me completely. As with the Vivoactive 3, Garmin manages to create a very nice-looking and high-quality design.
I am always amazed when I see the sports watch, because it is simply amazing how so much technology can be installed in such a small case. You'll get a few samples of that in the course of this review.
The Wristband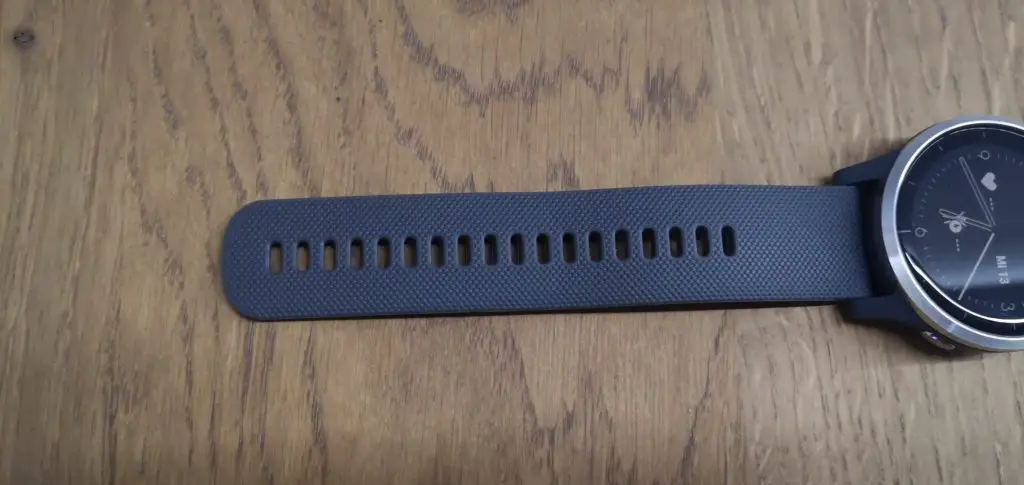 If you've been following my blog for a while now, you know that I actually always opt for a simple black wristband in my reviews. Pretty boring, I know… This time I broke with my traditions and chose a daring light shade of gray.
Personally, I really like the light gray bracelet, but of course that's a matter of taste! If you prefer other colors, there are plenty of others you can choose from. With the help of the Quick Release technology, the wristband can be replaced in no time at all if you feel like changing colors after a while.
The wristband is made of silicone and is really flexible in general. As with the previous model, it ensures a high wearing comfort and makes the watch fit perfectly on the wrist.
When I first unboxed the Garmin Vivoactive 4, I noticed a slightly chemical smell due to the silicone wristband, but that subsided after just one day in fresh air.
The Features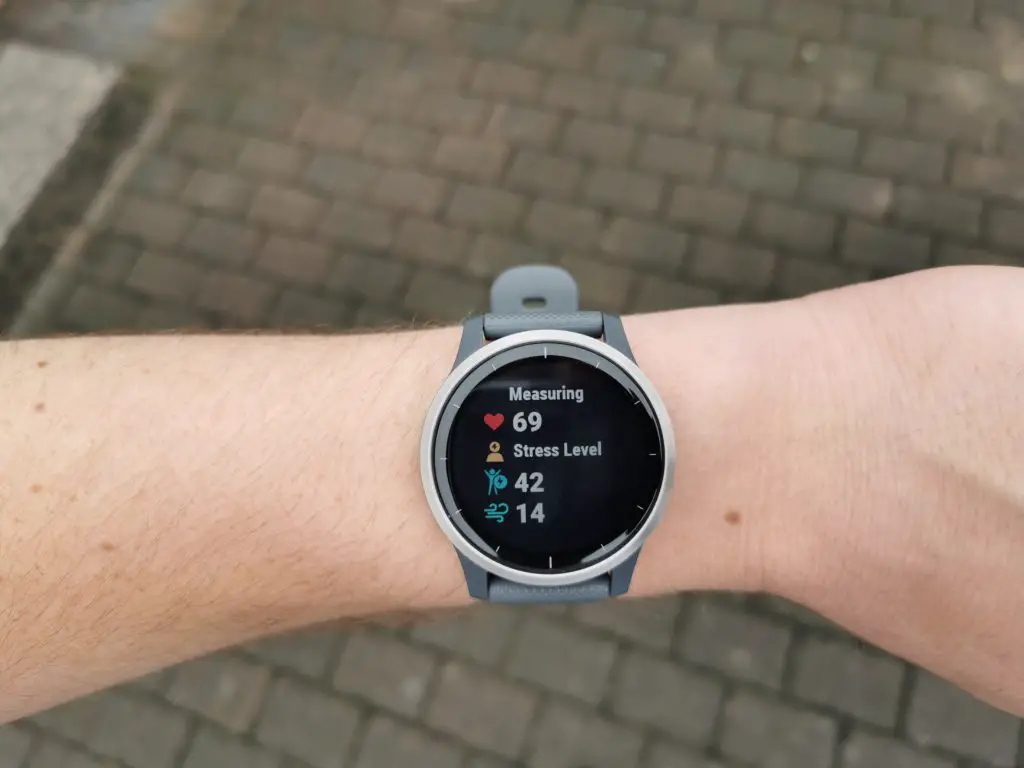 So far, I've only talked about the exterior of the Garmin Vivoactive 4, although as we all know beauty is only skin deep and it's what is inside that counts. Man, I've become quite superficial … High time to change that and turn on the clock now! ?
Let's start with the operation. Many sports watches come with thousands of features, but lack an easy operation to find the features you'll really need. However, the Garmin Vivoactive 4 is quite different as it is really easy to navigate through the menu items. Although some new functions have been added, I personally find it very easy to quickly find the right menu items.
Unlike many other sports watches, the Garmin Vivoactive 4 relies on a touch display. Certainly, using buttons on the edge of the casing is a useful option, but I personally like touch screens much better. It is fun to navigate from menu item to menu item and play around with the watch.
In contrast to the Vivoactive 3, the new version comes with a back button on the right side of the casing. Previously, there was only one button for starting a new training session, but now there are two.
The side stripe touchpad on the left edge of the casing has been omitted, but personally, I hardly used it anyway.
The menu items are arranged vertically. First of all, you see an overview of the individual items and with a click you get a more detailed view. If you hold down the back button, you get to a menu where you can rearrange the widgets or make other settings.
There is not much more to say about the operation. I can assure you that it is really super easy and very intuitive to get along with the Garmin Vivoactive 4.
The Basics
Now I've already talked so much about the high functionality, it's time to take a look at these highly acclaimed features as well. What does the Garmin Vivoactive 4 have to offer? Let's just go through the individual menu items together.
The basic design of the sports watch is the typical watch look. Here, you can of course choose between the digital and analog style and can also make many other adjustments.
When using it in your daily life, the Garmin Vivoactive 4 disguises itself as an awesome-looking fashion accessory, but of course it does not stop there. The hidden talents of this sports watch only become visible through our operation. You will come across the following menu items by default:
My day
Health status (heart rate, stress level, body battery, respiration)
Activity log
Heart rate (current and last 4 hours)
Stress level (current and last 8 hours)
Hydration tracking (manually adjustable)
Calendar
Weather information
Smartphone notifications
Music
The Training Mode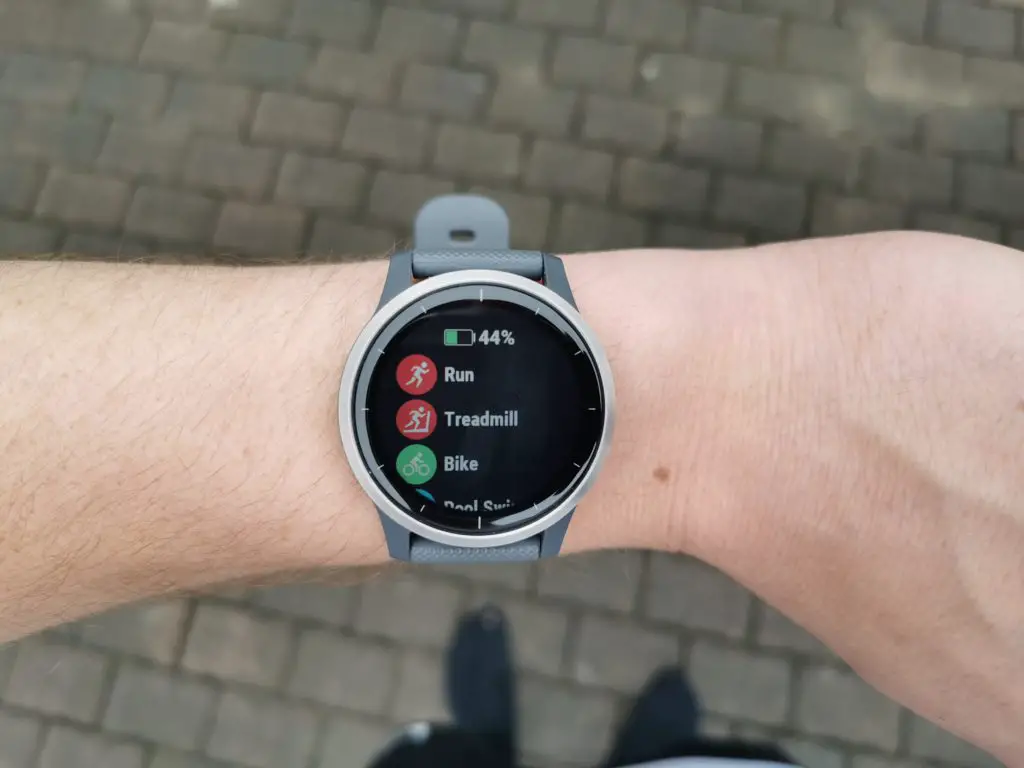 The Garmin Vivoactive 4 is many things, but first and foremost it is a sports watch. To live up to this name, it comes with a very detailed training mode, as with all Garmin watches. A click on the upper right button on the case is enough to start a new training session.
In the training mode, you can choose between various activities: classics like running, cycling, swimming or yoga, or more exotic sports like golfing, indoor rowing or cross-country skiing.
Under the "Add more" item, you also have the chance to – you guessed it – add more activities. This results in a large portfolio of possible sports. If that's not enough for you, you have the chance to integrate almost any sport with the help of the Garmin Connect app. More about that later! ?
Unfortunately, you have to do without the multisport mode on the Garmin Vivoactive 4. This one allows you to track several sports in one training session, which is especially useful for triathletes. However, the multisport mode is left to the more expensive watches from the Fenix series for now. If you can do without this feature, you really have all sports modes that are imaginable.
After a training session, you get the most important data at a glance. How high was your heart rate? How long did you train? How many calories did you burn? You can also see how long you trained in certain heart rate zones and can thus assess your workout intensity.
It's amazing what such a small sports watch can do. Basically, as with all Garmin watches, you have a team of statisticians and personal trainers at your side and get a good impression of the intensity of your workouts. With the smartphone app, you can analyze your exercise routine in much more detail, as you'll see shortly ?
Animated Fitness Exercises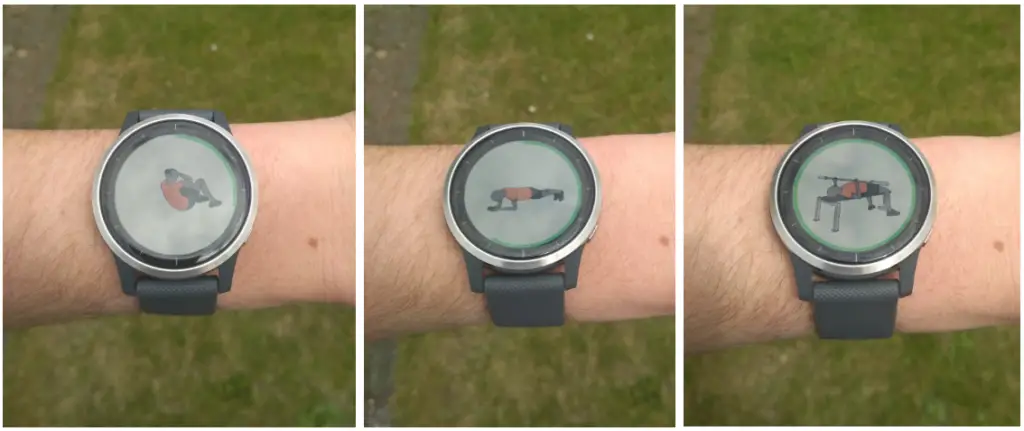 If there's one sports watch that really comes close to being a personal trainer, it's the Garmin Vivoactive 4. One of the innovations of this sports watch that clearly sets it apart from other models is the 40 animated fitness exercises that you can have played right on the watch.
The Vivoactive 4 offers its own small fitness workouts, which you can then do yourself with the help of very detailed video instructions. I personally find this extremely useful, especially for fitness beginners, and more experienced athletes can also benefit from it. In addition, at least for me it simply leads to an insane motivational boost, because I have the feeling that I'm really working with a personal trainer.
GPS/GLONASS
Ah yes, the GPS… The global navigation system is one of those features that is always particularly close to my heart personally, because to be honest, I just have a terrible sense of direction. Yes really, you can't imagine how often I use the Google Maps service.
For me, the GPS feature is simply indispensable even in a sports watch, but even for people with a better sense of direction, the GPS is something very, very useful. It helps to record tracks when running or cycling, and generally expands the movement and activity analysis.
In the meantime, GPS has therefore become a standard in sports watches, and of course the Garmin Vivoactive 4 is also equipped with the navigation system. Strictly speaking, the Russian equivalent GLONASS and the European Galileo system are also included besides GPS. But how do the navigation systems perform on this sports watch?
To test it, I got on my bike and covered my usual distance. All for the sake of science! ? Since the track leads through various areas from the city center to residential areas to forest sections and farming communities, I think it's a good test route.
I record the track with the Garmin Vivoactive 4 and compare it with the track actually ridden. Here are the two routes in direct comparison:


As you can see, the GPS of the Garmin Vivoactive 4 works very reliably and tracks the distance cycled very accurately. The two recorded routes could also compete in synchronous competitions! ?
By the way, using the GPS feature also gives you insight into your speed and distance data. In addition, the built-in barometric altimeter also records your altitude, so that mountain bikers or hikers also get their money's worth.
Heart Rate Accuracy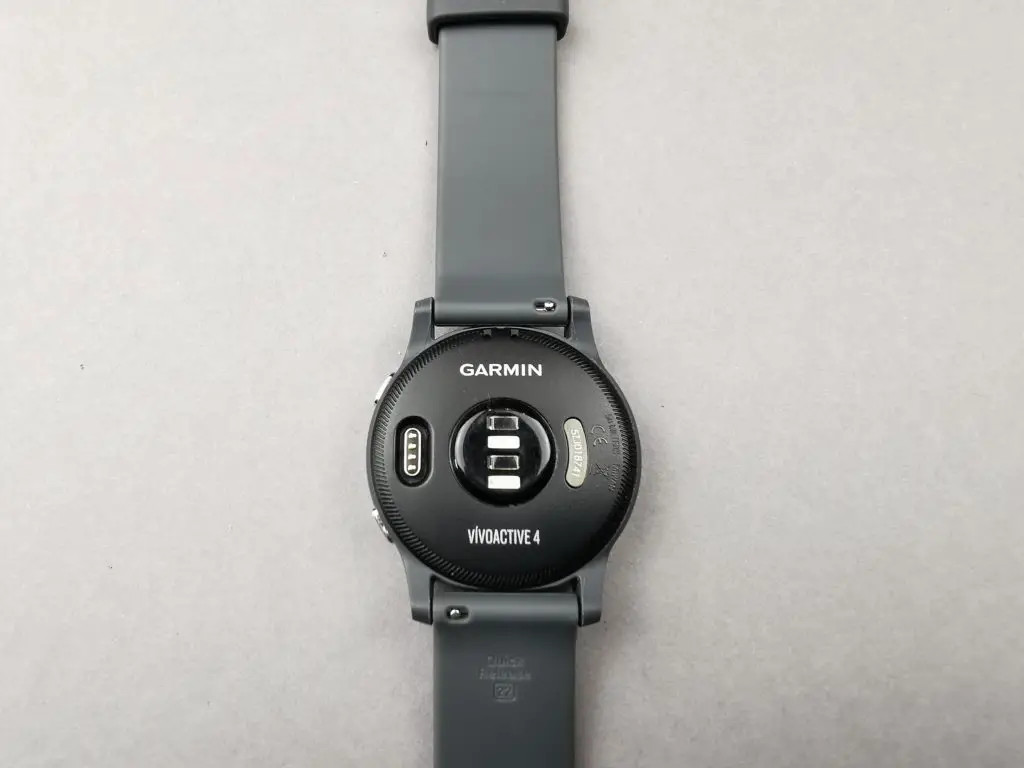 Sports watches have become true all-rounders. Year after year, new features are added and basically it is only a matter of time until the watches can also make coffee for us. Well, it's not quite that far yet, but you know what I'm getting at ?.
One of the functions that must not be missing from any good sports watch is the heart rate tracking. Of course, the Garmin Vivoactive 4 can also track your heart rate on your wrist. You wonder how? To put it simply, LED sensors are used, which detect color differences on the skin, as they occur when our pulse changes. Increased blood flow is responsible for these marginal changes. This is not visible to the eye, but it is no problem for the optical pulse sensors of today's sports watches.
This method is of course extremely practical, as it makes the use of an annoying chest strap unnecessary, but critics of this measurement method still persist and claim that optical heart rate tracking on the wrist is inaccurate and unreliable. How does the Garmin Vivoactive 4 do in my review?
It's basically the same as always with optical heart rate measurement. You cannot expect clinical accuracy, and this method simply cannot keep up with the values of a chest strap. But it doesn't have to.
In my personal review, the heart rate tracking of the Vivoactive 4 has proven to be very accurate. It ultimately depends on the type of activity. When my arm or wrist moved a lot, or was bent as in the case of push-ups, there were slight deviations, but the values still more or less corresponded to the "real" pulse values.
For simple activities, as well as when wearing the watch in my daily life, the optical heart rate was very accurate and reliable anyway. Personally, I can therefore confidently do without the use of a chest strap, but if you really care about a 100% accuracy, then you can of course pair the Garmin Vivoactive 4 with a corresponding chest strap.
Tips For A Better Heart Rate Accuracy
Wear the watch at least one finger width above the wrist bone!
Tighten the strap as much as possible (watch should be close to the wrist).
Wait 1-2 minutes after putting on the watch before you start your workout.
As far as the heart rate is concerned, another feature has now been added to the Vivoactive 4, which should definitely not go unmentioned in this review. With the help of the new Pulse Ox sensor, you can now also measure the oxygen saturation in your blood.
This can for example determine how your body adapts and acclimatizes to extreme altitudes during alpine sports or hikes in the mountains.
The pulse oximeter can also provide useful information for sleep analysis, which may be of particular interest to pulmonary hypertension patients. You can find more information about oxygen saturation here.
Music Feature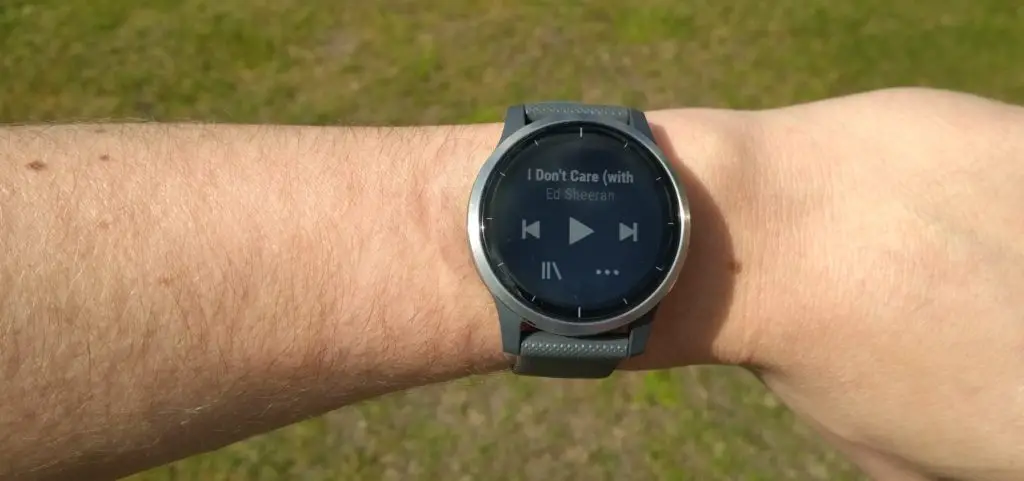 Let me take you to my current situation. It's Monday, 7pm. I'm sitting at my laptop, as you can probably guess, writing this review. I've decided to get a few more sections done before moving on to another daily goal, which in my case is a 6-mile run.
It's already late and it's not exactly the best weather for running, but it's on my to-do list, so I have to do it. To increase my motivation in such a situation, I personally always need one thing and that's music.
And that brings us back to the Garmin Vivoactive 4 and another of its advantages. The Vivoactive 3 could already set itself apart from the competition with its music control, but the small drawback of the old version was that you could only control the music of the paired smartphone.
However, the Vivoactive 4 comes with its own music storage. You can load up to 500 songs onto the watch. You can leave your smartphone at home while running, cycling or doing other sports activities and can still listen to your favorite music.
All you need now are Bluetooth headphones and you're ready to go. The Garmin Vivoactive 4 thus underlines its status as an all-rounder.
And now, I'll press the play button and start running with a motivational song. ?
Swimming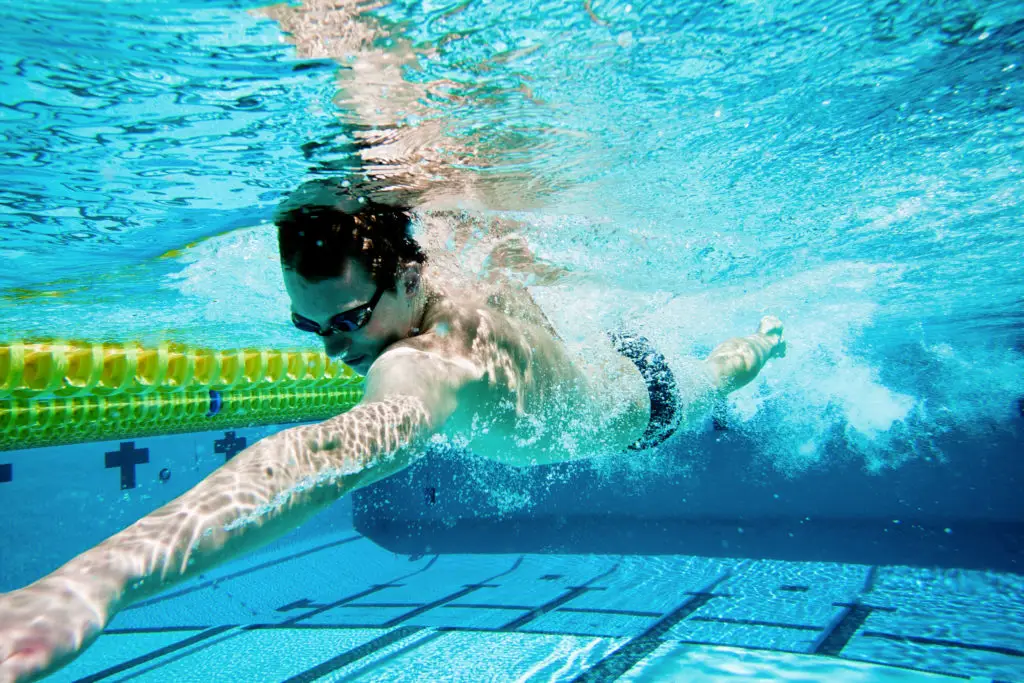 I have one thing to confess to you: I'm really a miserable swimmer. Swimming has never really been my sport and I don't really enjoy it either. To be precise, I only go swimming when it's time for another sports watch review. Well, ultimately that makes me go swimming almost every week! ?
And now it was time for my Garmin Vivoactive 4 review, and of course I couldn't miss swimming. Unfortunately, the pandemic makes a visit to a swimming pool impossible at the moment.
Of course, we are all eagerly awaiting the end of the Covid period, but to be honest, it's not the swimming part that I'm missing ?.
However, what I can say is that I have already tested the swimming mode on the previous model of this watch, the Vivoactive 3, and checked the predicate "waterproof". The result: The watch is waterproof up to a depth of 50 meters and can also be used without hesitation while swimming. You get insight into your swimming intervals, lanes, swimming styles, arm strokes and the SWOLF value, i.e. swimming efficiency.
So far, so good. However, one thing that was missing from the Vivoactive 3 and that was a thorn in the side of some swimmers was the fact that the heart rate sensor did not work underwater. And Garmin has now fulfilled exactly this wish for its customers, because the heart rate can now also be measured while swimming.
As I said, I unfortunately couldn't review this for you, but the reports I read about the sports watch in advance sound very positive as far as that is concerned.
Smartphone App: Garmin Connect
I've already touched on this point in a previous section, but now I'd like to cover it in more detail: How good is the included smartphone app?
The Garmin Connect app is very easy to set up and use. Of course, it is free of charge and can be seen as a perfect supplement to the sports watch.
The main view shows the most important fitness and health data: You get a more detailed view for the tracked heart rate, stress level, steps taken, calories burned and much more and you can also look at your progress over the last few days and weeks. Especially if you're a data freak, you'll get your money's worth here. And I'm one of those… Gotcha… ?
And there's more. On the left, you're given a look at your performance stats. VO2max, Lactate Threshold, Performance Based Anaerobic Threshold… It is simply amazing what such a small sports watch can measure.
All these values are certainly something for more advanced athletes, but I can only warmly recommend you to read up on this topic. All of these data can help you to better control the loads of your training and to make faster progress.
Under the menu item "Trainings" you have access to numerous training plans and individual workouts. Do you want to prepare for a half marathon? Do you want to build abdominal muscles? Or do you just want to get in shape as quickly as possible?
No matter what, there's a suitable workout or even a multi-week training plan for just about any fitness goal. You can also put together your own individual workouts.
I also really like the community with using the app. Since Garmin is one of the most popular sports watch manufacturers and accordingly has a lot of users, there is now a large community of motivated athletes.
You can search for groups with like-minded people or participate in challenges and compete with other athletes. Of course, you can also create your own groups and challenges and thus arouse the ambition of other people. I always enjoy being active here in the community and feel extra motivated by it.
The Display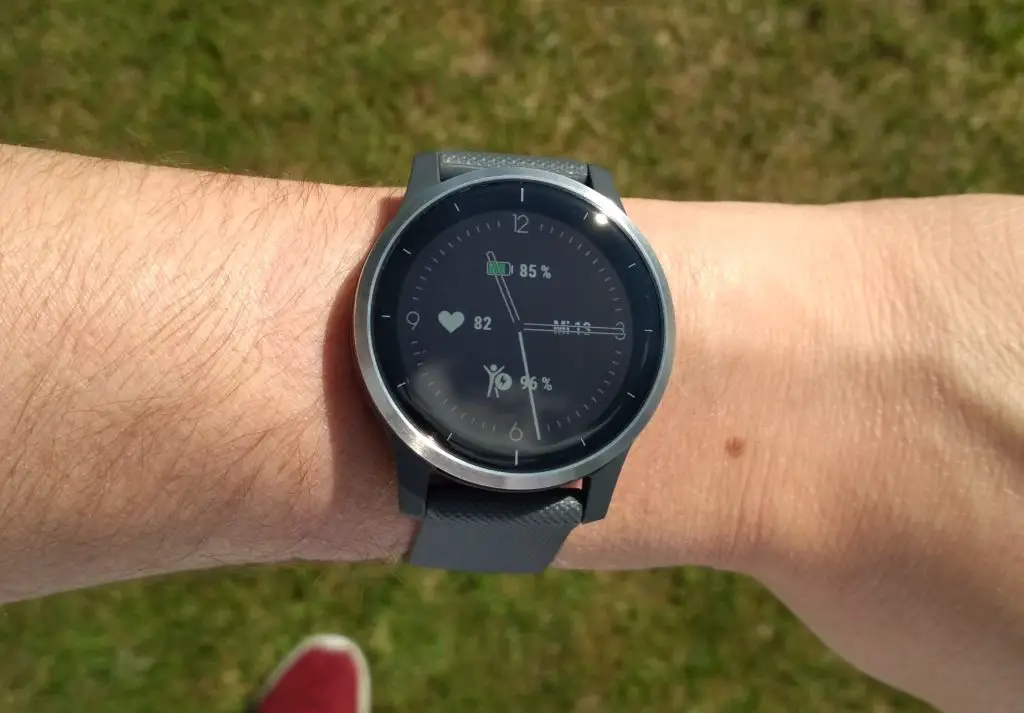 This section usually gets the most attention from the techies among my readers. But even for the less tech-savvy, it is certainly very interesting to know that the display of the Garmin Vivoactive 4 is very easy to read even in strong sunlight.
But first things first: Garmin unsurprisingly relies on a transflective memory-in-pixel (MIP) display for the Vivoactive 4, as it did for its predecessor. Transflective means that the watch reflects the incoming light from its surroundings.
MIP displays do not shine with quite as rich colors as AMOLED displays, but they have the following big advantage: The contrast and the brightness of the watch increase in particularly bright environments under direct sunlight.
Thus, the watch is still very easy to read even under these difficult conditions, while other models are hardly usable in the sun. Thus, the Garmin Vivoactive 4 is an ideal companion for outdoor sports, too! ?
However, the contrast and brightness of the watch also decrease in darker environments, which makes the display appear quite dark. However, the integrated backlight is available for this case, which either turns on automatically when the watch detects a movement of your wrist or can be activated manually with a simple click on the respective button or on the display.
In any case, I never had any problems reading the display during my review and was therefore also very satisfied with this point!
The Battery Life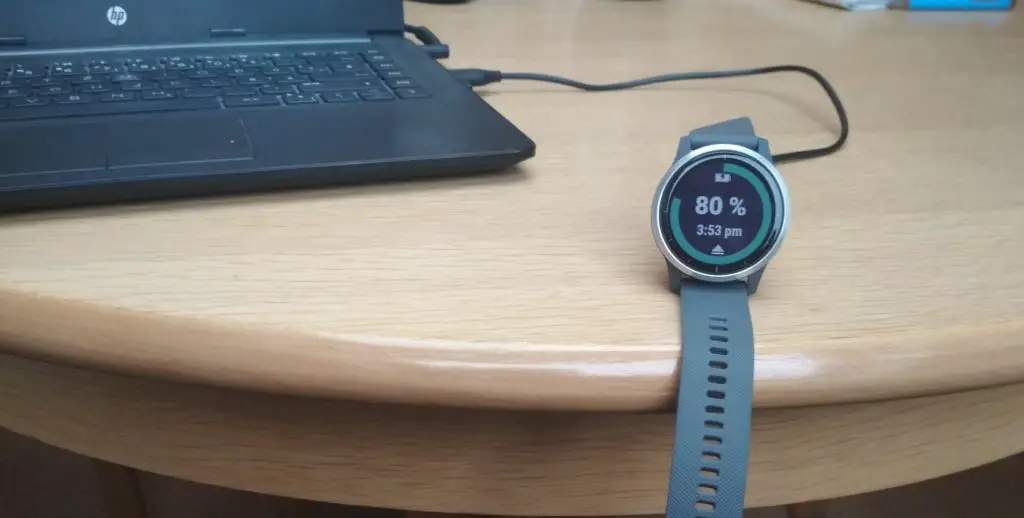 Before I decide on a sports watch, smartphone or basically any kind of electronic device, I always make a huge comparison table. I sort different criteria according to their importance for me personally and then assign points after a lot of research.
The criterion that is actually always at the top of my personal priority list is the battery life. I simply hate it when I'm out and about all day and my sports watch or smartphone runs out of battery… I roll my eyes just thinking about it… So what about the battery life of the Garmin Vivoactive 4?
According to the manufacturer, the sports watch lasts for about 8 days in smartwatch mode and up to 15 hours in continuous GPS mode. I myself wore the Vivoactive 4 all day long and therefore always had it with me during all my sports activities and while sleeping.
For me, the watch usually runs out of battery after about 4 days. The watch is already fully recharged within an hour, so this value is absolutely acceptable for me as an advocate of long battery lifes.
Since I recently reviewed the Garmin Fenix 6X Pro Solar, where I touched the charging cable for the first time after more than 20 days, the value of the Vivoactive 4 does not impress me too much, but still leaves a positive impression.
It is almost impossible to bring the watch to its knees within a day, and it will not let you down anytime soon, even on a multi-day excursion. For anything beyond that, for example if you regularly go on 2-3 week trips without power access, a sports watch tailored for outdoor athletes would be worth considering.
As already mentioned, the Garmin Fenix 6X Pro Solar, the Polar Vantage V2 or the watches from Suunto are suitable mentions in this regard.
Comparison to Other Models
Garmin Vivoactive 3
After my product reviews, I always ask myself one important question: What will happen to the sports watch now? Will it become my new everyday companion? Or do I just send it back to the manufacturer?
In the case of the Garmin Vivoactive 3, which I had the pleasure of reviewing last year, this question was quickly answered. Until then, the watch was the best sports watch of my product reviews and it was clear that I would keep it.
The sports watch was my faithful companion for months and never disappointed me. However, since technological progress is also becoming more and more pronounced in terms of sports watches and because I'm a little techie, I simply had to test new models again at some point and explore new features.
The Vivoactive 3 and I, at some point it just had to end. Sometimes I miss my old friend and for this reason I was of course particularly looking forward to the successor model, the Garmin Vivoactive 4. The most burning question: Can the new sports watch tie in with the success of its predecessor? And what has become even better?
Here is an overview of the most important innovations:
Heart rate tracking during swimming
Integrated music storage with up to 500 songs
40 animated fitness exercises
New health features: Pulse oximeter, body battery, breathing rate, water consumption, menstrual cycle tracking
Contactless payment with Garmin Pay
During my review, I particularly enjoyed the internal music storage, as now I don't always have to take my smartphone with me during my workouts. I also find the animated exercises very, very useful, especially for fitness beginners.
In my opinion, the Garmin Vivoactive 4 has lived up to the high praise it received in advance and has surpassed its already popular predecessor. Whether these new features are worth it for you personally in terms of price, is totally up to you.
Polar Vantage M
Garmin is of course one of the giants on the sports watch market. Basically, there is only one company that can keep up with the enormous popularity of Garmin products, and it comes from the far north. The Finnish manufacturer Polar has been in a neck-and-neck race with Garmin for years for the throne of sports watch manufacturers.
Of course, the watches fulfill different wishes and needs and the choice of the right watch or the right manufacturer depends on your personal preferences. A comparable watch to the Vivoactive 4 from Polar is the Polar Vantage M. A few months ago, I also had the pleasure of testing it extensively myself (you can find the review here). How do the two popular sports watches differ?
| | Garmin Vivoactive 4 | Polar Vantage M |
| --- | --- | --- |
| Operation | Touchscreen | Buttons |
| WiFi | ✅ | ❌ |
| GPS | ✅ | ✅ |
| Music Storage | ✅ | ❌ |
| Battery Life (GPS-mode) | 18 hours | 30 hours |
| Weight | 50.5 g | 45 g |
Final Thoughts on my Garmin Vivoactive 4 Review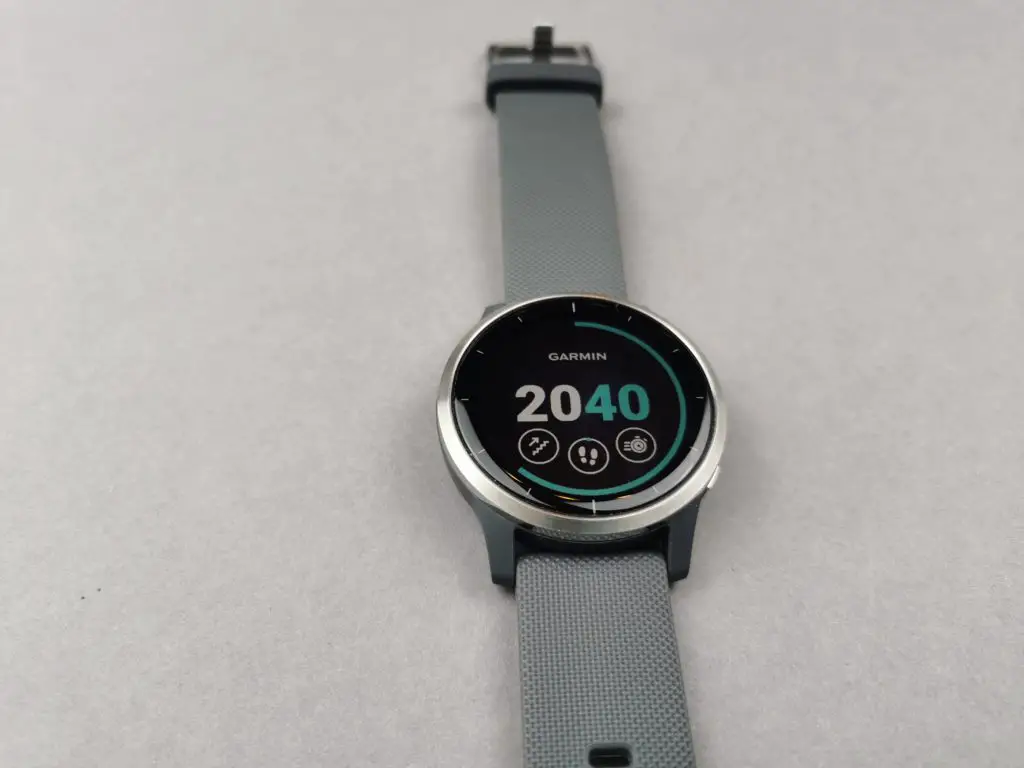 If you're still reading diligently at this point, then you either have a serious interest in the Vivoactive 4, which I could totally understand, or you're just lazy and preferred to jump straight to the conclusion instead of reading all the information first. Of course, I can understand that too, so you're forgiven ?.
Regardless of the reason you ended up here in the conclusion section of my review, here is a short summary: Garmin can seamlessly continue the success of its predecessor with the Vivoactive 4 and has once again managed to create a real all-rounder.
The Garmin Vivoactive 4 is primarily characterized by its very good suitability for everyday use, its nice and sporty design and its very simple and intuitive operation, but it also has a very wide range of functions.
Unlike the significantly more expensive Fenix 6 watches, the battery life is not over 20 days and it doesn't come with maps, but the Garmin Vivoactive 4 is in my eyes the better option for people looking for a mixture between a sports watch and a smartwatch.
So if you are looking for a real all-rounder with an excellent price-performance ratio, the Vivoactive 4 is a very good choice.
But of course, that's just my humble opinion. I would advise you to simply get a few more customer opinions about this sports watch to get an even better picture. Here you will find all the further information you'll need.
I hope that my Garmin Vivoactive 4 review helped you and gave you a good overview of the sports watch. If you have any questions, you can always write me an email or leave a comment below this article.
And if now, you also decide to give the Vivoactive 4 a chance: Have fun! ?