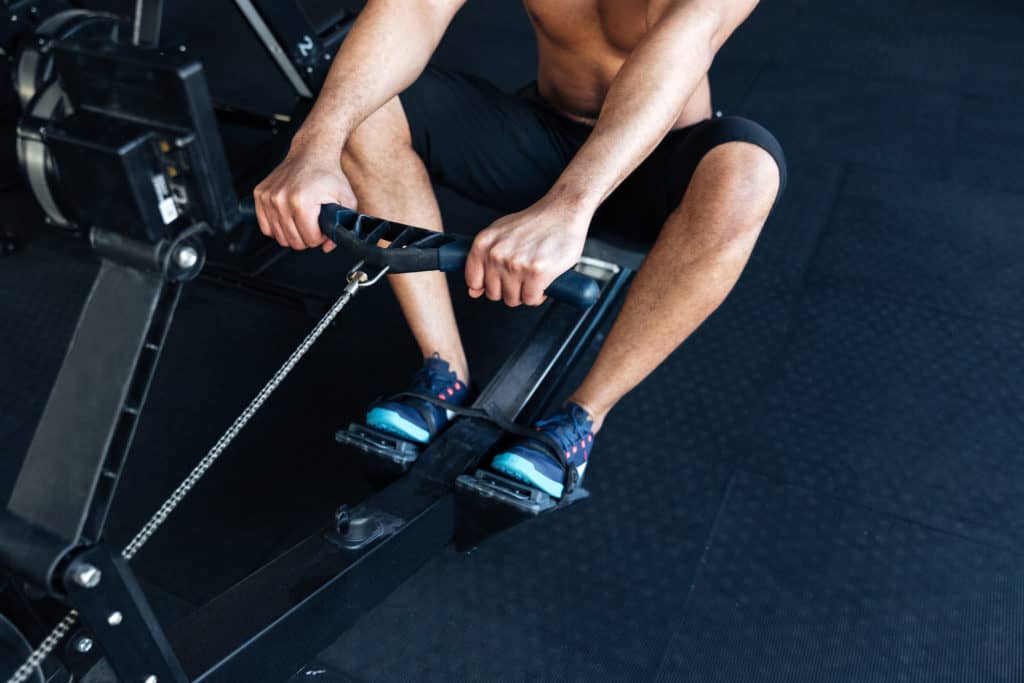 Rowing machines provide an extremely effective full-body workout for your home. However, there is still a great concern that rowing machines are too big for home use and cannot be stored well. I can reassure you at this point and tell you that there are now excellent machines available that are foldable and can therefore be stored in a space-saving manner even in small apartments. And if you are looking for one, you have just found the perfect blog post.
In this article, you will find everything you need—from the best foldable rowing machine to the correct rowing technique and other things to keep in mind. Have fun! ?
At the end of the article you will find the recommended models. In order to make you an expert in the field of folding rowing machines for home use, I will explain everything you need to know about this topic in advance. Of course, I recommend that you read everything carefully, but if you're just here for which are the best foldable rowing machines to buy, you can scroll down now and skip the previous parts. Your choice! ?
Why You Need a Rowing Machine for Your Home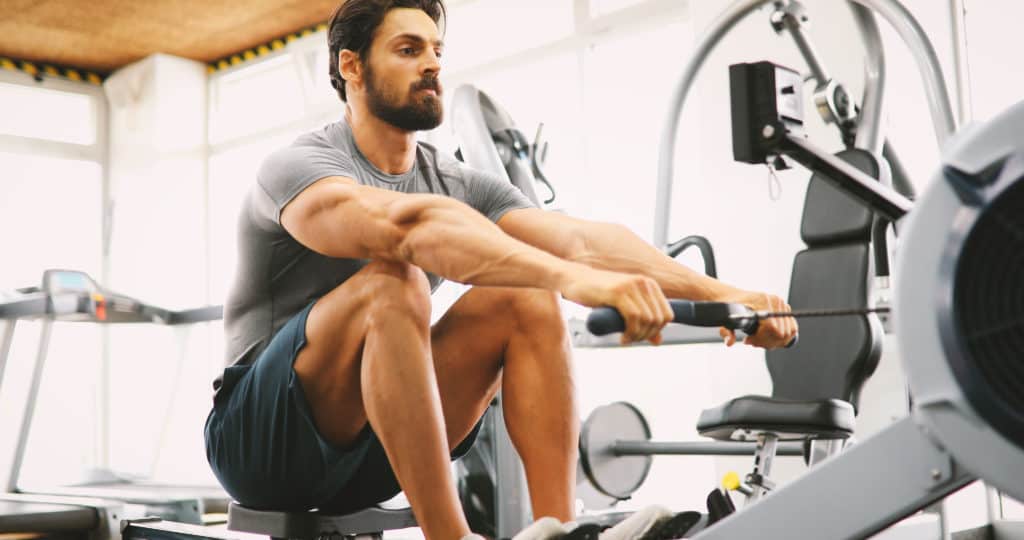 Rowing machines are becoming increasingly popular, and yet they still do not have the same popularity as ellipticals, treadmills or other similar fitness equipment. But why not? Let's take a closer look at what rowing machines have to offer.
With a rowing machine, you can simulate the movements of a real rowing boat in the comfort of your own home. And if you've ever taken a look at the Olympic rowing athletes, you'll know immediately how effective this kind of exercise really is. The athletes are extremely well trained and probably among the fittest humans on the planet.
Rowing is an effective full-body workout and this can be taken literally, because altogether up to 80% of our entire muscles are trained at the same time. 80 PERCENT!
In order to give you a better understanding of this impressive digit, let's have a look at the main muscles targeted on the rowing machine:
Large Back Muscle (Latissimus)
Back Extensor
Trapezius Muscle/Neck
Rear Delts
Front Thighs
Hamstrings
Glute Muscles
Calves
Ab Muscles
Biceps
Forearm Muscles
So, if that's not an impressive list, I don't know what is. ?
You don't even have to exercise these muscles one by one, which would be very time consuming, because with a rowing machine you can train all these muscles at the same time in a very short time! It could hardly be more effective. In particular, the legs, back and arms are strengthened enormously by a rowing workout.
In addition, a rowing workout has the great advantage over typical activities like running of being low-impact and very easy on the joints and therefore provides a very healthy way of exercising.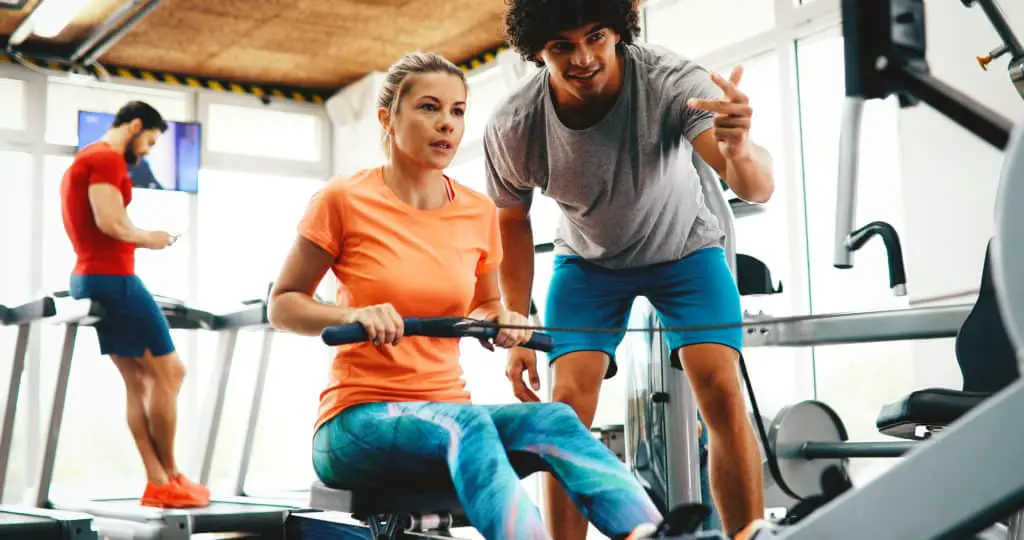 Also, in my small rowing machine advantage list, the best is yet to come. So far, I haven't told you about one of the biggest advantages.
As already mentioned, rowing training targets up to 80% of your muscles at the same time. And that means that our body has to provide a very high amount of energy to supply all these muscles. And how does our body get this energy? Right, it draws from our stored fat reserves.
And that, I guess, should be music to the ears of many people interested in doing sports! ? So, rowing machines are also perfect for burning fat and losing weight. On average, you burn between 700 and 1000 calories per hour.
Do You Need a Foldable Rowing Machine?
One of the major problems with rowing machines is their size. If you have a room in your basement or a few extra square feet in your living room, terrace or wherever, then it shouldn't be a problem, but in very small rental apartments, storing a rowing machine might be a problem.
Don't get me wrong, rowing machines don't take up the space of a complete room, but they still require a certain amount of space. Normally, rowing machines are between 75″ and 100″ long and about 20″ to 25″ wide.
Fortunately, the manufacturers have also thought ahead and have now developed foldable rowing machines for home use. These can easily be folded up after your workout and are therefore very easy to store. These machines are especially ideal for small rental apartments!
One less reason not to start rowing training ? Nowadays, everybody can profit from the numerous advantages of the indoor rowing experience.
The Best Foldable Rowing Machines for Home Use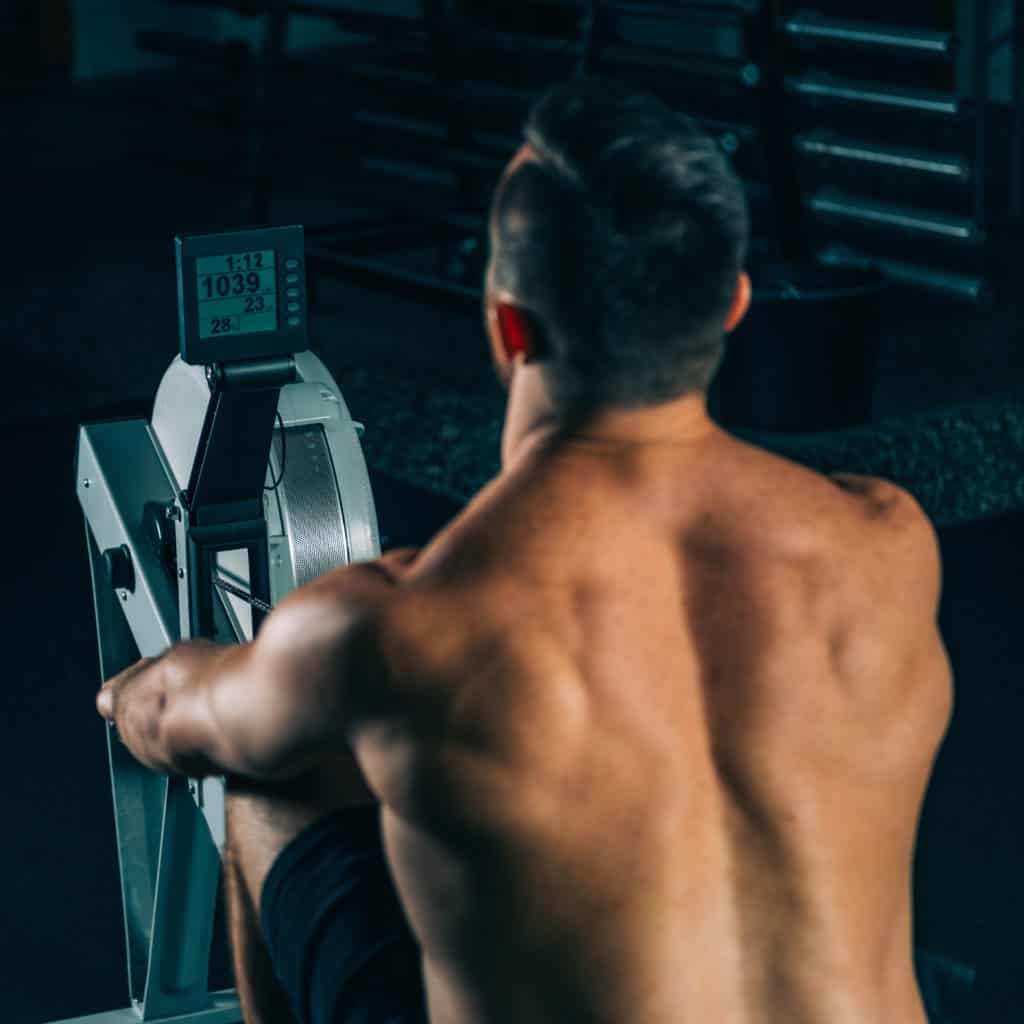 To cut a long story short: I don't want to overwhelm you with products here and therefore I will only introduce you to what I consider to be the two best foldable models.
Xterra ERG200 Rowing Machine
The Xterra ERG200 Rowing Machine is probably the most popular model in the category of foldable rowing machines and it's very affordable as well.
This model is proof that a low price does not always go hand in hand with low quality, because that is absolutely not the case here! This product provides everything you could hope for in a rowing machine and can really be recommended without reservation! All in all, this one simply has a sensational price-performance ratio!
The set up is very easy, the device is of high quality and provides a sufficiently high training intensity with many functions.
And the best thing: It is foldable and therefore super easy to store and perfectly suited for small apartments.
The Xterra ERG200 works with a magnetic brake mechanism. In short, this type of resistance has the advantage of being whisper quiet and extremely low-maintenance. You can find more information on this topic in my blog article about magnetic rowing machines.
I would suggest that you just have a look at it for yourself. Since experience has shown that this rowing machine is available at Amazon at the best price, you should take a look there. Find it here.
SereneLife Rowing Machine
The SereneLife Rowing Machine is a 2-in-1 rowing machine with air resistance and magnetic brakes. Why?
To keep it short: Both resistance systems have their advantages. The air resistance provides a very good and "real" rowing experience, which is very close to the feeling of rowing on real water. However, air resistance is also known to cause more noise. And this is where the magnetic brake comes into play, which ensures that the rowing workout is whisper quiet.
The 2-in-1 solution of the SereneLife machine works with both resistance systems and thus offers the optimal combination of a unique rowing experience, a very low noise level and a high durability.
And of course, this rowing machine is also foldable and can therefore be used and stored perfectly at home.
To better understand the advantages of this 2-in-1 machine, I would recommend that you read through the customer reviews at Amazon, because they speak for themselves in this case. Find the machine here on Amazon.
Is the Waterrower Foldable?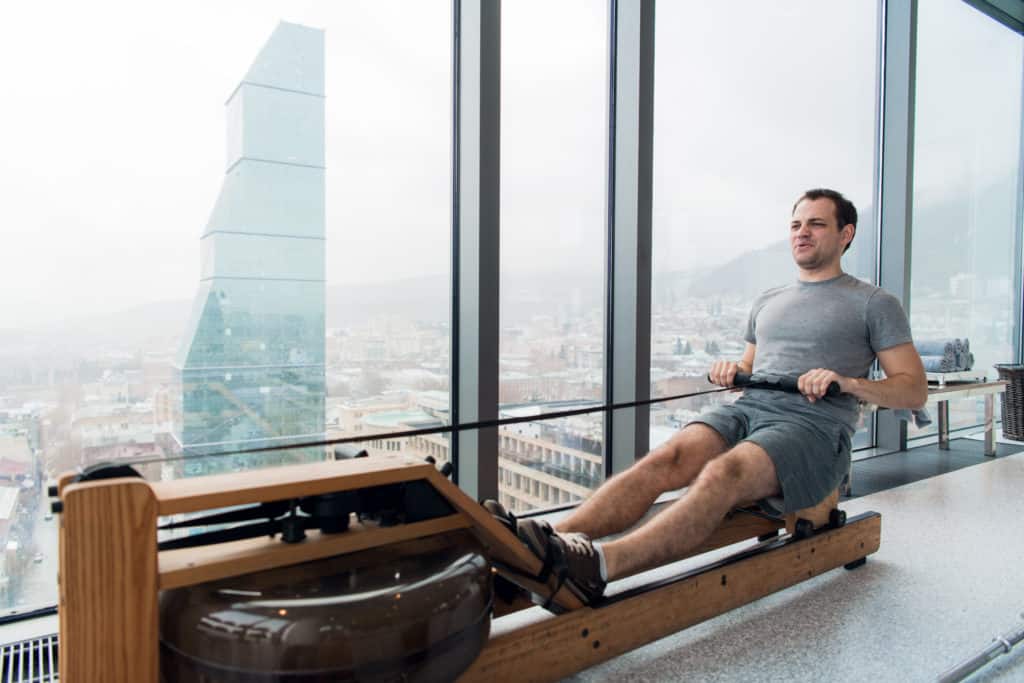 Since the Waterrower, well-known from its appearances in the US-series "House of Cards", enjoys great popularity, I decided to include this rowing machine in this article as well, as I'm sure that many of you are wondering whether it is foldable.
First of all: The Waterrower really is a first-class rowing machine with a unique rowing feeling and an awesome design. But is this eye-catcher also foldable?
Unfortunately, I have to disappoint you here. The Waterrower is not foldable.
And yet it is very easy to store nonetheless, because it can easily be stored in an upright position after use and therefore takes up very little space. The storage space can be reduced to 22″ x 21″, which in fact is no more than a chair.
If you want to know more about this popular rowing machine, I recommend you to read my article about the best water rowing machines, in which I talk about it in detail.
Let's Get Started: The Proper Rowing Technique
To get a perfect start on your rowing journey, it is important that you understand and learn the right rowing technique. Since the technique can be learned much better with pictures than just with written words, I'll leave a video that shows you how to do it correctly. It's very well explained there, so pay attention ?
The Bottom Line: Foldable Rowing Machines
I hope I helped you with this article about foldable rowing machines for home use and answered all your questions.
If you still have further questions or want to share your own experiences, I'd love to receive your message. Feel free to contact me or just leave a comment below.
In my rowing machines category, I also have some more interesting articles about the home rowing experience, so just have a look if you're interested! ?