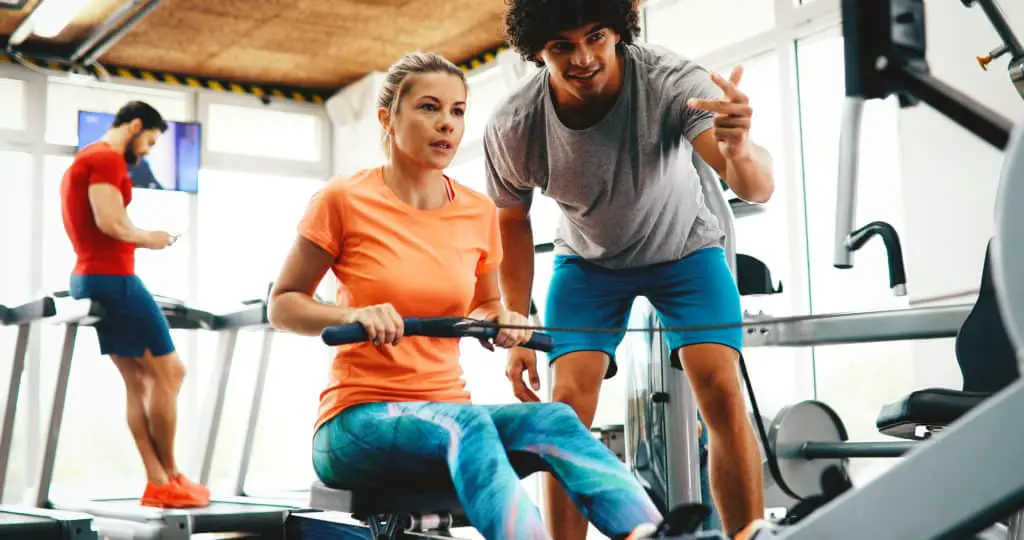 If you want to build a fit, healthy and athletic body as effectively and efficiently as possible, you will need a full body exercise machine! With a rowing machine you can train up to 80% of your muscles and burn fat effectively at the same time. Water rowing machines provide a particularly natural rowing feeling and have numerous other advantages!
In this article you will learn everything you need to know about rowing machines that use water resistance and you will also find the three best models you can currently buy. Have fun! ?
At the end of the article you will find recommended models. To make sure that you become an expert in the field of water rowing machines, I will explain everything you need to know about this topic in advance. Of course I recommend you take a read through this information, but you can scroll down to see the recommendations directly.
What are the Benefits of a Rowing Machine?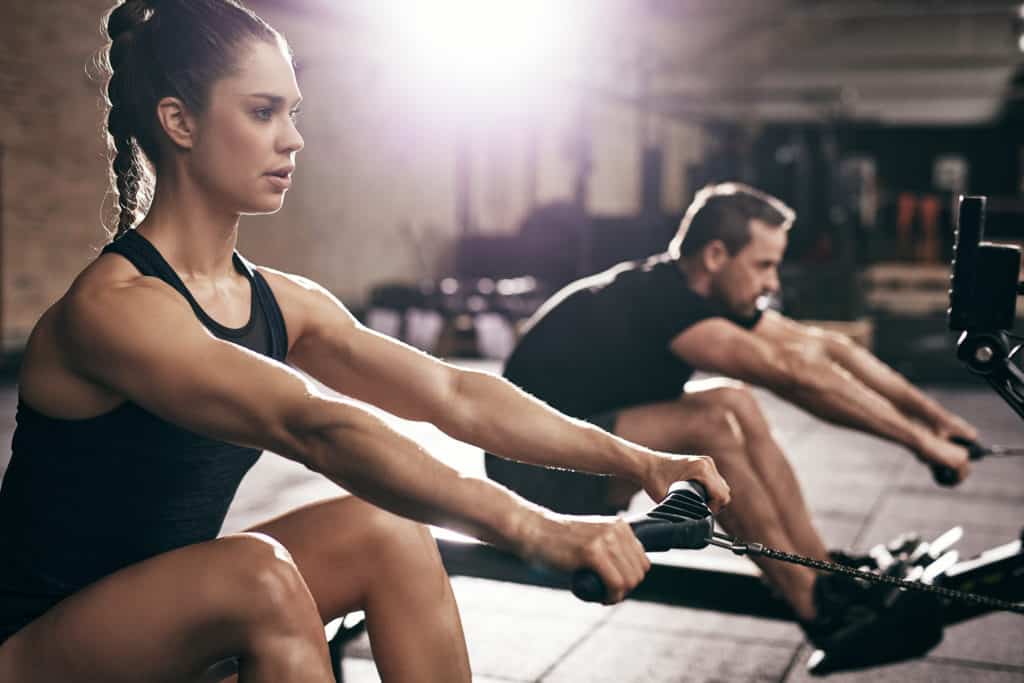 The rowing machine is becoming increasingly popular and more and more people are convinced of the indoor water rowing experience. But are rowing machines really that useful? And how do they actually work?
Put simply, a rowing machine is a fitness device with which you can simulate the movements of a real rowing boat. If you have ever taken a look at the rowing athletes at the Olympics, you can already guess how effective rowing training is.
In fact, the rowing movement uses up to 80% of our muscles and therefore provides a very, very good total body workout. The legs, the back and the arms in particular benefit from training with a rowing machine. Here is the complete list of muscles trained while training with an indoor water rower:
Large Back Muscle (Latissimus)
Back Extensor
Trapezius Muscle/Neck
Rear Delts
Front Thighs
Hamstrings
Glute Muscles
Calves
Ab Muscles
Biceps
Forearm Muscles
Well, that's an impressive list, isn't it? However, that's just the beginning… ? Let's think about the following: What does it mean when we train such a large number of muscles at the same time? Right, your body has to provide an enormous amount of energy.
Among other things, our body mainly gets this energy from our stored body fat. Exercising with a rowing machine therefore does not only target many of our muscles but is also extremely effective at burning fat and helping you lose weight.
Building muscle and burning fat at the same time: Normally, that's a pipe dream to many of us but with a rowing machine, there's a good chance that it becomes a reality!
Are Water Rowing Machines Better Than Air or Magnetic Rowing Machines?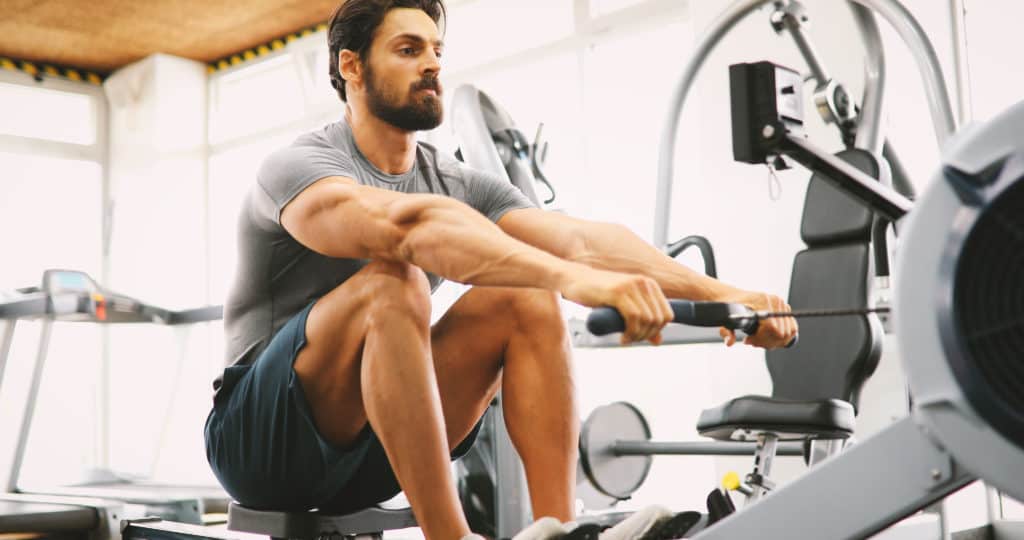 There are many different types of rowing machines. So why exactly should you choose a rowing machine with water resistance? Below, I will briefly introduce you to the advantages and disadvantages of water rowing machines.
The Rowing Feeling
Let's start with probably the most obvious advantage. A water rowing machine feels very similar to real rowing on a lake or on a river. After all, you are rowing against the resistance of the water, just as in a real rowing boat. For many people, including me, this is a very crucial advantage. I am always amazed about how close rowing on an indoor water machine comes to the feeling of real rowing and how good it feels in general.
The resistance builds up very consistently throughout the entire movement and there is no room for the so-called "dead spots" that sometimes appear with other rowing machines. The more powerfully you row, the higher the resistance becomes, just like when rowing on real water. The training intensity adapts perfectly to your individual performance level without you having to change anything on the machine's console.
High Quality
Another great advantage is the durability and longevity of the devices. Compared to other rowing machines, the models with water resistance are really very durable and of highest quality. And I'm not just talking about a few years, but decades. When using them with just the slightest bit of care, the water rowing machines won't let you down even after many years and will provide an effective full body workout at home for the long term.
Very Quiet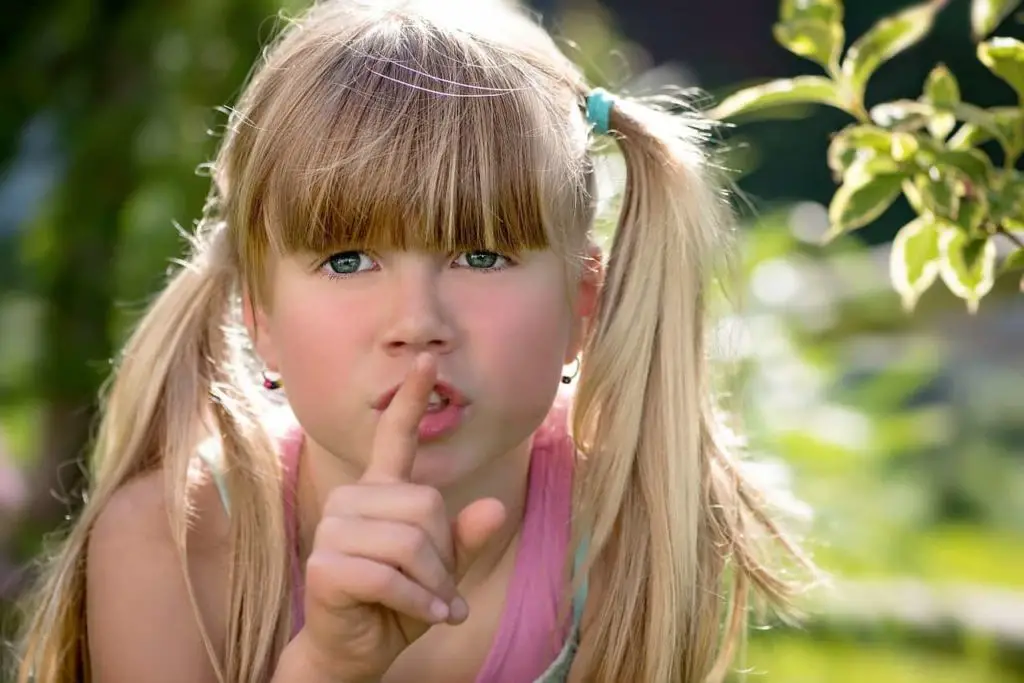 A concern that many people interested in a rowing machine have is the volume and the question of whether such a device can be used without having to worry about complaints from neighbors. If you belong to these people, I have some good news for you: Rowing machines are not very loud in general and water rowing machines are particularly quiet. In fact, the sound is even very pleasant, and similar to the soothing sound of rowing through real water.
The Design
When taking a look at the models that I am about to recommend, you will probably notice the last, and quite important advantage yourself. In many cases, water rowing machines are made of wood, and are real eye-catchers. However, taste is subjective, so I guess it is best to form your own impression. ?
The Price-Performance Ratio
Probably the most common reason why many people refrain from buying a water rowing machine is the hefty price tag. Admittedly, one has to dig a little deeper into one's pockets for a water rower compared to rowing machines with other types of resistance. However, it has to be said that the product you will get definitely justifies the price.
Would you like to be forced to buy a new cheap model every one or two years or would you rather dig a little deeper into your pockets and not have to worry about buying a new machine for the next ten years? In the long run, a rowing machine with water resistance is probably the cheaper alternative. The decision is of course left to you. ?
So, the price is not a real disadvantage. One small weak point remains, though, and that is that rowing machines with water resistance are often not very compact and therefore not very easy to store in small spaces.
As already mentioned, many models are made of wood and, unlike other versions, cannot be folded. If you live in a very small rented apartment, it might be difficult to store such a rowing machine. But in most cases it shouldn't be a problem to find a place for these pieces of fitness equipment.
The Best Water Rowing Machines
Waterrower – The Classic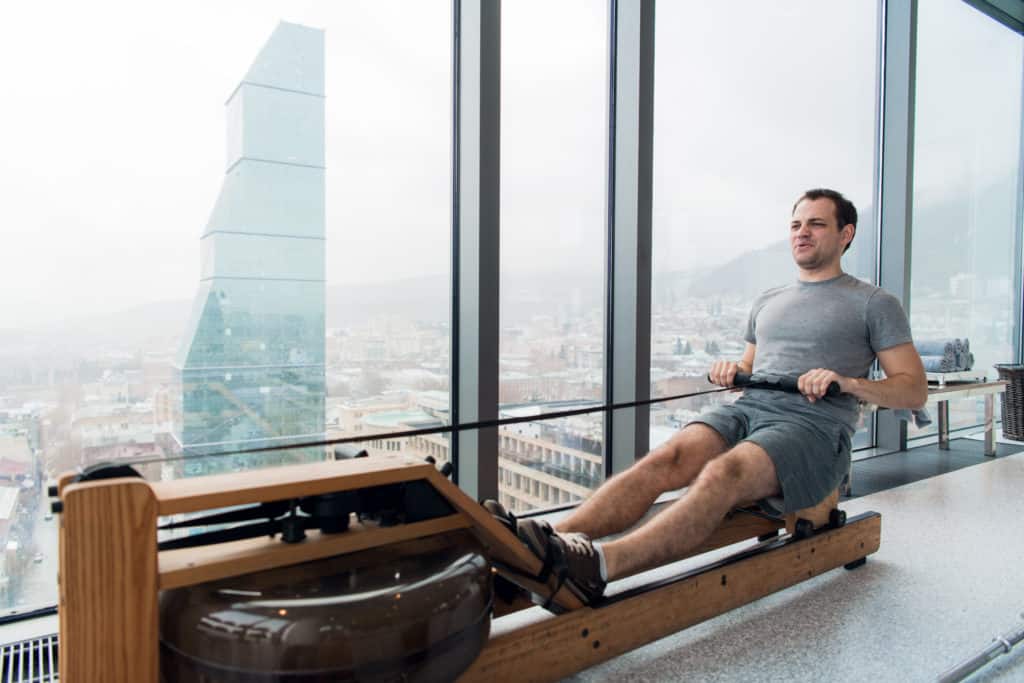 The Waterrower: You have probably heard of this model before. You will definitely know this water rowing machine if you are a fan of the popular TV series "House of Cards", in which the main character, the President of the United States, stays in shape by training with his water rowing machine in his own basement.
The Waterrower combines all the advantages of a water rowing machine and is a real eye-catcher. The rowing feeling and durability are simply unsurpassed, which makes this model the most popular choice in the category of rowing machines with water resistance.
The handcrafted workmanship is first-class and the training computer offers an enormous variety of features. What I particularly liked is the very large online community of Waterrower customers where you can get in contact with other people interested in sports and get training tips. Apps and additional software updates for the machine are provided regularly.
In general, the support is some of the best I have ever experienced. If any part of the rowing machine breaks, you can easily order any spare part from WaterRower, even if the rowing machine is already 20 years old.
In my opinion, this one is a no brainer and I can highly recommend you take a look at this rowing machine for yourself. Find it here.
Metal Alternative
If you're not a fan of the wooden look, there's also an alternative made of metal. This device is functionally identical to the classic Waterrower, but it is not made of wood but of brushed aluminum. You decide! Take a look at this model here.
A Cheap Alternative for Bargain Hunters
With the Xterra ERG600W Water Rower, you will get a light version of the popular classic Waterrower. You have to make some compromises in terms of quality and design, because this model is made of plastic instead of wood, but otherwise this device is also highly recommendable.
The disadvantage of not being easy to store does not apply to the Xterra machine because this device folds up for easy storage and therefore takes up very little space.
The rowing feeling is also very good and natural with this device and comes very close to the real rowing experience. All in all, the price-performance ratio is extremely good and you will probably not find a better rowing machine for this price. Again, it's best to make your own impression. Find this machine here.
The Proper Rowing Technique
Since the technique can be learned much better with pictures than just with text, I will leave a video for you to show you how to do it correctly. I think that the proper rowing technique is very well explained in this video ?
How to Set Up and Maintain Water Rowing Machines
As I said, water rowing machines are very durable. And yet, with a few simple tricks you can ensure that the equipment always remains in top condition. First of all, I would recommend wiping down the machine after each training session.
In general, it is also recommended to clean the water tank with a chlorine tablet about once a year to eliminate algae growth. These tablets are often included with the purchase of a water rowing machine. Otherwise they can be bought very cheaply at Amazon.
If the tank is still a bit dirty, just disinfect it with alcohol and then fill it with new, clean water.
Speaking of filling the water tank: The water in the tank simulates rowing with lighter or heavier boats, depending on the amount of water you put in the tank. If the amount of water in the tank is smaller, you will feel as if you were rowing a rather light, narrow racing boat. The training intensity, on the other hand, is still determined by the force of your rowing movements and remains independent of the water level.
You should be careful not to fill more than half of the tank and should use normal tap water. This already contains additives that inhibit algae growth. Distilled or purified water does not have these additives anymore, potentially promoting algae growth, and should therefore not be used.
The Bottom Line: Water Rowing Machines
I hope I helped you with this article about water rowing machines. I would be happy if more people enjoyed the home rowing experience, because if you look beyond the purchase price, rowing machines provide fitness training that is extremely effective and a lot of fun at the same time,v and will also last for many years to come.
If you have any further questions or suggestions on this topic, feel free to write me an email or leave a comment below.
Otherwise, I wish you a lot of fun with your new water rowing machine! ?