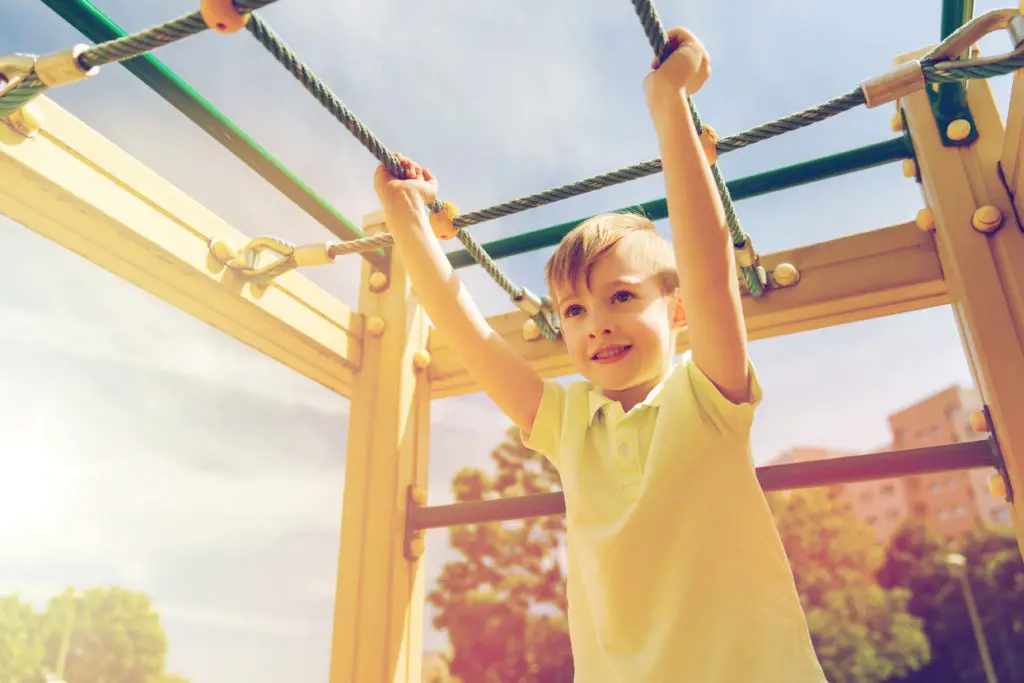 It's the year 2000: Children arrange to meet outside on the playground or play hide-and-seek in the neighborhood. This is how our kids' life looked like every day until somewhere around this time. What we couldn't foresee at that time was that this idea of life was going to change a lot over the next few years. Technological progress did not stop at the typical children's leisure activities, causing movement to play an increasingly smaller role now.
A very sad development, in my opinion. But we can counteract this. What we need is exercise equipment for children that combines fun and exercise. This is exactly what we are going to take a look at in this article. Have fun! 😉
What are the Characteristics of Good Exercise Equipment for Children?
The main characteristic of good exercise equipment for children is that we won't have to force them to move, but that the use of the equipment itself is so much fun that our kids want to move voluntarily. So fun is definitely the most important thing!
Moreover, kids' sports equipment should be easy to use. A rowing machine, for example, is an excellent exercise machine for an effective full-body workout, and yet it is not necessarily the best choice for children because the rowing form is not quite as intuitive and easy to learn.
The risk of injury should also be kept to a minimum. Of course, it is not possible to eliminate the risk of an injury entirely during sports activities, and yet the exercise equipment should be suitable for children.
In addition, the load of the respective sports equipment should not be too high. Of course, a child's body is not yet fully developed and is still growing, which is why exercise equipment with weights is out of the question.
In general, kids shouldn't perform isolated exercises for specific muscle groups, but rather a sports program for the whole body. Thus, the focus is on the movement itself and not on achieving specific fitness goals.
Sports Equipment for Children for the Garden
The Trampoline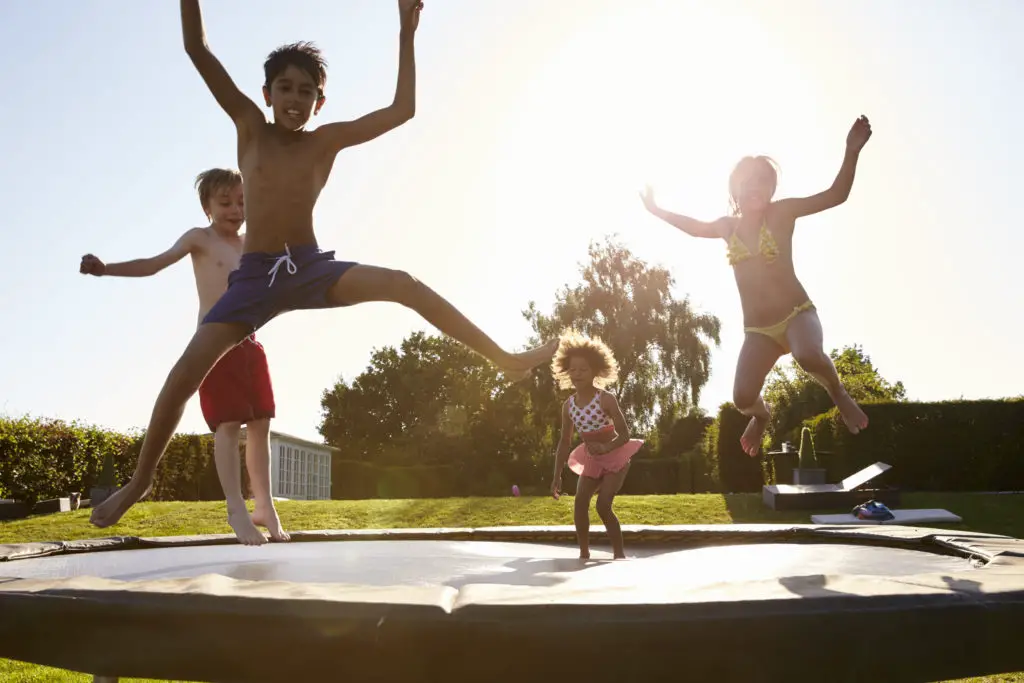 Having a trampoline is still an ardent wish of many children. I still remember it as if it was yesterday, when my parents gifted me and my siblings a trampoline. The smile on our face must have knocked my parents' socks off and I remember exactly how we spent several hours a day on the trampoline for the next weeks and months.
The trampoline is an excellent piece of sports equipment for children from the age of 5! Younger children should be cautious in that they should at least avoid jumping together with older, bigger or heavier children and should only jump alone under adult supervision.
It is actually a lot of fun for every child and incorporates a lot of movement. In addition, if used conscientiously, it is considered very child-friendly, safe and healthy. A trampoline with a net and frame pads also provides additional safety.
The trampoline can also be combined with many other sports activities. For example, we always used to try to throw a ball into the trampoline while another kid on the trampoline was trying to make sure that it did not touch the ground. The possibilities here are almost unlimited, and the children can give free rein to their creativity! 😉
One of the most popular trampolines for children at the moment is the Bluerise trampoline. If you are considering to buy a trampoline for your children, you can take a closer look at it here.
The Slackline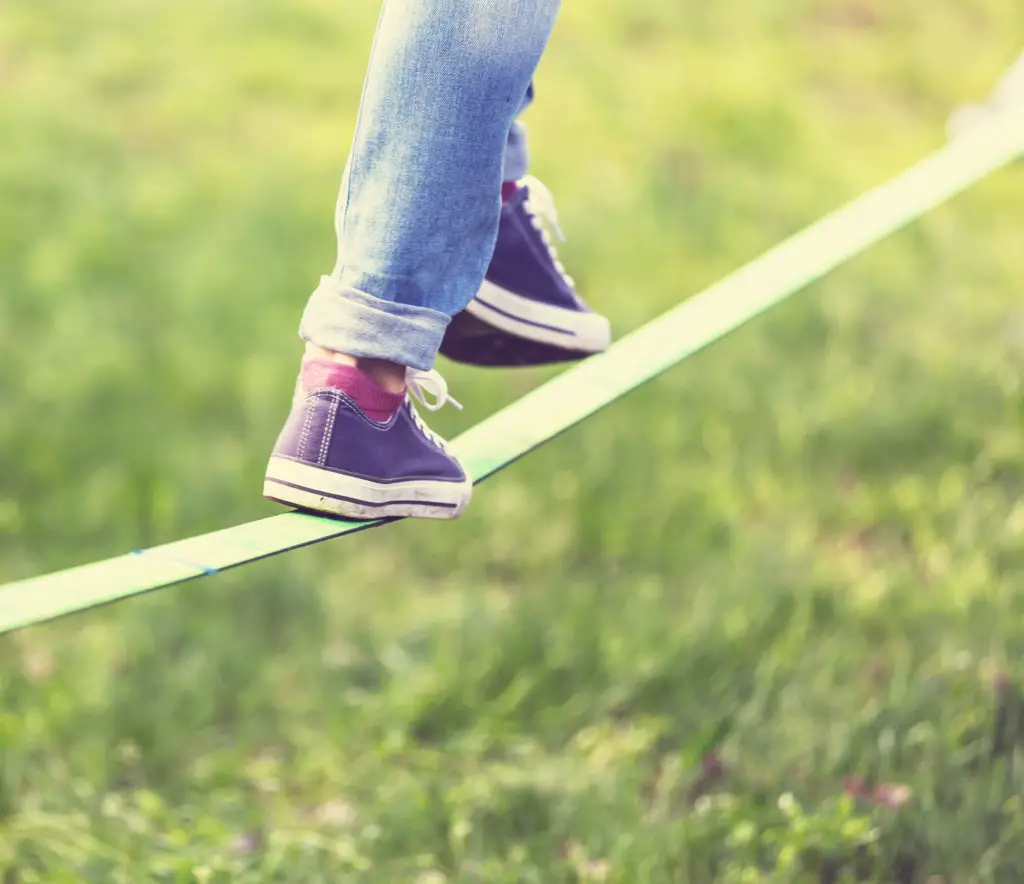 The slackline is another very good piece of exercise equipment for children. Since I didn't have a slackline in the garden myself in the past and could therefore only make a few (measly) attempts with friends, I only ever managed a few steps of the balancing act. I know, however, that children enjoy slacklining a lot because most of the time, they are making quick progresses.
In addition, exercising on the slackline improves your child's sense of balance and most importantly, it is lots of fun for the children to try to set new records together with friends.
A good and high-quality slackline is this slackline from ZenMonkey.
The Jungle Gym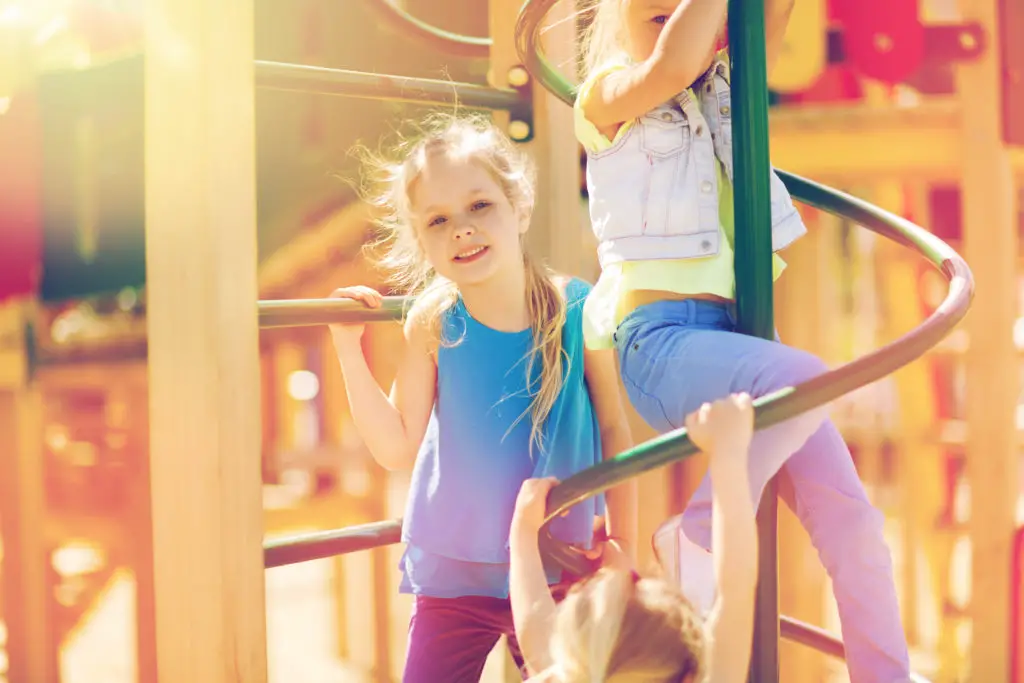 The jungle gym, or climbing frame, is one of the classics among the sports equipment for children, and probably everyone of us associates some nostalgic memories with it. The jungle gym is also a perennial favorite, because there is still no getting around it when it comes to kids exercise equipment.
In addition, the climbing frame benefits from its versatility. In any case, it never gets boring, because the possibilities to use it are simply almost unlimited.
Jungle gyms don't have to be limited to playgrounds. There are also very suitable models for the own garden. Due to the great popularity among your child's friends, it could lead to a real rush of children to your garden, however… 😉
The Lifetime Adventure Tower is an awesome choice for the garden. If you're looking for an indoor playground, take a look at this awesome product.
Indoor Exercise Equipment for the Children's Room
Kids love to play outdoors, of course. Nevertheless, it's nice to be able to play within the comfort of the own home during bad weather. In the following, we will take a look at the best indoor sports equipment for the children's room.
The Wall Bars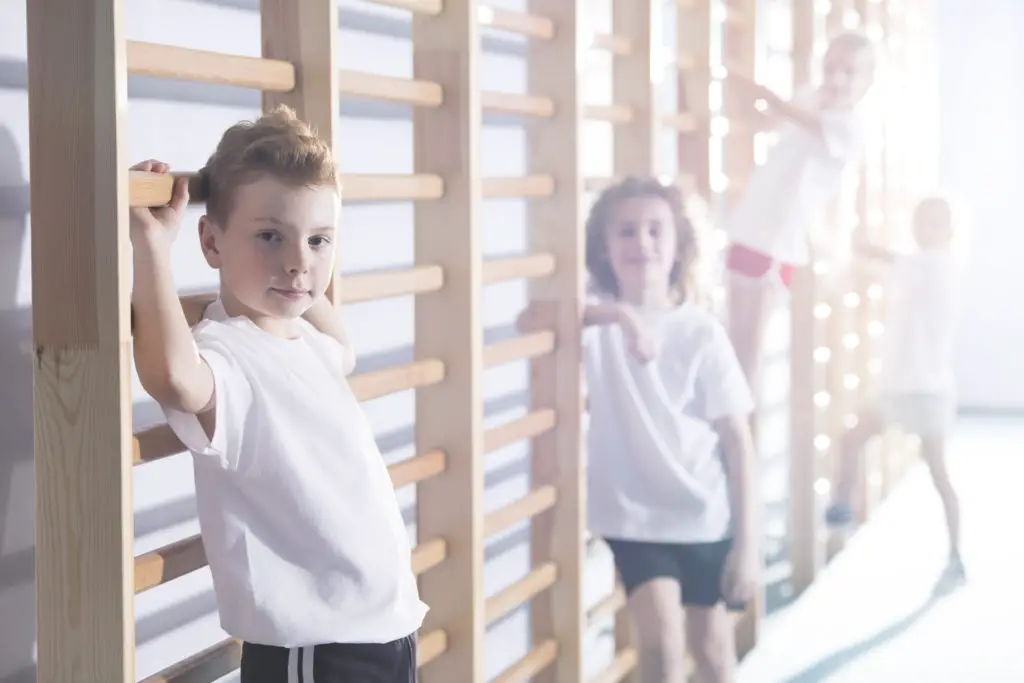 The wall bars are mainly known as gymnastics equipment and at first sight they seem quite simple and monotonous. But there is much more behind it, because the wall bars are also a very versatile piece of sports equipment for children.
The wall bars often no longer consist only of the eponymous horizontal bars, but come as a true all-rounder. Many models offer additional gymnastic rings, a slide, a swing, and much more, so that they could even pass as a climbing frame in their own right.
To be on the safe side, it is advisable to buy a mat in addition to the wall bars. In the following, I'll leave you some links to different wall bars – from the simple model to the all-rounder version. All further information, as well as the current price, can be obtained by clicking on the respective product links.
Final Thoughts on the Best Exercise Equipment for Children
It is time to bring more movement into the everyday life of our children. With the right exercise equipment, fun and exercise are combined in such a way that kids will just love do move. There are suitable solutions for the garden as well as for the children's room. The equipment discussed in this article should give you a good starting point! 😉
I hope that I could help you with this article. If you still have further questions or would like to share some own experiences, feel free to write me an e-mail.
Otherwise, I would be happy if you found what you were looking for and if your child can enjoy some new exercise equipment now! 😉