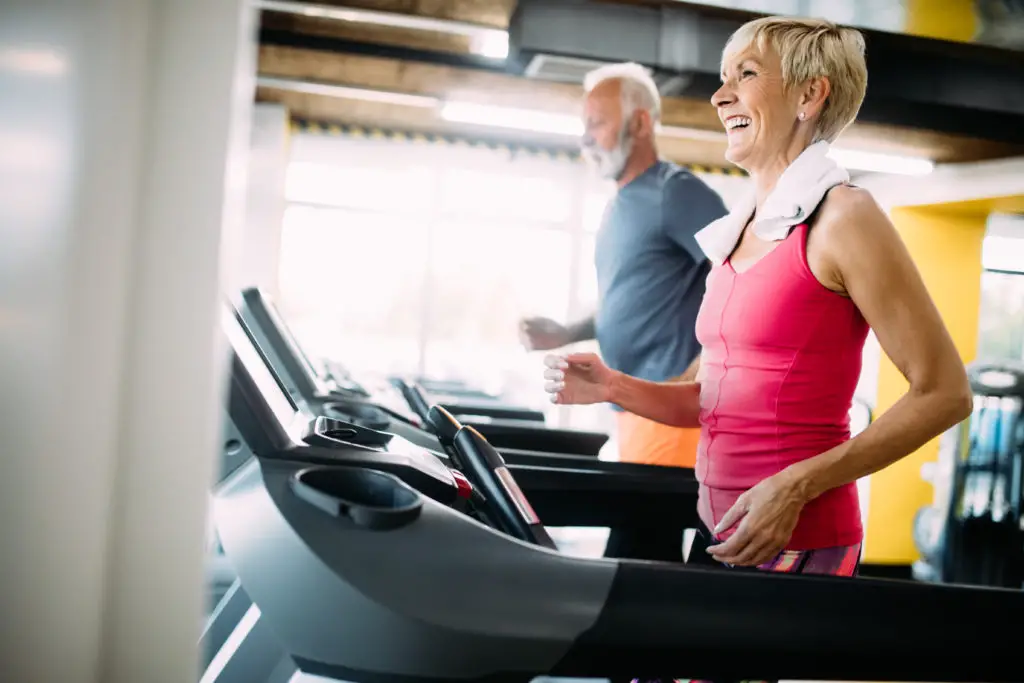 The treadmill is still one of the most frequently used exercise machines and is now becoming increasingly popular for home use as well. Especially for seniors the purchase can be extremely worthwhile, because running on a treadmill is very easy on the joints and healthy. However, it is important to pay attention to a few important aspects.
In today's article, I will introduce you to the best treadmills for seniors and explain what is important to consider before buying the device. Have fun! 😉
This is Why Treadmills are Perfect for Seniors
Exercise is one of the most important keys to physical and mental health up until old age. Among all exercise activities, walking and running are still the most popular choice. However, going for a run outside is not always as beneficial as it seems and has its pitfalls.
The constantly changing underground is very challenging for our body, so that our joints are usually put under much stress. Especially on a rainy autumn day the wet leaves can be fatal and increase the risk of an injury.
Don't get me wrong, I don't want to badmouth running at all! However, it cannot be denied that it has a few disadvantages, especially for seniors. Running on a treadmill, on the other hand, has the advantage that the surface is consistent and even and provides a low-impact running experience.
In addition, for many of us it is just more convenient to run on the treadmill at home compared to running outside, especially during bad weather. The treadmill just makes it easier to conquer one's weaker self! 😉
Treadmill for Seniors: Electric or Manual?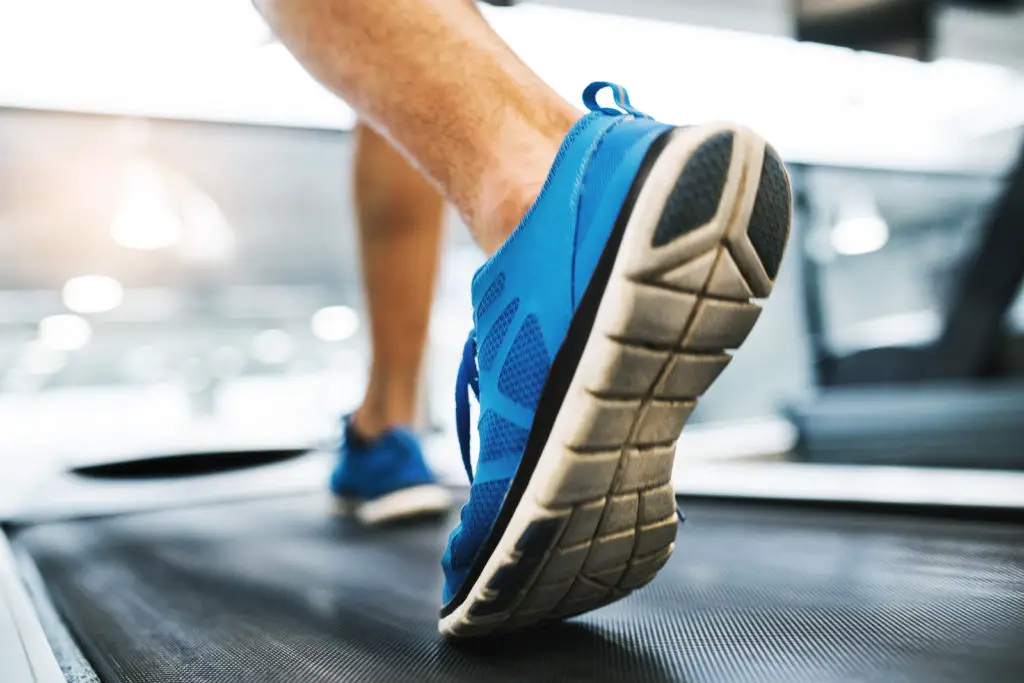 Electric or manual? This is one of the most common questions people have before buying a treadmill. Although the electric models are increasingly replacing the manual models, even the latter still have their advantages. But one thing at a time.
The electric treadmills are equipped with a motor that automatically starts the treadmill and keeps it running. In contrast, a manual model without a motor requires you to move the treadmill yourself. This requires much more energy and at the same time makes it more difficult to run fast.
The manual treadmills are therefore more suitable for seniors who want to work on their leg muscles or prefer to train at a slower pace. In this case, it is not necessary to use an electric model, as it is usually more expensive to buy because of the motor and the higher functionality.
However, if you would like to train at a higher pace and benefit from numerous pre-installed training programs, then an electric treadmill is recommended.
In this article, I will focus on electric treadmills. However, if you want to learn more about manual treadmills and find out which are the best models from this category, check out this blog post.
What to Consider Before Buying a Treadmill for Seniors
Basically, almost all "normal" treadmills can also be used by seniors. That's the good news! 😉 Nevertheless you should pay attention to a few important aspects before buying! Let's have a look at what you should consider.
The Running Surface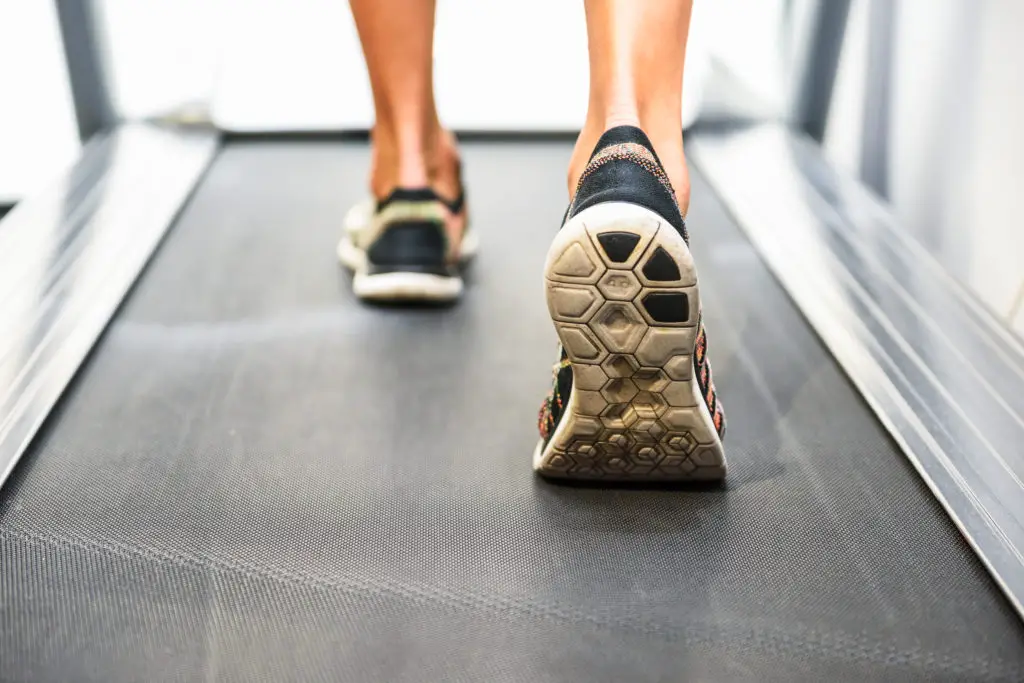 The first point is especially close to my heart, because unfortunately I see it being ignored again and again. In my opinion, the most important aspect of a treadmill for seniors is safety. Safety should always be the top priority, especially for the elderly.
The size of the running surface is an extremely important part of a safe and healthy running experience. If the running surface is too short or too narrow, the risk of a misstep increases. And even small stumbles can lead to fatal falls. Conversely, of course, this also means that the risk of injury increases. This can have very unpleasant consequences, especially for seniors.
So, don't spoil the ship for a ha'porth of tar and better spend a little more on a treadmill that comes with a big enough running surface.
How Big Should the Running Surface Be?
For walking or running at a leisurely pace, the treadmill should be at least 50 inches long and 18 inches wide. For higher speeds, I recommend 55 inches in length and 20 inches in width.
These are of course just some rough estimates. In the end, the ideal size of the running surface also depends on your own height, stride length, running style and speed.
The Cushioning
As I have already mentioned, treadmill running has the great advantage over running outside that it  provides a lower-impact workout that's easier on the joints. However, for this to be the case, it is important to choose a treadmill with a good cushioning system.
Most of today's treadmills come with a multi-layer running surface with a so-called multi-zone damping system. It is important that the treadmill is neither too hard nor too soft, as both extremes can cause knee pain in the long run.
To explain the scientific effect of the different cushioning systems in detail would go beyond the scope of this article. However, you should make sure that the treadmill is equipped with a cushioning system when you buy it. The models I will introduce to you shortly are very good examples.
Emergency Stop and Handles
Despite the running surface being very big, at some points you might lose balance while running. In these cases, it is very important that the treadmill has an emergency stop system and handles. These provide the necessary safety in cases of need and will prevent injuries.
Many models therefore offer magnetic emergency stop clips that attach to your clothing and bring the treadmill to an immediate stop when you stop running (e.g. because you fall). Additionally, you could hold on to the treadmill's handles. Treadmills for seniors should provide long handrails that are at least halfway down the length of the device.
Heart Rate Monitoring
Another point that is really close to my heart. Because this is exactly what it is all about: The heart! Or rather, the health of your heart. Heart rate measurement is a training possibility that is used far too seldom, yet it is of such great importance!
Exercising in different heart rate ranges leads to completely different training effects.
You could say our heart rate is our internal compass that keeps us on course while running. We can react to the signs of our body and make changes if necessary. However, none of us can estimate our own heart rate without help. At least not at the level of accuracy that is required.
This is where heart rate measurement comes into play. Many treadmills today offer chest straps for heart rate measurement. Do yourself a favor and take advantage of this opportunity. Your health will thank you for it! 😉
The 3 Best Treadmills for Seniors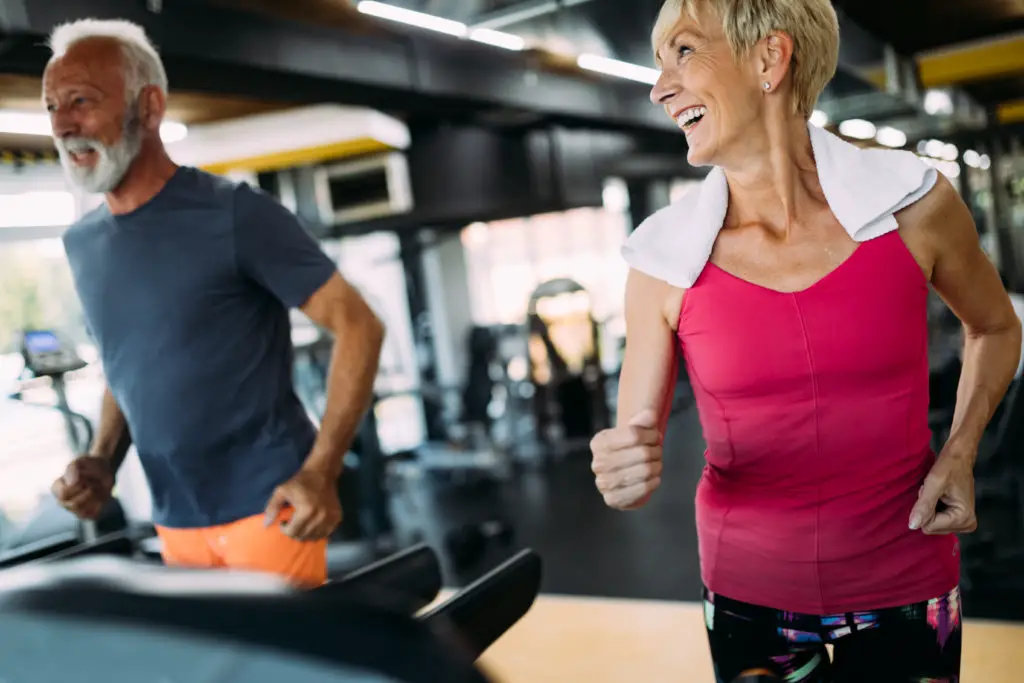 The Sunny Health & Fitness Walking Treadmill
This one is probably the most popular treadmill for seniors. And that's pretty reasonable as this device offers nearly everything that you could wish for in an exercise machine for the elderly.
It comes with very long, extensive handrails for a very safe workout and a good shock absorption technology that reduces the load on the joints. Additionally, there is an emergency safety key that stops the treadmill immediately when necessary.
The only thing I don't really like about this treadmill is the size of the running surface. With 19.5 inches, the width is quite sufficient, however the length might be a bit short with just 44 inches. On the other hand, this model only provides speed levels of up to 5 mph for which the belt size should be fine.
If you don't want to exceed this pace and just want to walk or run at a leisurely pace, this treadmill certainly is one of the best treadmills for seniors that you can currently buy. It is comparatively cheap and has a very good price-performance ratio. I can highly recommend you to take a closer look at this device for yourself. Here you will find it.
The Bowflex BXT216
If 5 mph is too slow for you and you want to run at a faster pace, the Bowflex BXT216 might be the perfect choice for you. This one is much more expensive than the first option but is also better than it in many respects.
With 22" x 60", the running surface is gigantic, providing a safe workout at all times. Moreover, of course it also offers a magnetic safety key that stops the treadmill in cases of need and comes with a modern cushioning system that reduces the impact on the joints. Additionally, there are long handles reaching approximately halfway down the treadmill's length.
In comparison to the Sunny Health & Fitness treadmill, this one really is a premium model. The price is justified partly by the very strong motor (4 CHP) that allows speeds of up to 12 mph. Moreover, there is a personalized coaching technology that guides you through your running workout and provides personalized feedback. A chest strap for heart rate measurement is already included in the scope of the delivery, so this one really leaves nothing to be desired.
Whether this treadmill is worth its prize depends on your personal preferences. I'd recommend that you just take a closer look at it for yourself. Here you will find it.
The RehabMill Rehabilitation Treadmill
I know… This treadmill is not a cheap option, but I just feel like an article on the best treadmills for seniors wouldn't be complete without mentioning this model. It was designed and created by physiotherapists specifically for rehabilitation purposes so that it comes with the best safety measures possible, making it THE perfect treadmill for seniors.
You can really say that you won't feel safer on any other treadmill. It has the longest handles that you could imagine, in fact they even reach over the end of the deck. As you've probably already guessed, it comes with stop buttons and a safety lanyard that immediately stop the treadmill in cases of need.
The running surface is huge with 21" x 59" and you will be running on a surface with a good cushioning system. However, it's not only that this treadmill provides the highest safety you could wish for, but it also allows a very professional workout with a maximum speed of 12 mph, an incline of up to 15%, 12 pre-installed training programs and heart rate measurement.
The number one reason for spending that much money on this treadmill however is that it's just the safest treadmill on the market that's perfect for seniors. Whether it's worthwhile for you personally, again depends on your personal preferences. You should definitely take a look at it for yourself to find out. Here you will find it.
Final Thoughts on Treadmills for Seniors
Exercise is extremely important in order to ensure physical and mental health even in old age! A treadmill can be a perfect training device for your own four walls, which in contrast to running outside is very easy on the joints and healthy.
However, it is important to choose the right treadmill, which puts safety first and is designed accordingly. The models I recommended in this article are very good examples of this and are perfect for seniors.
I hope I was able to help you with this article. If you still have questions or want to share own experiences on this topic, feel free to write me a mail or just leave a comment below.
Otherwise, have fun with your new treadmill for seniors! 😉