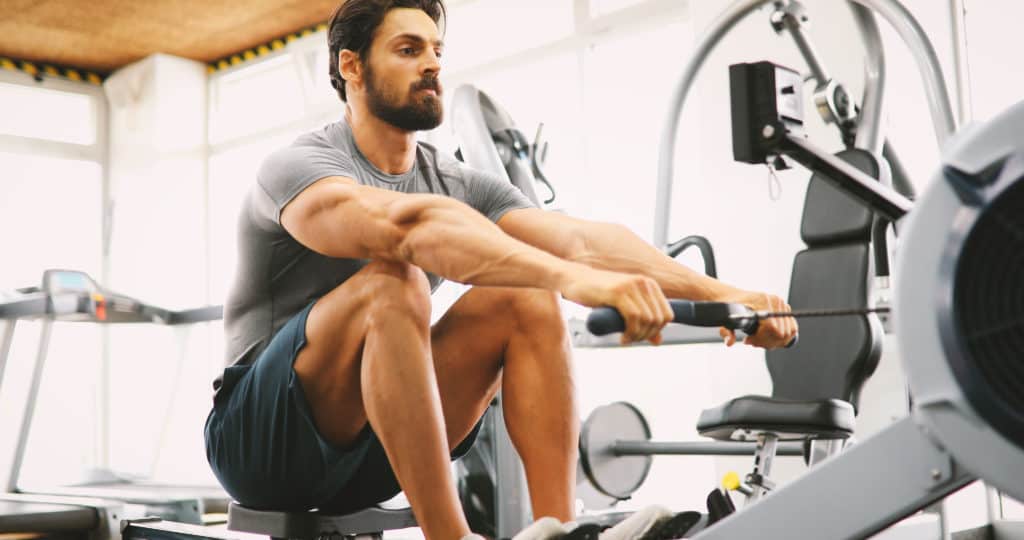 Some of us have just seen them in the gym, and some of us know them from the TV series "House of Cards". Either way, rowing machines are becoming increasingly popular and more and more people swear by the rowing experience within their own four walls.
In today's article, we are going to take a look at rowing machines with air resistance. How effective is working out with a rowing machine really? And why should you choose an air rower? You'll find out that and much more below, so have fun! ?
The Best Air Rowing Machine (By Far!)
To cut a long story short: I don't want to overwhelm you with thousands of products and therefore I will only present to you what I think is by far the best air rowing machine. This one is a no-brainer and I can recommend it without reservation. ?
The Concept2 Indoor Rower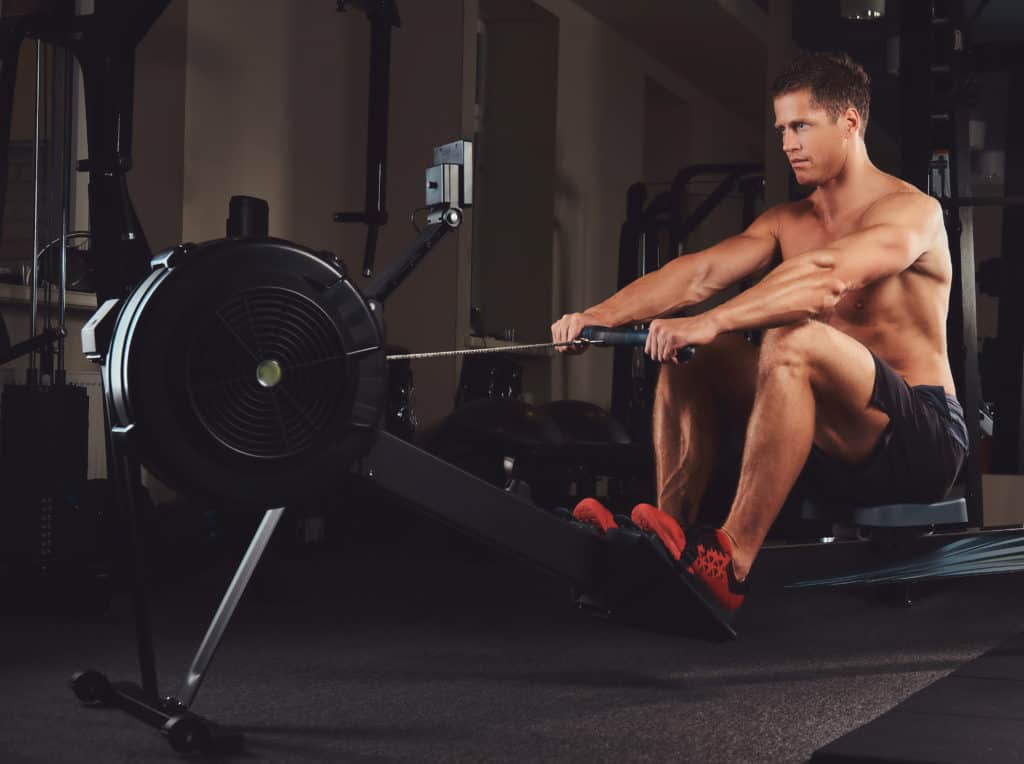 The Concept2 Indoor Rower is probably the most popular air rowing machine and one of the classics among rowing machines in general. It is a very robust, high quality piece of exercise equipment that provides everything that a rowing machine should offer.
What I personally like very much is the large Concept2 Community. Due to the popularity of this rowing machine, there is a first-class community coming along with many videos of athletes working out on it and in general, you'll always find a helping hand for your problems. This simply is a lot of fun and always keeps the rowing motivation high.
All in all, I couldn't be more convinced of this amazing air rowing machine. However, I'd suggest that you take a look for yourself. You'll find all further information here.
What Are The Benefits of a Rowing Machine?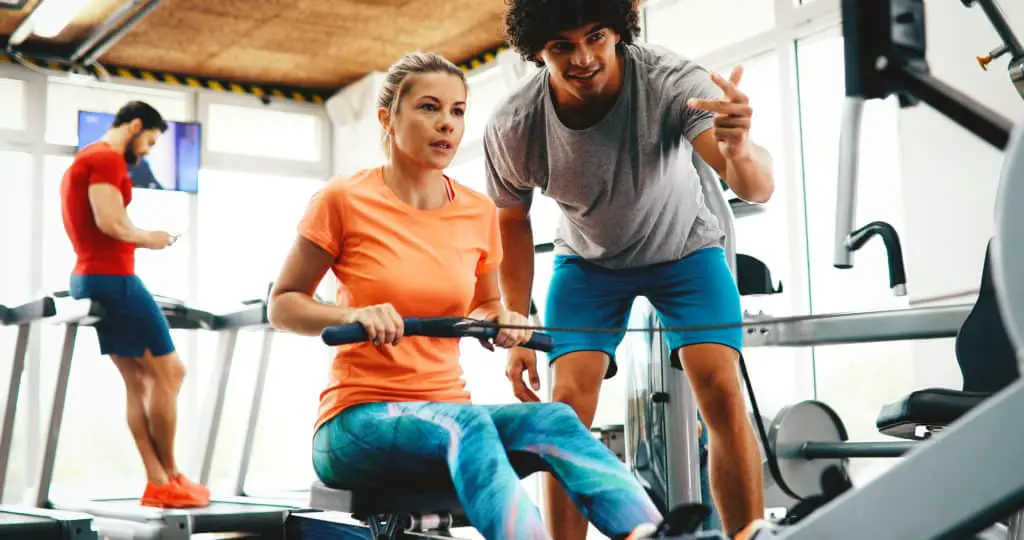 With a rowing machine you can simulate the movements in a real rowing boat in your own four walls. But why should you? It's simple: Rowing targets up to 80% of our muscles at the same time, helps you to lose weight and provides an extremely effective full-body fitness workout in general.
If you take a look at the rowing athletes at the Olympics, you will notice that they are probably among the fittest and most athletic people in the world. With a rowing machine, you can build a fit, healthy and athletic body as well.
I'll drop a list for you here that shows all the main muscles trained with a rowing machine:
Large Back Muscle (Latissimus)
Back Extensor
Trapezius Muscle/Neck
Rear Delts
Front Thighs
Hamstrings
Glute Muscles
Calves
Ab Muscles
Biceps
Forearm Muscles
Pretty impressive, isn't it? And the best part is that you don't have to spend hours on the rowing machine to get results. You train all the above-mentioned muscles at the same time and can therefore achieve an optimal training effect in just 30 minutes.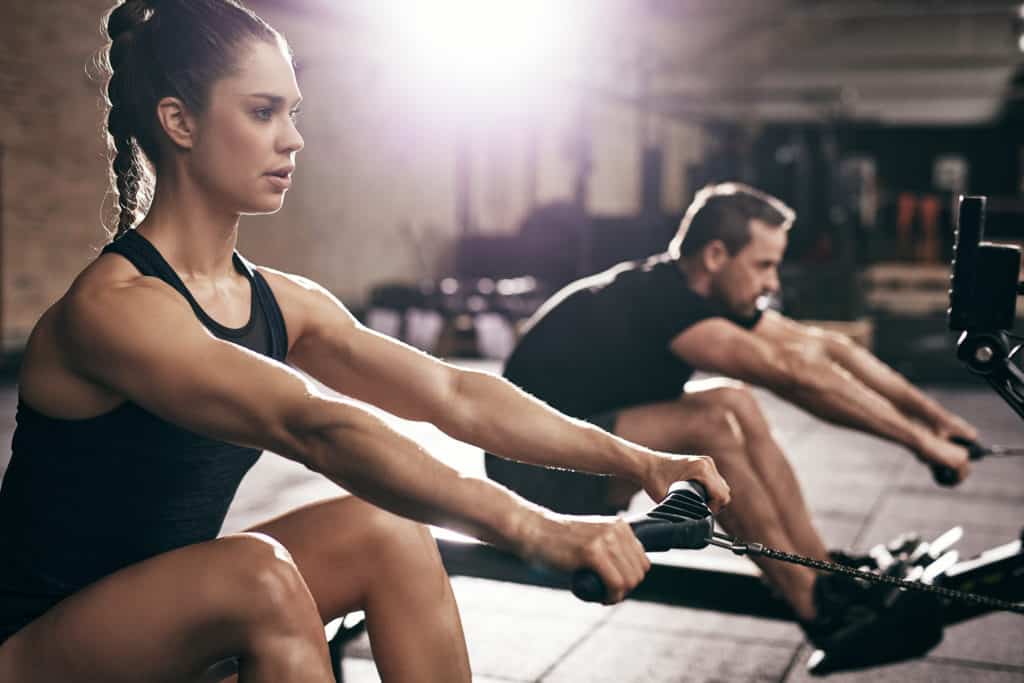 It gets even better, because there is another big advantage I haven't told you about yet. The impressively long list of muscles trained also means that our body has to provide a lot of energy. And how does our body get this much energy? That's right, it cuts from our stored fat! Depending on the intensity of the training, about 700 to 1000 calories are burned per hour, making the rowing workout one of the most effective ways to train your body.
Building muscle and losing weight is possible at the same time! What is a pipe dream for many could actually become a reality with a rowing machine.
In addition, rowing is much easier on the joints than running, for example, and the rowing movement also helps to relieve back pain. Many customers consider rowing a significant back pain remedy and report feeling fitter and healthier in general.
Are Air Rowing Machines the Best?

Realistic On-Water Rowing Experience
So, now you know why a rowing machine provides a very effective full-body workout for home. However, there are different types of rowing machines. Why exactly should you choose an air rower?
First of all, because of its realistic on-water experience. Rowing on a machine with air resistance feels very realistic and is very similar to real rowing on water. To be precise, besides water rowers, air rowing machines are probably the most realistic. For this reason, rowing athletes that want to continue their workout routine during winter mostly rely on air rowers as well.
But why are air rowing machines so realistic? The reason for this is that the air resistance automatically adjusts to the strength and speed of your rowing strokes. The more powerfully you pull, the stronger the resistance, just like when rowing on water. The resistance builds up smoothly and there are no so-called "dead spots" where the resistance decreases abruptly.
In contrast to rowing machines with magnetic brakes that have a pre-set, fixed resistance, the intensity adapts to your individual performance level.
The Longevity
Another amazing advantage of an air rower is its durability. Compared to other rowing machines, the models with air resistance are really very durable. With proper care and regular maintenance, air rowing machines (at least the one I have just recommended) will not let you down even after many years and continue to offer an effective full-body workout at home.
Of course, there is also another side of the coin. In order to give you a complete picture of rowing machines with air resistance, let's talk about a small drawback.
The Noise
A major aspect that discourages many people from buying a rowing machine is that they worry about the potential noise of them. Let me tell you that after all, rowing machines are not that loud anyway, but if noise is a matter to you, you should know that air rowing machines are louder than other models when training at high intensity (=high resistance).
However, I personally like the air sound of the flywheel and if you train for yourself, it probably won't bother anyone else as the noise level is certainly not high enough to annoy neighbors or people in other rooms in general.
If you want to train in your living room while your friend or family member wants to watch TV just a few meters away from you, a rowing machine with air resistance is not the optimal choice. In this case I would recommend a water rowing machine.
Price-Performance Ratio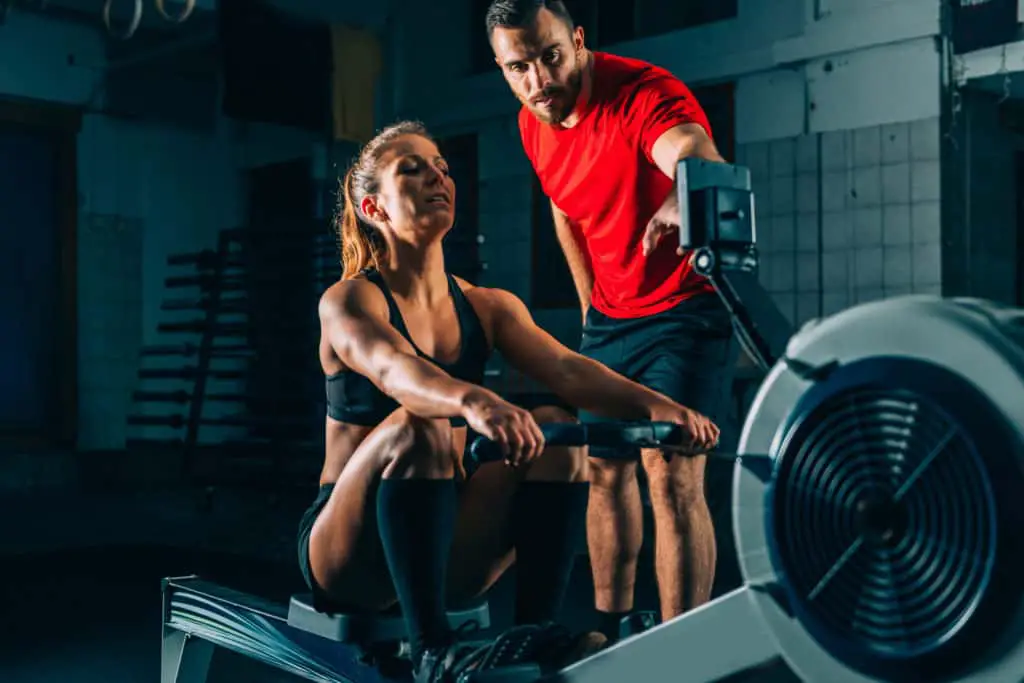 Many people consider the hefty price tag as a disadvantage of rowing machines in general. In my opinion this is not true and is a very narrow-minded view. The purchase price may be higher than that of other exercise equipment, that's true.
BUT: Rowing machines are extremely durable and you won't have to worry about getting a new machine for many years. You can also save on gym membership because now you can train effectively from the comfort of your own home. In the long run, gym membership is definitely more expensive than the purchase of a rowing machine.
Another thing to keep in mind is time. You save the time spent traveling to and from the gym and in general, you can exercise your whole body in less time. 30 minutes is completely sufficient to effectively build muscles, burn fat and increase your fitness level.
The Proper Rowing Technique
Since good rowing technique can be learned much better with pictures than just with text, I'll drop a little video for you here to show you how to do it correctly. I think it is explained very well there, so pay attention! ?
How to Set Up an Air Rowing Machine
In order to set the basic resistance of the rower correctly, rowing machines with air resistance have an air damping system that works like the gear shift of a bicycle.
The damper controls how much air enters the flywheel. For the Concept2 Indoor Rower, you can choose between levels 1 to 10. The higher the level, the higher the air supply. An increased air supply leads to a greater resistance and will ultimately make your workout more intense.
A low setting (1–4) is comparable to cycling in a low gear. Sometimes, it's also compared to rowing in a narrow racing boat, while a higher setting simulates the feeling of rowing in a heavier boat.
However, this should not be confused with the general workout intensity. Although the air damper setting makes the resistance appear different, it has no effect on the actual resistance, which is only determined by your own power input.
You should find out for yourself which setting is optimal for you by trying it out. As a beginner, I would recommend choosing the lower values.
Final Thoughts on Air Rowing Machines
I hope I helped you with this article about air rowing machines. I would be happy if more people enjoyed an indoor rowing workout, because if you look beyond the initial costs, you will get long-term fitness training that is not only extremely effective, but also a lot of fun!
In addition, I am always happy about new members in the rowing community. ?
If you have further questions or suggestions, I am always happy to receive an email or to read a comment below.
Otherwise, I wish you a lot of fun exercising with your new air rowing machine! ?