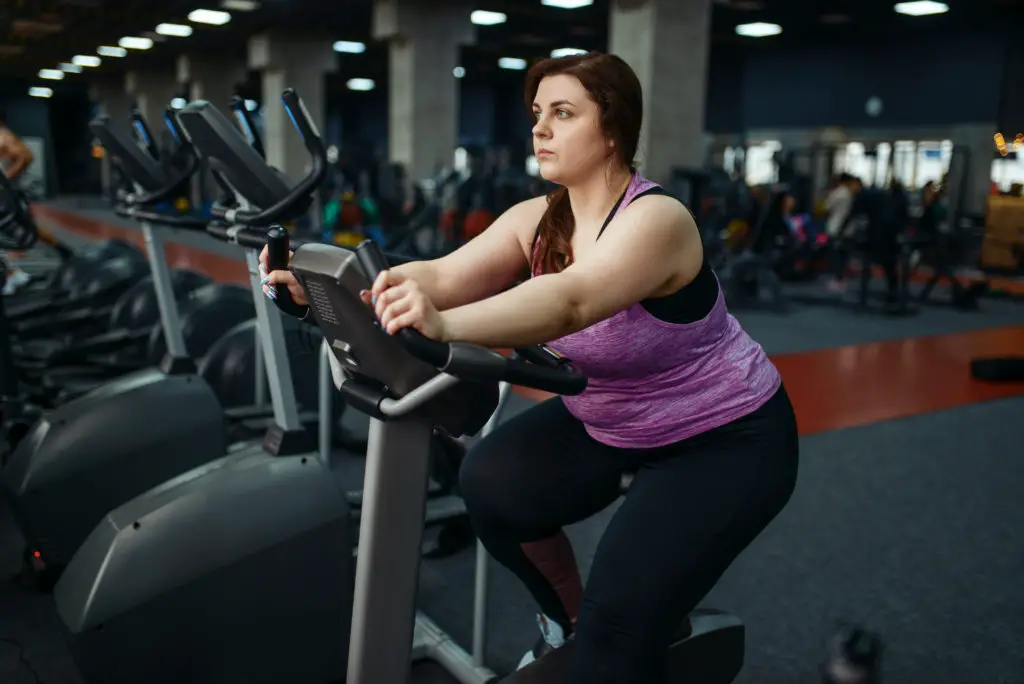 The exercise bike is one of the most popular home fitness machines. It is especially suitable for beginners and is the ideal choice for losing weight. Unfortunately, many devices can only be used up to 200 lbs, so that overweight people are often neglected.
But don't worry: I've done some research and picked out the best heavy-duty exercise bikes for overweight people up to 300 and even 350 lbs, which I would like to present you in this article. You'll also learn why exercise bikes are a great choice, especially for overweight people and what you should consider before using them. Have fun! ?
This Is Why Exercise Bikes Are Suitable For Overweight People
Treadmills, ellipticals, exercise bikes, rowing machines… There are countless exercise machines that you could choose from, so what makes the exercise bike stand out? And what makes it so recommendable for overweight people in particular?
First of all, let's take a look at the particularly popular running activity. This poses a few problems for overweight people. When running, 3-4 times the weight of your body rests on your joints with every step you take.
Especially for overweight people, this can be an enormous strain that often leads to knee pain. Treadmills try to reduce the impact with innovative cushioning systems, but the basic problem remains.
And this is where exercise bikes come into play. Since the feet are in constant contact with the pedals during the whole movement, all impact forces are eliminated, which makes the exercise bike a very joint-friendly workout machine, which is particularly interesting for overweight people over 300Lbs.
Since working out with an exercise bike is also very easy and controllable, it is generally suitable for beginners as well. It helps you to get used to the physical strain slowly and provides an optimal start into your fitness journey.
By the way, you can find out exactly how you can lose weight with an exercise bike in my article on this very topic.
What You Should Consider Before Buying A Heavy-Duty Exercise Bike Up To 350Lbs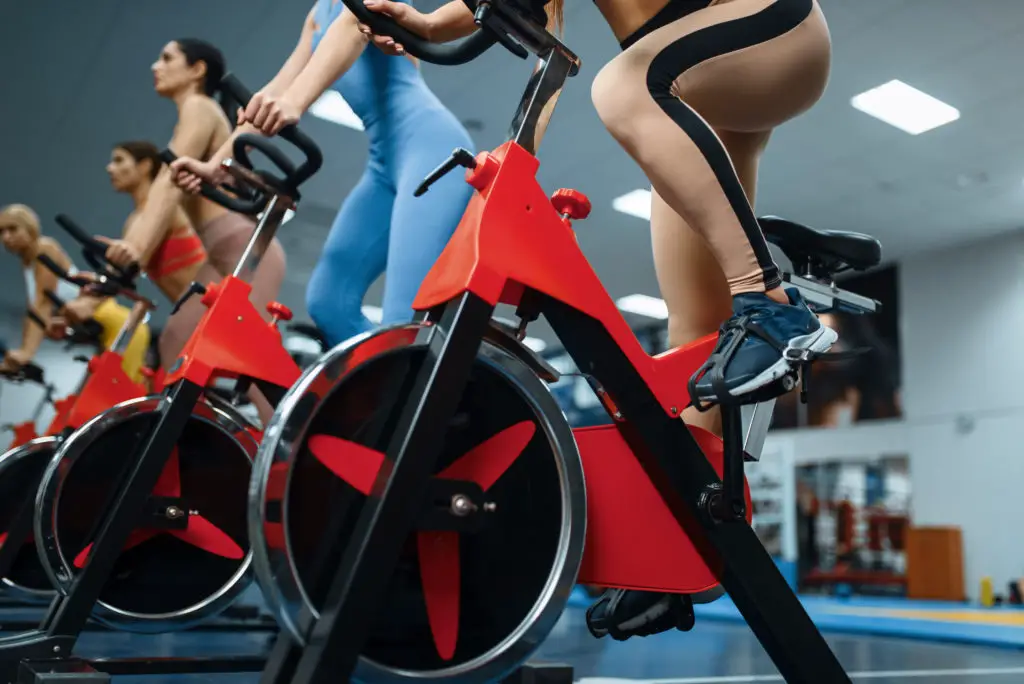 The Flywheel Weight
On the exercise bike we perform a circular motion with our legs. In doing so, the momentum helps us to transfer the forces better, but at the top and bottom points of the motion sequence, the direction of our movement changes. These are the so-called reversal points, where we lose momentum.
This in turn results in an uneven and out-of-round movement as the loads vary. And this is where the flywheel weight comes into play. It stores the momentum we generate and returns it to us at the reversal points. The result of this is a round, natural and fluent movement.
Especially with exercise bikes for overweight people up to 300 or 350Lbs, it is therefore important that the flywheel weight is large enough to be able to transfer enough power to us.
For overweight people up to 350Lbs, I'd recommend a flywheel weight of at least 28Lbs. Obese people up to 450Lbs should look for a flywheel weight of at least 40Lbs.
The Proper Form
The proper form plays an extremely important role in every kind of exercise, especially for overweight people. This is because an incorrect load distribution affects our bodies very negatively and every extra pound of weight makes it even worse.
To prevent injuries and avoid joint pain, it is therefore important to pay attention to the proper form and correct posture.
The beauty of exercise bike workouts is that they are fairly easy! Compared to other workout machines, the movement is very simple and almost self-explanatory. However, there are a few small adjustments that need to be made.
The most important thing is that you keep your back straight and upright during the whole workout. Many people tend to have a hunched back when sitting, but you should avoid this if possible, as it can lead to tension and back pain.
This can also be caused by an incorrect posture of the shoulders. So, make sure you keep them down and don't pull them up.
To avoid wrist pain, you should also make sure that your wrists remain straight and are the extension of your forearm.
Last but not least, the saddle height also plays a crucial role! Knee pain is something that many overweight people suffer from. As already mentioned, the exercise bike provides a very joint-friendly workout, but in order to really protect the knee joint, you should make sure that your legs are never fully extended during the whole movement.
Therefore, select the saddle height in such a way that your knee joint is still slightly bent at the lowest point.
The Best Exercise Bikes For Heavy People Over 300 and 350Lbs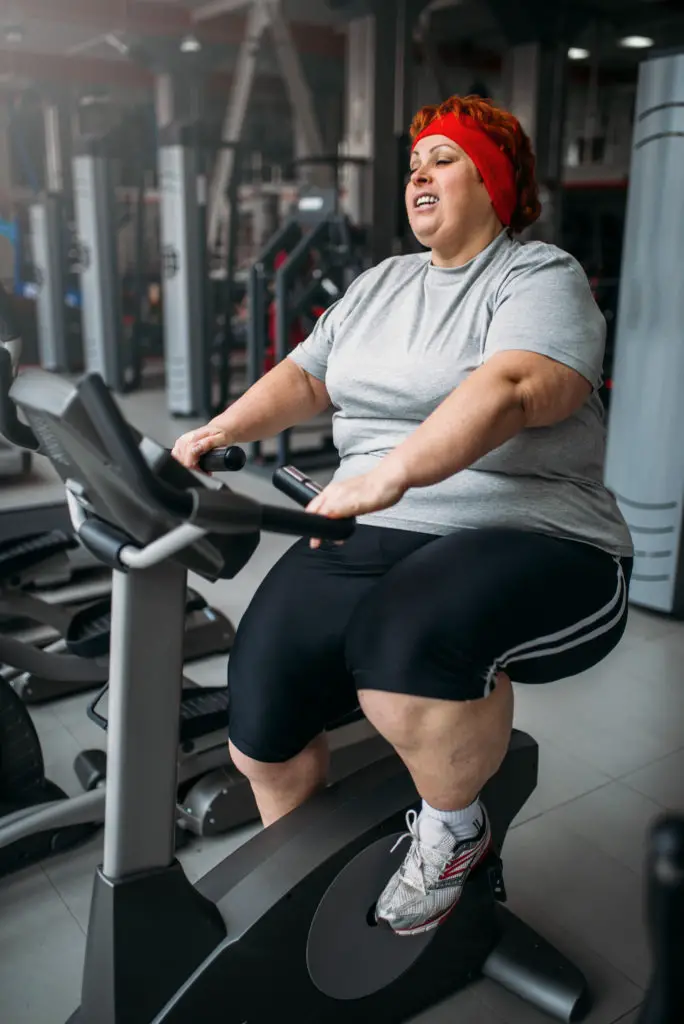 Now that we talked about the theory part, you know what to look for in an exercise bike for overweight people up to 300 or 350Lbs. Now it's time to put this knowledge into practice. Of course, you still need the right exercise bike which matches all of the discussed criteria.
Since the demand for home exercise equipment is constantly increasing, more and more cheap low-quality products are entering the market as well. For this reason, it's very important to know what to look out for and to be careful with your choice.
An exercise bike that I can recommend without reservation is the YOSUDA Indoor Cycling Bike. It comes with a very heavy 40Lbs flywheel weight that makes it suitable for overweight people as well. The weight capacity specified by the manufacturer is 330Lbs.
In general, this exercise bike is very solid and high-quality, even though it comes at a much lower price than a Peloton for example. What I also like about this model is the built-in LCD monitor that will help you keep an eye on your most important workout stats, such as distance, time and calories burned.
All in all, if you're looking for an affordable exercise bike if you're overweight, this one is a great choice. But I'd recommend that you just take a look at it for yourself and check the current price. Here you will find it.
If you find it hard to remain an upright posture on the exercise bike or if you quickly suffer from back pain in general, a recumbent bike might be a useful alternative. These devices are special types of exercise bikes that allow you to take on a laid-back reclining position during your workout, thus making it even more joint-friendly.
If you're interested in recumbent bikes for overweight people over 300 or 350Lbs, take a look at the Marcy Recumbent Exercise Bike (300Lbs) or the HARISON Recumbent Exercise Bike (350Lbs).
Final Thoughts on Exercise Bikes for Heavy People Over 300Lbs
Exercise bikes are wonderful workout machines that are particularly suitable for overweight people, because they provide an easy and controllable workout, which is perfect for getting used to sports activities and is also a very good choice for losing weight.
However, it is important to choose the right device, which not only provides a user weight of 300 or 350Lbs, but also represents high quality in other respects. The models recommended above are very good examples.
I hope that I could help you with this article. If you still have further questions, feel free to contact me via e-mail or just drop a comment below.
Otherwise, enjoy your exercise bike journey! ?