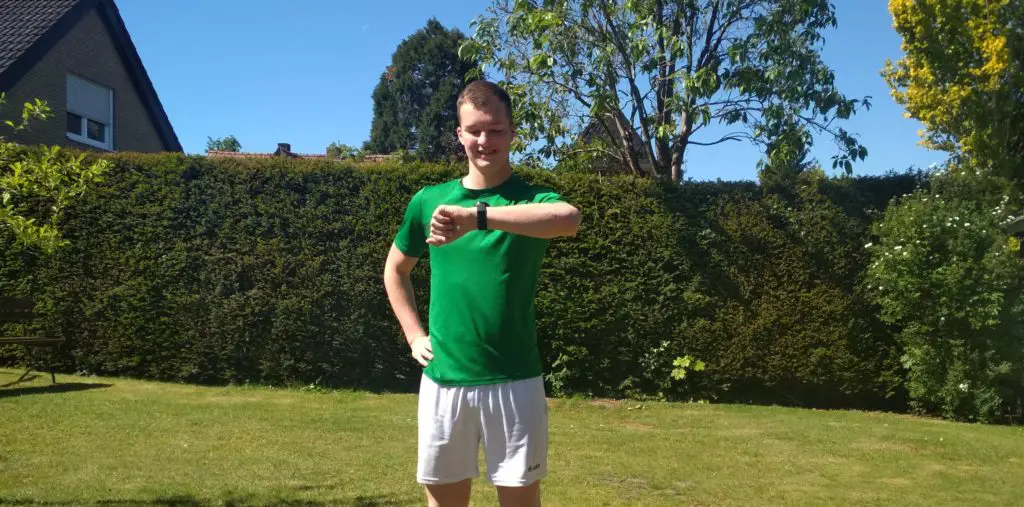 When it comes to sports watches, Garmin's Fenix series is one of the most popular choices. After the Fenix models 1-5 already enjoyed very great popularity, many people couldn't wait for the release of the Garmin Fenix 6, and since I have already tested numerous sports watches, I just could not miss this one either. ?
The Garmin Fenix 6 is available in different versions. I opted for the Fenix 6X Pro Solar variant. But is the upgrade to the sixth generation of the Fenix series worth it? Or has Garmin managed to disappoint me for the first time? In this review, I will tell you about all my personal experiences from wearing the watch for 2 months. Have fun! ?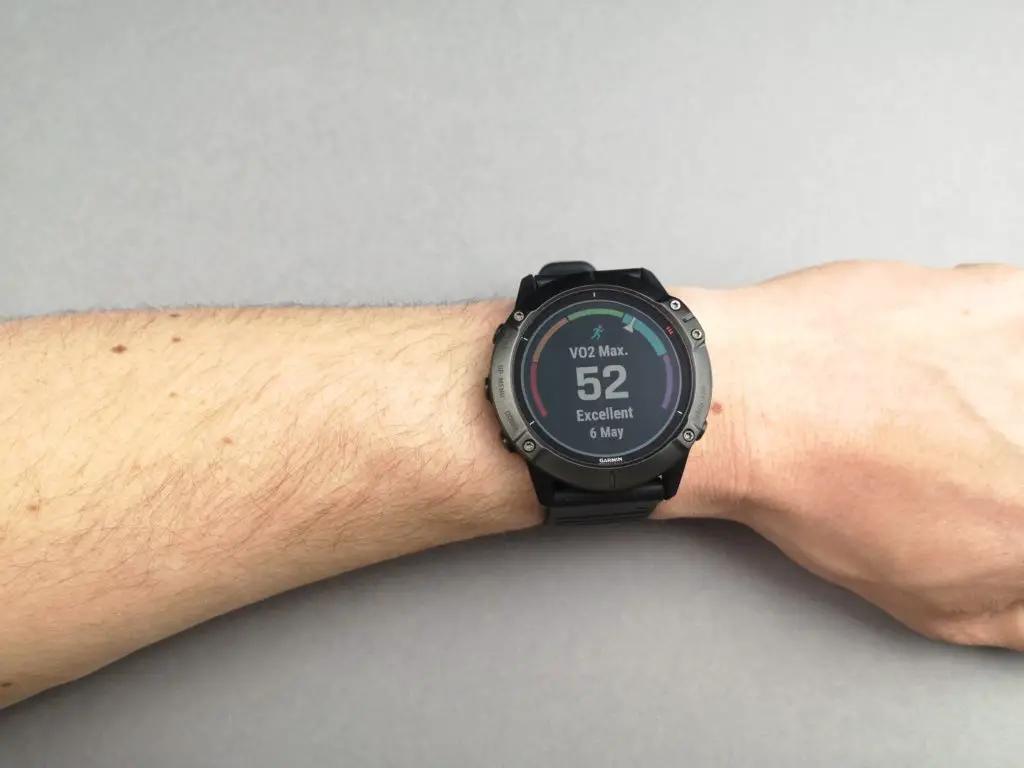 Garmin Fenix 6, 6S, 6X? What are the differences?
The Garmin Fenix 6 comes in so many variants that even I lost track at the beginning. 6S, 6, 6X, PRO, Solar, Sapphire… How should you know which version is the right one for you? I have compiled a small table for you, which should give you an overview of the different models of the Garmin Fenix 6:
 
Fenix 6s
Fenix 6
Fenix 6X
Case Size
42 mm
47 mm
51 mm
Pro-Version?
(Music, Maps & WiFi)
possible
possible
only available
as Pro
Sapphire-Edition?
possible
(but just for Pro)
possible
(but just for Pro)
possible
(but just for Pro)
Solar-Edition?
possible (if not Sapphire)
possible (if not Sapphire)
possible (if not Sapphire)
So basically, it is mainly the music, maps and Wifi (Pro version) feature that distinguishes the models from each other. Other features, such as GPS, altitude measurement or heart rate measurement are present in all of the versions.
I ultimately opted for the Garmin Fenix 6X Pro Solar, the most feature-rich version. There are two main reasons for this:
First of all, my curiosity. I simply can't fully enjoy testing a watch if I know there's a better, more complete version out there. That may be a bit of a quirk, but I guess I'm just a tech geek ?.
Of course, I also want to be able to talk about all of the features of the Garmin Fenix 6. That's the only way I can finally draw a conclusion in this review about which features are worthwhile and which may be nothing more than a nice gimmick.
Unboxing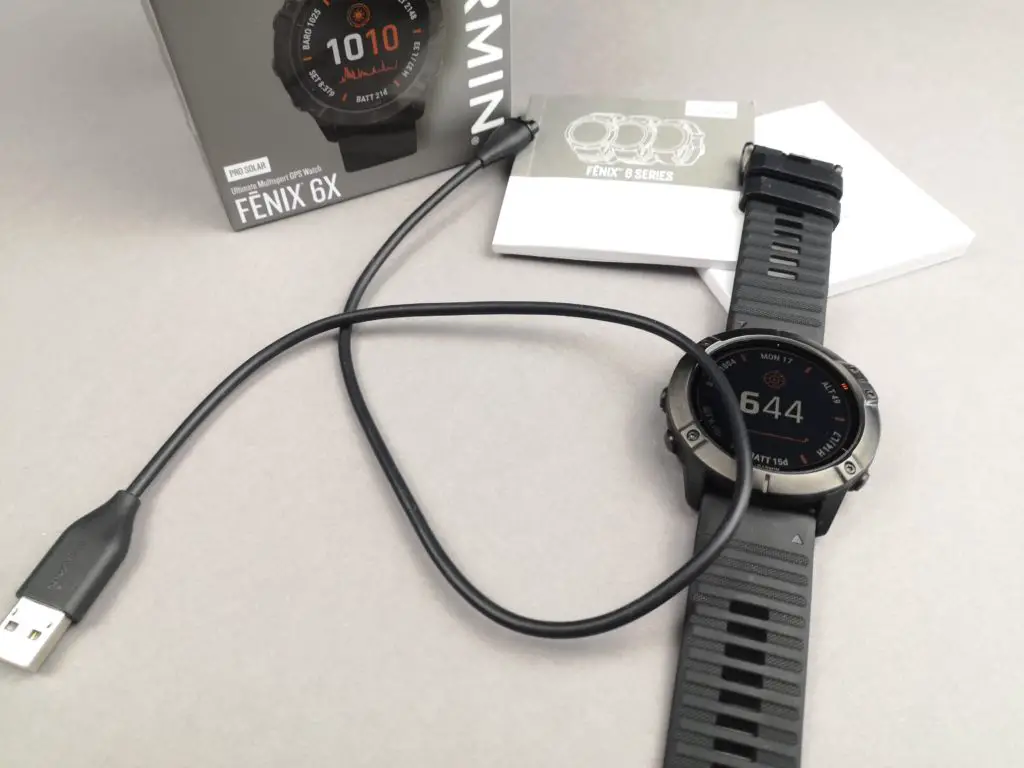 Alright, so I've already found the right Fenix 6 edition for me personally. After ordering the watch, I only had to wait for two days until delivery, but because the Fenix 6 is probably the best and most feature-rich sports watch I've had so far (well, at least on paper), I was super excited and so the two days seemed interminably long. After everything I've read about the Garmin Fenix 6, I just couldn't wait.
When the mailman finally put me out of my misery and I heard the doorbell, I ran to the door in leaps of joy. I think you do not even want to know how I looked… ?
Before we get to the actual product review, let's take another look at what's included:
Garmin Fenix 6X Pro Solar
USB charging cable
Instruction manual
Safety instructions
First Impression: The Appearance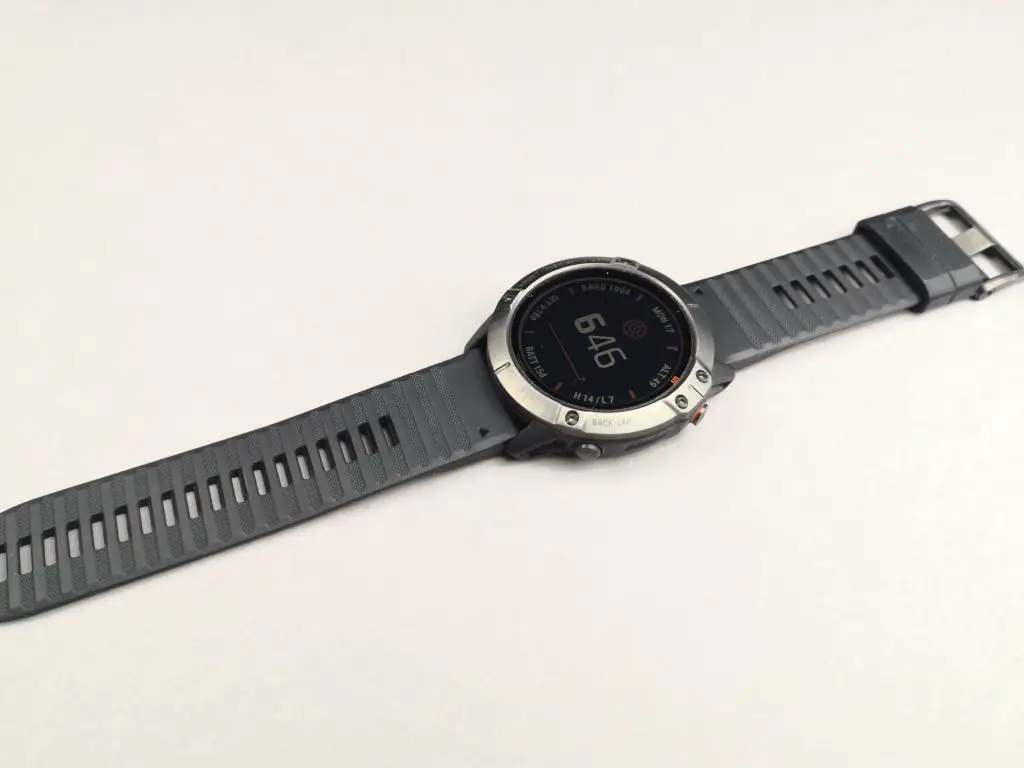 As we all know, first impressions count. Was it love at first sight for me and the Garmin Fenix 6X Pro Solar? Or does it appear different than on the pictures you'll find on the Internet? I've put together a few unadulterated, filter-free shots that pretty much represent my first impressions of the watch. Ready for a taste of my admittedly improvable phone camera? ?
First impressions and the design of a sports watch in general is of course a matter of taste. For my part, I can only say that I find the Garmin Fenix 6 looks great. In general, Garmin is always very keen on making its watches suitable for an everyday use.
At 82 grams, the Garmin Fenix 6X Pro Solar is comparatively heavy, but with this level of functionality, anything less would be a big surprise. In fact, compared to its predecessor, the Fenix 5X, the watch is 16 g lighter.
Next, let's take a look at how the watch wears and take a closer look at the case and strap.
The Case
The case of the Garmin Fenix 6X Pro Solar is made of fiber-reinforced polymer, a rear metal case, and a titanium bezel that is further reinforced with a DLC coating, depending on the model.
In simple words, Garmin has chosen top-notch materials to match the top-notch class of the watch. To me, the Fenix 6 looks very high-quality and robust, but feel free to make up your own mind based on the following pictures:
Garmin has chosen Gorilla Glass DX for the glass. The solar version uses a so-called Power Glass, which has a solar lens installed between the actual display and the protective Gorilla Glass.
Other than that, the Garmin Fenix 6 is also available in the particularly scratch-resistant Sapphire Edition. However, you would have to do without the solar feature in this case. Sapphire or Solar – you have to decide! ? I can definitely tell you that the non-Sapphire version does not leave a sensitive impression on me either and looks very robust.
The Fenix 6 watches come in three different case sizes. I opted for the model with the largest case, which has a 51 mm diameter.
To give you a better understanding of the watch's size, here's another comparison between the Garmin Fenix 6 and the Polar Vantage M, the watch from my last product review:
The Fenix 6X Pro Solar is 14.9 mm thick and 82 g heavy, which doesn't really make it a lightweight. Despite its heavier weight and thicker case, however, the Garmin Fenix 6 cuts a fine figure and doesn't feel heavy on the wrist.
Wristband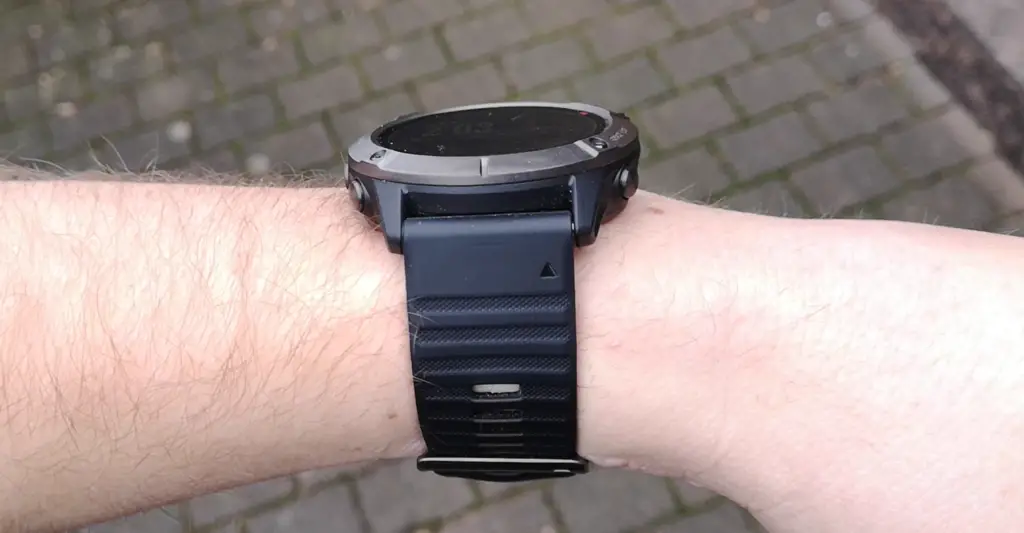 The wristband of the Fenix 6, like so many of the Garmin models, comes with an interchangeable strap so if you don't like the plastic strap, there are numerous other options to choose from.
As is often the case, I opted for the classic black silicone strap. Yes, I know, quite boring… But don't worry, you don't have to copy me: In addition to the silicone version, the Garmin Fenix 6 is also available with leather, titanium or nylon straps, and the color spectrum ranges from black and white to more colorful options like orange.
If you don't like your first choice after a while, no problem: you can change the wristband at any time. The Quickfit interchangeable wristbands live up to their name because changing it is really done in a few seconds.
In this Garmin Fenix 6 review, I can of course only speak for the silicone wristband. This nestles very well on the wrist and allows a high wearing comfort. This is not quite surprising for a Garmin watch, but of course it should not remain unmentioned ?.
The Features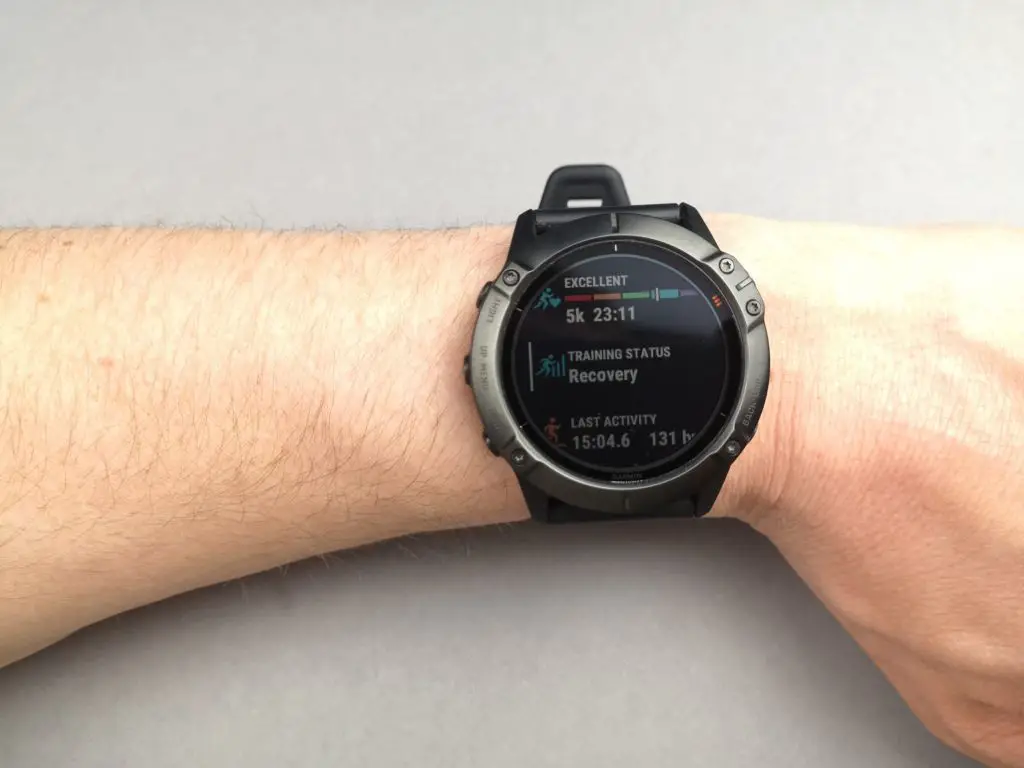 Enough about the looks, because as we all know beauty is only skin deep – it is what is inside that counts! ?
There are so many features on the Garmin Fenix 6 that you first have to keep track of where to find which. Therefore, I would say, let's just go through all the features step-by-step.
As already mentioned, the sports watch has a total of 5 buttons on both sides of the case. Finding your favorite menu items is fairly easy but at the beginning you'll have to get used to the interface. Because the buttons work quite contrary to the buttons on Polars watches, I often confused the Back- and Down-Button but after just a few days with the Garmin Fenix 6, this was not a problem anymore.
I personally prefer touch displays, as on the Garmin Vivoactive or Venu watches or the Polar Vantage V2, but I can also get along with the operation via the buttons. Moreover, when doing sports, touch displays are not very useful anymore… If you've ever tried to use them with sweaty hands, you'll know what I mean! ?
The Basics
In its normal state, the Garmin Fenix 6 displays the time and a few other pieces of info, like the date, remaining battery life, and current altitude. If you hold down the up button here, you can customize the design of the watch face as you like.
Are you more into the analog watch style? Or should it be the digital one? Besides such simple choices, you can design the whole main screen as you like and add all the data you want to have quick access to.
You can also choose the color of all the elements yourself, so it's time for you to be creative! ? Since my artistic streak is rather less well developed, I'll leave it as it is.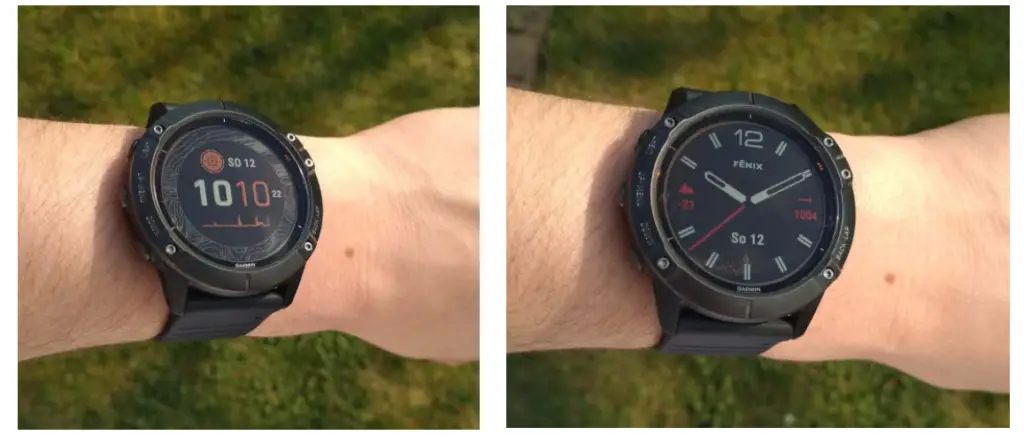 If you scroll down from the main menu, you will come into contact with the following menu items:
Solar Intensity
Weather
Sunrise and sunset information
Compass and Altimeter
Health Status
Training status
Activity level
Pedometer
Heart rate
Pulse oximeter
Calendar
Notifications
Music
After this already long list of options, there is another menu item called "Edit". These items are just the beginning, and you can then add more options of your choice to the existing profile.
For example, you might also keep track of your stress level and calories burned. Dog lovers will also be interested in the Dogtrack function, which allows you to track your dog.
The in-house Garmin Coach, which could be described as a smart personal trainer, also caught my eye quite quickly. And on this occasion, it is now time to take a look at the training features of the Garmin Fenix 6.
Training Features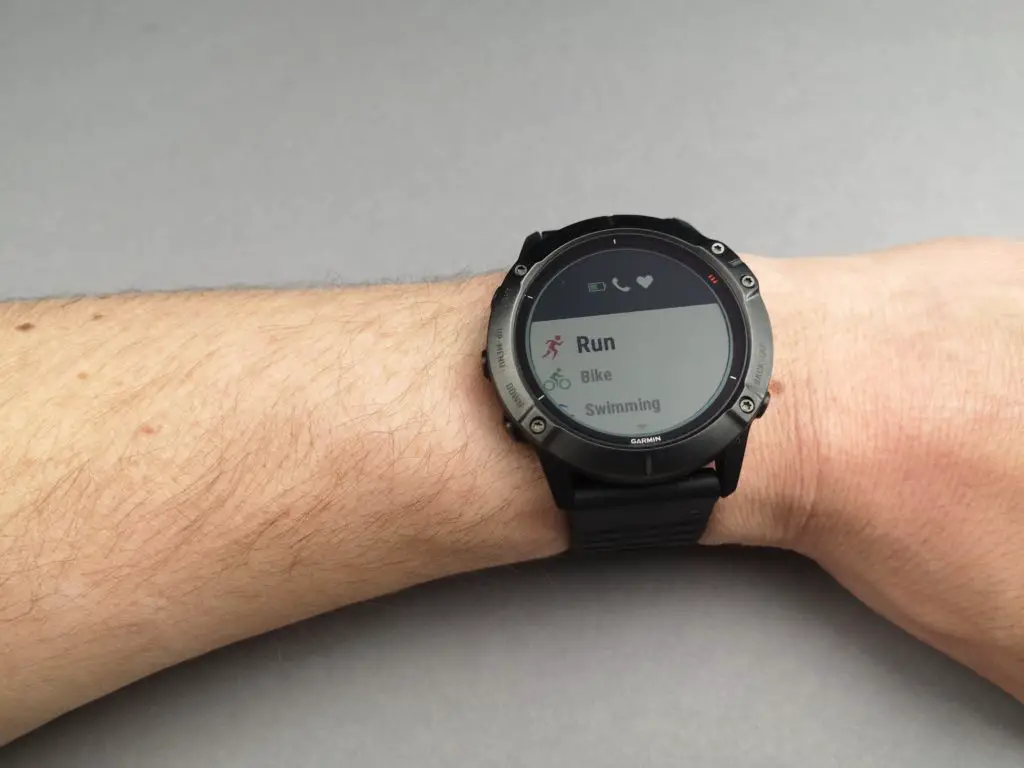 The models of the Garmin Fenix 6 series are advertised as premium GPS multisport smartwatches. So, in addition to GPS and smart features, it's the sports and training features that make this watch so special. So, let's just press the orange button together and get started ?.
In the training mode, 40 options are available by default. Among them, of course, classics like cycling, swimming, running or weight training, but also more exotic sports like rowing, golfing or snowboarding.
By the way, I deliberately said "40 options by default", because using the Garmin Connect App, we can quickly add more sports profiles. There really are no limits to your creativity here, and I'd almost bet that you'll find the sport of your choice, too.
Then, during your workout, the Garmin Fenix 6's numerous sensors do their job. Accelerometer, heart rate sensors, gyroscope, barometer, and many more. Basically, you can imagine it as if a whole team of trained statisticians and fitness coaches supported you and gave you sound feedback after your workout.
How high was your heart rate? In which heart rate zones did you train? How many calories did you burn? What did your oxygen uptake look like? And how long should you recover before starting the next session? It's amazing what such a small watch can calculate.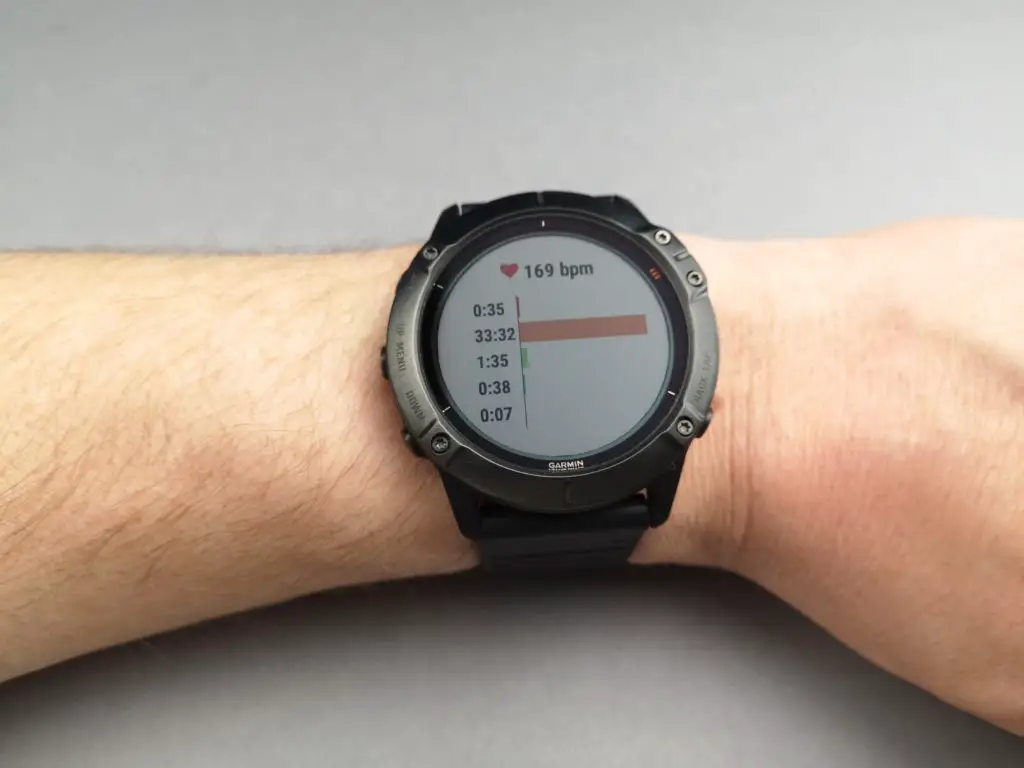 It also tells you if and when your workouts are within the optimal intensity range to maintain or improve your current fitness level. This optimal range is determined based on your personal training goals and your current fitness level. So, in addition to all the smart helpers, you of course also have a say! ?
The Garmin Fenix 6 can also help you out as a virtual workout partner, so that for example, you can compete against an imaginary time. A feature that I personally found very useful.
Heart Rate Accuracy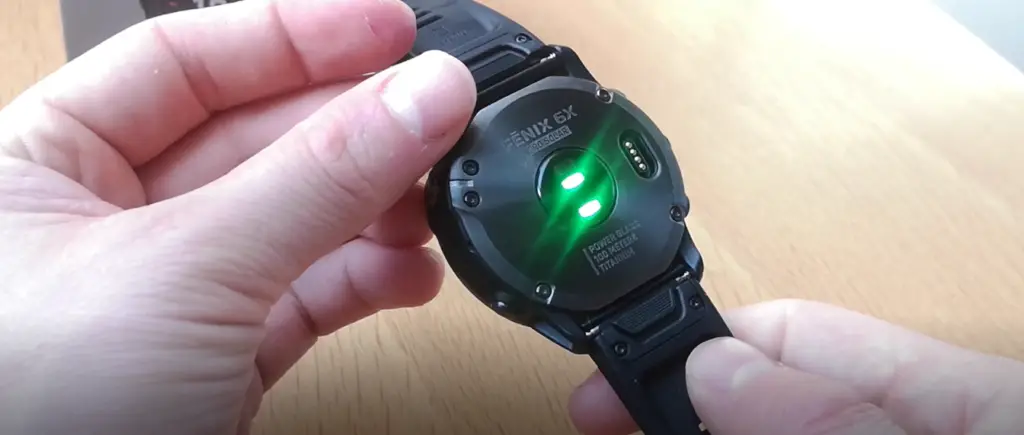 Heart rate measurement was one of the first things smart watches were able to do. Nowadays, it is still an extremely important component of all sports watches. Using LED sensors that detect color differences on the skin due to increased blood flow at a higher pulse, the heart rate can be measured on the wrist instead of using a chest strap as usual.
Garmin has gone the extra mile here and installed its third-generation optical heart rate sensor. But how accurate is it?
I measured my heart rate with a chest strap and the Garmin Fenix 6 at the same time during different sports activities. First of all, I started with a running session. Here's the results: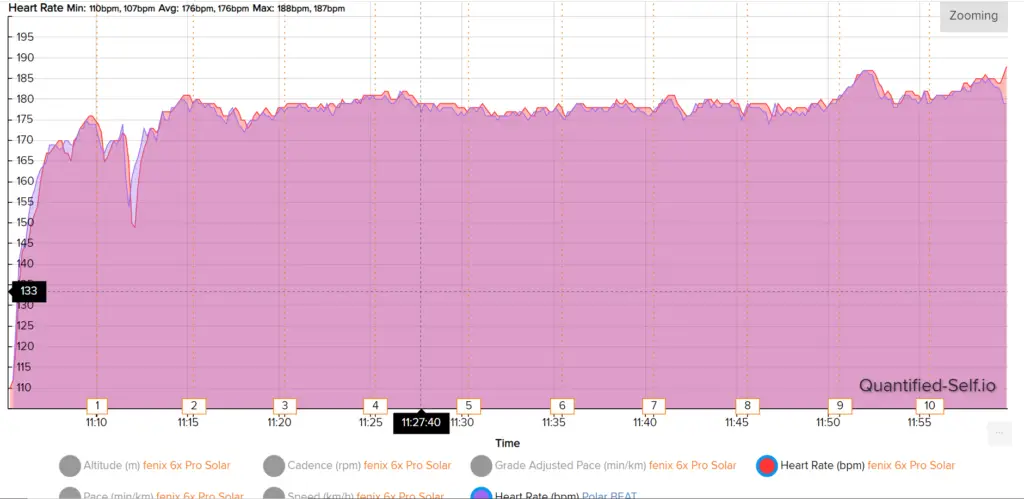 As is typical for an optical heart rate sensor, there can be a few minor time delays, but basically the watch provides accurate and reliable measurement data during my run and worked flawlessly under all conditions (in the rain, while sweating, etc.). Above all, the maximum heart rate was measured almost identically by both measurement methods.
However, it looks different with less steady and jerky movements. Especially a HIIT workout with many different exercises and a high range of motion of the arms (burpees, etc.) can, from experience, lead to inaccuracies. Here's again the result from using the optical heart rate sensor of the Garmin Fenix 6 in comparison with a chest strap:
In addition, users repeatedly report inaccurate measurements during ski tours due to the intensive use of ski poles.
For cases like these, I recommend using an external chest strap. Here, you'll have the option to pair the Garmin Fenix 6 with a chest strap via Bluetooth or ANT+.
In most cases (running, cycling, daily use), however, the heart rate measurement turned out to be quite accurate and Garmin was able to bring about another improvement compared to its second generation sensor.
Nevertheless, I am aware that many people are unhappy with the heart rate accuracy in general, no matter if we're talking about the Garmin Fenix 6 or other sports watches. What is the reason for this?
From my point of view, there is a simple and easily remedied reason: the watch is simply not worn properly. Many people make the mistake of wearing a sports watch directly on the wrist bone. Due to the elevation of the bone, however, the watch can no longer fit snugly on the wrist, which is, however, a prerequisite for a good heart rate accuracy.
You should therefore make sure to wear the Garmin Fenix 6 with some distance to your wrist bone. In addition, you should wear the watch as tightly as possible, of course without squeezing your arm.
And that's all it really is… A simple trick that makes a big difference! ?
In terms of blood circulation, not only the heart rate is recorded. No, the oxygen saturation of the blood can also be measured. For this purpose, there is a pulse oximeter sensor, which is mainly used for alpine sports to determine how your body gets used to extreme altitudes or how the body acclimatizes.
Since I unfortunately don't have any mountains in acceptable proximity to my apartment here, I didn't get to read in the acclimatization data during my test, but I'm sure that works wonderfully as well.
Otherwise, by the way, the pulse oximeter can also provide valuable information in terms of sleep analysis. Especially pulmonary hypertension patients can benefit from this function.
GPS Accuracy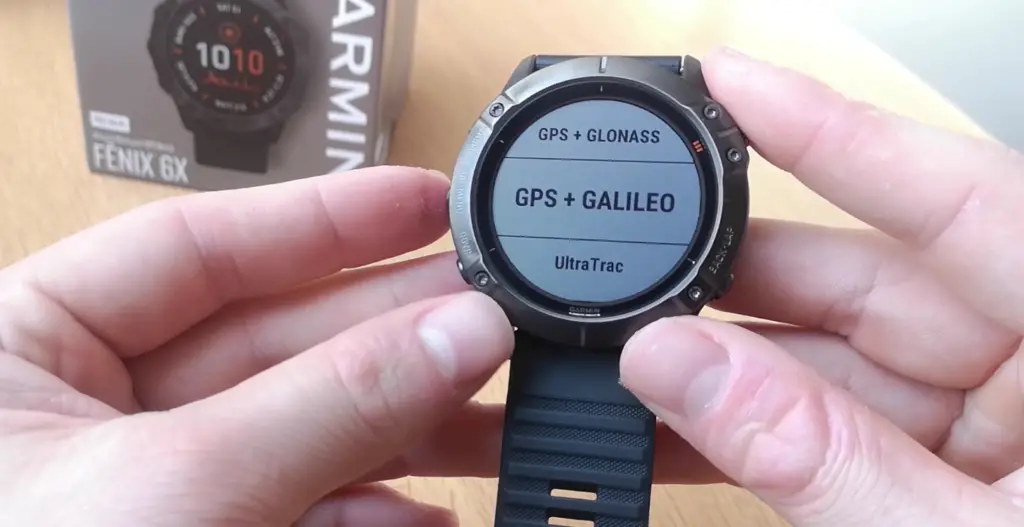 There is one thing I have to get off my chest: My goodness, I have a terrible sense of direction. The Google Maps servers will be happy, because I would estimate that worldwide, about every second request originates from my devices.
Okay, it's not quite that bad, but I'm still always happy when a sports watch is also equipped with some basic navigation features. The Fenix series is generally designed for outdoor athletes, so the GPS is one of its main features. What are my experiences?
First of all, I must correct myself: The Garmin Fenix 6 is not only equipped with GPS, but also with GLONASS (Russian satellite system), as well as Galileo as the European counterpart. This simply means that more satellites are available and that the navigation services are more accurate and reliable.
This is not necessarily something special for sports watches in this price range, but the GPS feature still runs very well. In my practical test, I compared the route recorded by the Fenix 6 with the actual route during my classic run and could not find any differences. No matter whether I was running in urban areas, farming communities or in the forest – the Garmin watch does its job, and does it very well!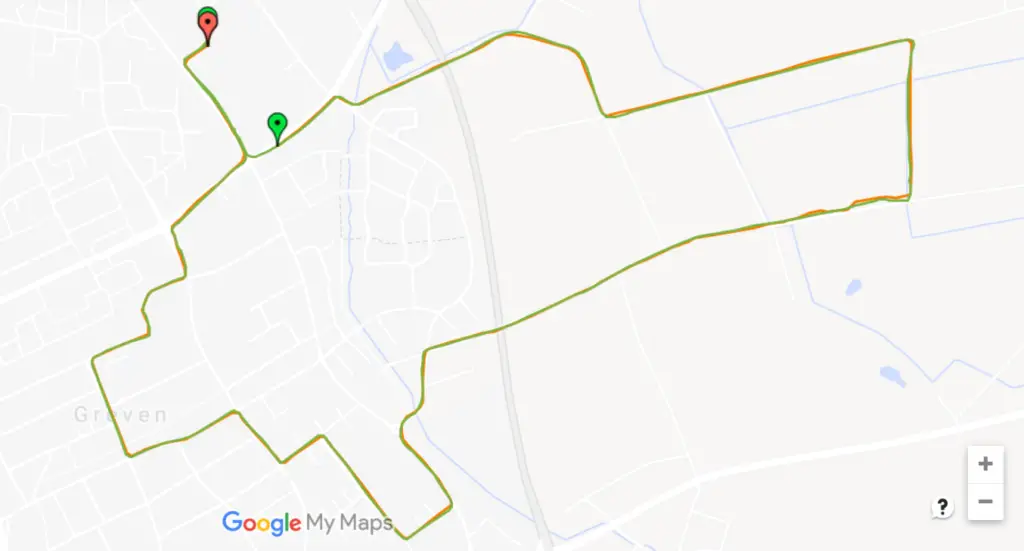 If you want to improve the GPS accuracy, do the following: If you call up the sports profile and the signal is already there, you should still wait about 1 minute so that the signal stabilizes. From experience, this leads to a more accurate GPS measurement and a lower deviation.
As I said, you can expect that from a watch of this class. What's more worth mentioning is the maps, which is not included in every sports watch. The Pro version of the Garmin Fenix 6, on the other hand, has included maps which turns the watch into a real navigation system.
People with a poor sense of direction, as I am, can therefore breathe a sigh of relief! ?
Barometer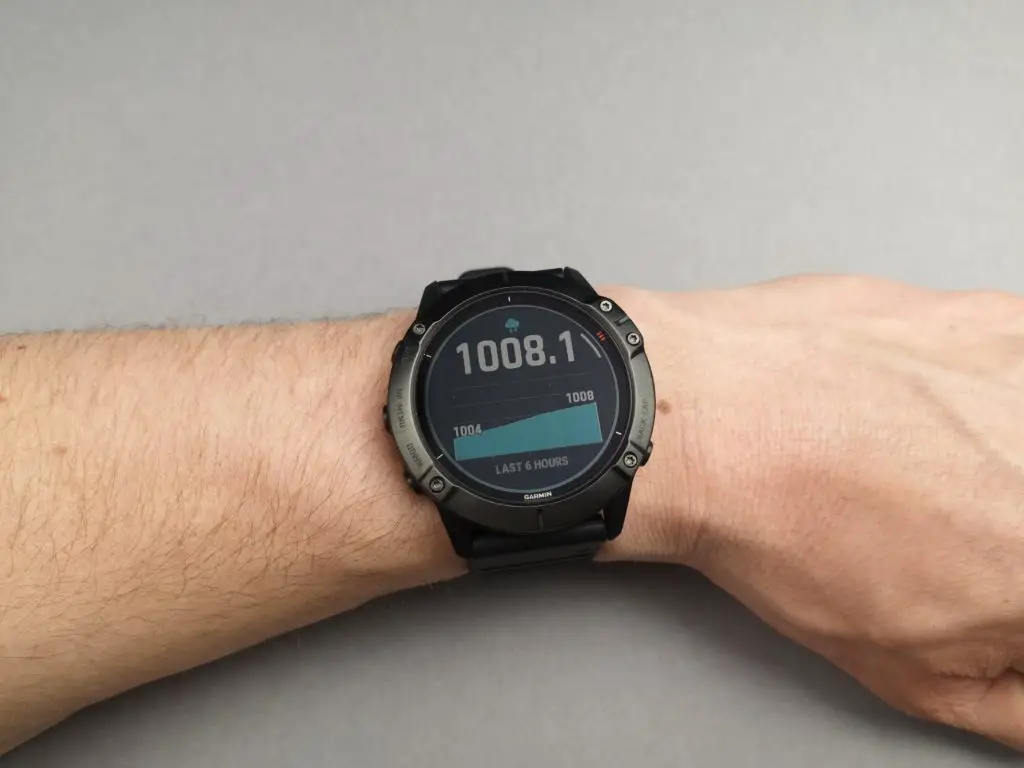 A built-in barometer is one of those features that distinguishes pro models from ordinary sports watches. Of course, the Garmin Fenix 6 is also equipped with a barometric altimeter, once again underscoring its status as a top-notch sports watch.
While most watches provide an altitude measurement via GPS, only few models provide a barometric one. Using GPS for measuring the altitude did never really turn out to be too accurate. The barometer, on the other hand, measures the altitude via changes in air pressure and is therefore much more accurate.
Especially for outdoor athletes who have a lot to do with heights (alpine athletes, mountaineers, mountain bikers, etc.), the barometer is almost indispensable. So if you're one of those people, the Garmin Fenix 6 is definitely the right choice as well!
Swimming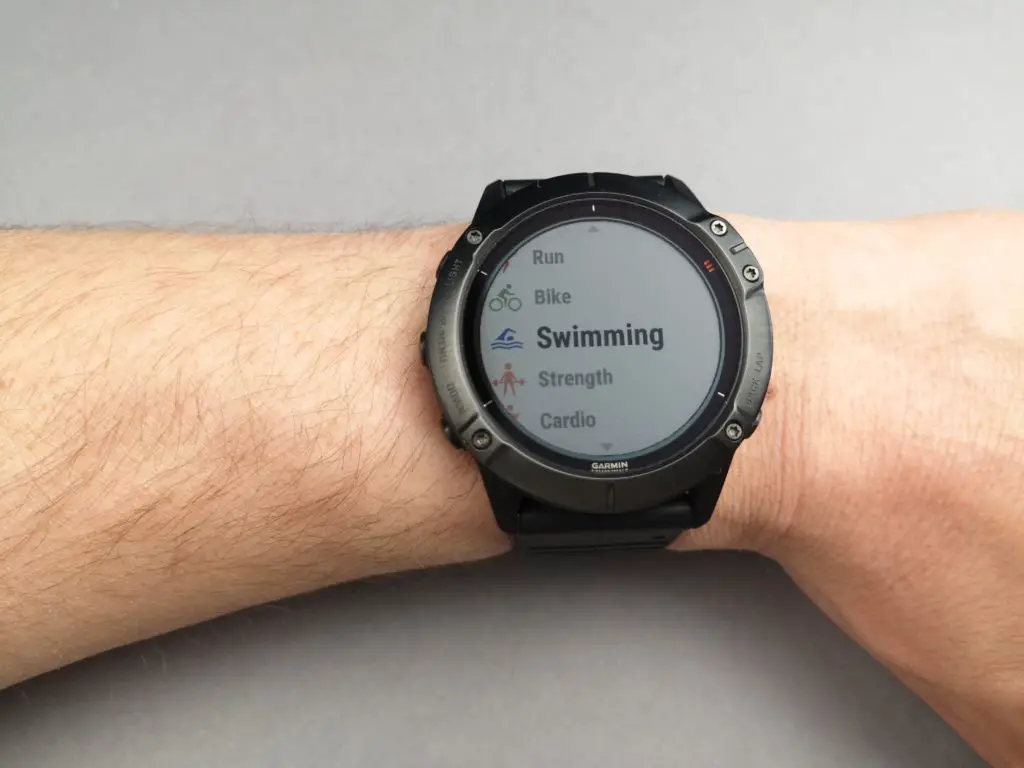 I love sports and even more I love to try out different things and thus always bring different sports into my life. Admittedly, swimming is neither one of my favorite disciplines nor one of my great passions.
However, since I know that such a sports watch is also a very interesting purchase for swimmers, I also wore the watch during a swimming session. How does the Garmin Fenix 6 do here?
The unsurprising result: flawless! Much more surprising is the fact that I even enjoyed swimming ?.
When swimming, as in other sports, a lot of useful information is recorded. So here too, the virtual swimming coach is always by our side.
First of all, your swimming style is automatically detected. Additionally, the lanes and strokes are counted and a Swolf value is given to record your swimming efficiency. Other than that, the Fenix 6 also tracks your heart rate, as well as load and recovery phases and the like.
The Garmin Fenix 6 has a water resistance of 10 ATM. In this table you can read what exactly that means:
|   | Yes | No |
| --- | --- | --- |
| 1 ATM | splashing water, rain or snow, showering | swimming, immersion in water, snorkeling or scuba diving (see product page for more details), high speed water sports |
| 5 ATM | splash, rain or snow, showering, swimming, water immersion, snorkeling | Scuba diving, high speed water sports |
| 10 ATM | splash, rain or snow, showering, swimming, water immersion, snorkeling, high speed water sports | Scuba diving |
Swimming, snorkeling and co. are thus no problem, diving, however, does not sit in it and can lead to damage of the device. In addition, the warranty expires in this case.
Music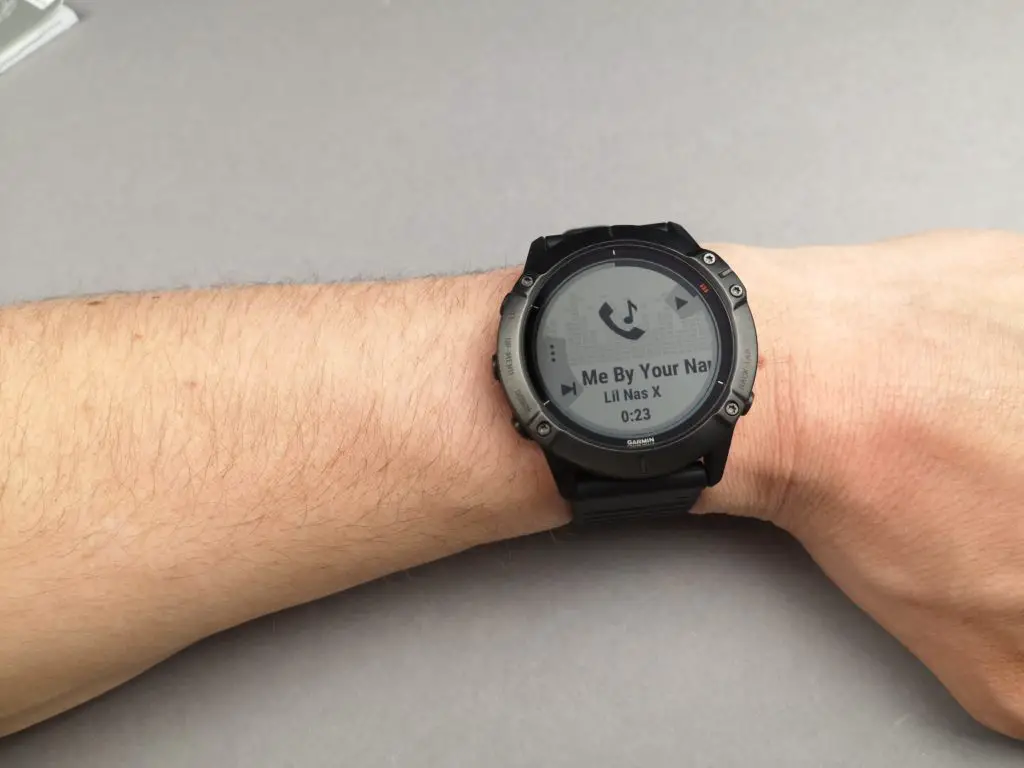 It's Thursday, 7:00 pm. It's a rather cold and uncomfortable day and I'm not particularly motivated to do anything. Nevertheless, I have decided to put a run on my daily to-do-list and when this is the case, I just have to do it. Ok well, I don't always stick with my goal list, but at least today I will! ?
On days when I have low motivation, I just need music while running. I lace up my running shoes and start my training session while "Eye of the Tiger" is already playing through my headphones. Now I am super motivated and nothing can stop me.
The Garmin Fenix 6 Pro can be connected to your classic music streaming services, such as Spotify, Deezer or Amazon Music. If this is important to you, you should definitely opt for the Pro version, as the standard version does not offer this.
With the Pro version, you can easily control which sounds are played on your ears during your workout without having to grab your phone.
In addition, the Garmin Fenix 6 provides an onboard music storage for up to 2000 music tracks, so you don't even need to carry your phone at all.
Providing a music feature on a sports watch is certainly not a must, but it is still a very nice and helpful additional option. Of course, the decision is always up to you ?.
Smartphone App/Garmin Connect
Nowadays, hardly anything works without an additional phone app. The insanely high functionality of the Garmin Fenix 6 is even further enhanced by the in-house Garmin Connect app.
It is available for free in all major app stores and can be seen as a useful addition to the watch itself. Here, you can see a detailed view of all your data measured during the day, such as heart rate, intensity minutes and calories burned.
In the left menu bar, you then have the option to choose from thousands of other functions. The numerous sensors of the Garmin Fenix 6 do not exist without a reason- no, in the app you get the complete and extremely detailed view of all your health and training data, including things like your maximum oxygen capacity (VO2 max) or your lactate threshold, which you would otherwise only get from a sports doctor.
Personally, I also like the training plans provided by Garmin. You want to prepare for a marathon or just be able to run your first few miles without any problems? No problem, the Garmin Fenix 6 will help you out by providing an adequate workout schedule.
Likewise, you can also join groups and look for like-minded people as Garmin has a huge community in general.
Giving an insight into all the app's features would clearly go beyond the scope of this report, although I'm aware that I probably haven't been brief by now either ?.
It's just that I'm very excited about the Fenix 6 and this enthusiasm is still flowing through my veins even as I write these lines.
The Display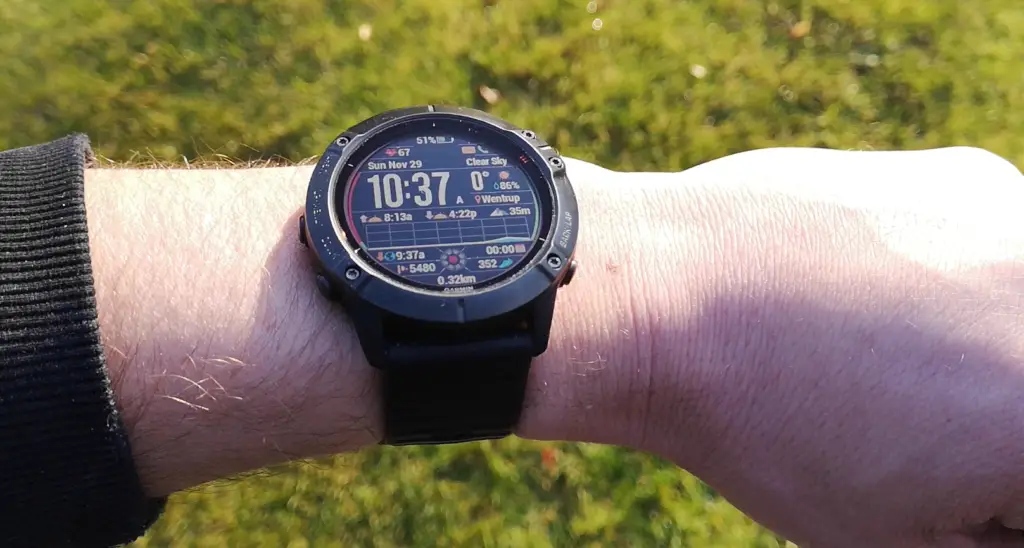 Ok tech geeks, the following section might be the one for you, because now we're going to talk about some cutting-edge technology.
First of all, the basics: The Garmin Fenix 6 has a resolution of 240×240, 260×260 or 280×280 pixels depending on the model, which is a very good value in each case. The display looks very sharp and hardly leaves any room for criticism. So far, so good. Now for the exciting part:
The display of the Garmin Fenix 6 is a transflective memory-in-pixel (MIP) display. What's behind that? This mainly means that the display itself does not emit any light and only reflects its ambient light.
This reflective technology ensures that the sports watch is very easily readable in sunlight, as the incoming light is reflected back. Under these circumstances, the contrast and readability of the Garmin Fenix 6 display increases.
This type of display is therefore much more suitable than classic LCD or OLED displays when it comes to using them outside and is thus made for all outdoor athletes.
On the other hand, the contrast and readability of a transflective MIP display decrease in dark environments. For this case, however, Garmin provides the upper left button here, which you can use to activate the backlight.
The Garmin Fenix 6 is thus prepared for all eventualities. In addition, this type of display ensures a very low energy consumption, which brings us to the next point: the battery life.
The Battery Life
Regardless of whether it's a smartphone, laptop or sports watch: Ever since I bought these smart electronic devices for the first time, one criterion has always been my number one priority: The battery life.
I simply hate it when I'm out and about all day and my smartphone or sports watch runs out of power at the end of the day. There is hardly anything more annoying for me and I think many of you out there can relate.
So what about the battery life of the Garmin Fenix 6 Pro Solar? After 14 days of daily, intensive use, I formulated a short question to the Garmin team:
Can someone tell me why this watch is delivered with a charging cable?

Ben (24) – still amazed by the insane battery life

Of course, I know you can use it to charge the watch, but really it feels like this watch never runs out of power.
I almost threw away the charging cable when I disposed of the box after 14 days (yes, I'm not the tidiest person). It was still unpacked and due to the fact that my Garmin Fenix 6X Pro was still at 30% battery after those 2 weeks, I haven't wasted a thought unpacking the charging cable either.
All joking aside, the battery performance of the Garmin Fenix 6X Pro Solar is just phenomenal. My expectation of a sports watch is that it won't give out on me within a day, but here you can probably replace the word "day" with "month".
The Fenix 6 models are basically already equipped with a huge battery power. Garmin states the battery performance for the cheapest model (the Garmin Fenix 6S) in smartwatch mode as 9 days. In the solar version, which I opted for, it is even up to 24 days. The reason for this is, of course, that Garmin makes use of the solar energy in this version.
So, if you're like me and a bad battery is one of the most annoying things you can imagine, then you've come to the right place with the Garmin Fenix 6. Whether it has to be the 6X Pro Solar for this reason alone remains to be seen. If you are a real outdoor adventurer and are sometimes on the road for 20-30 days without access to power sources, then the flagship model of the Fenix 6 series might be well worth considering.
Comparison To Other Models
Now I've talked so much about the Garmin Fenix 6 models that I've nearly forgotten that there are other sports watches out there. Of course, a good review can never be without comparisons to similar products, so let's take a look at some popular alternatives.
Garmin Fenix 5
What is a new electronic device always compared to? Its predecessor, of course. After all, people have a few questions burning on the tip of their tongue.
What has changed? What has become better? And is the upgrade worth it? Let's take a look at the improvements of the Garmin Fenix 6 compared to its predecessor.
First of all, it is nice that the Garmin Fenix 6 has become slimmer and significantly lighter despite its even larger functionality. The premium model of the Fenix 5 series (5X Plus) still came with a weight of about 98 g, while the 6X Pro is only 82 g. Whatever diet that was, it seems to have paid off ?.
In general, I think that the new model has a slightly better everyday usability. The Fenix 6 looks a little nicer and can be better integrated into everyday life in terms of design. In addition, the resolution is better (240×240 pixels on the 5X and 280×280 pixels on the 6X Pro).
GPS and battery life have always been on a very high level in all models of the Fenix series, and Garmin has even further improved them with the new model. As far as these two functions are concerned, there is hardly any other sports watch out there that can compete with the Fenix 6.
The pulse oximeter for measuring blood oxygen saturation, as well as the heart rate measurement under water are two more new features of the Fenix 6. Of course, this is particularly interesting for swimmer.
Polar Vantage V2
Garmin vs. Polar. The epic battle of two sports watch giants. This would not only be a very good movie title, but also reflects reality. The two manufacturers have really dominated the sports watch market for decades and both have a huge following.
However, no one can say exactly which manufacturer has the edge, since it is also a matter of taste. So, let's take a look at a neutral comparison between the Garmin Fenix 6 and Polar's flagship model, the Vantage V2.
 
Garmin Fenix 6X Pro
Polar Vantage V2
Battery Life
Smartwatch-Mode: 21 days
GPS-Mode: 60 hours
Smartwatch-Mode: 7 days
GPS-Mode: 40 hours
Display
transflective MIP-Display (280 x 280 Px)
transflective MIP-Display (240 x 240 Px)
Operation
Buttons
Buttons + Touchscreen
WiFi
?
?
Maps
? (topographic)
? (breadcrump)
Music
?
?
Size
51 x 51 x 14.9 mm
47 x 47 x 13 mm
Weight
93 g
52 g
What can we conclude from this little comparison? First of all: Both sports watches are undoubtedly top-class models! Nevertheless, the Garmin Fenix 6 is still slightly ahead.
Especially the Wi-Fi feature, the built-in accelerometer, the pulse oximeter and the slightly higher resolution speak for the Garmin watch. On the other hand, the Polar Vantage V2 is cheaper, slimmer and lighter.
Another difference: touch display or buttons? Both have their advantages and disadvantages.
The Garmin Fenix 6 should be a bit better than the Polar Vantage V in terms of performance, but personal taste is ultimately the deciding factor.
Final Thoughts: Garmin Fenix 6 Review
If you have made it this far, there are two options: Either you really read the whole review and took in all the information. That would make me happy, of course, and you would probably pass the Garmin Fenix 6 exam with flying colors.
The second option is that you rather belong to the lazy reading society that wants to jump to the conclusion as quickly as possible. I have to admit that I can totally relate to this option as well, so let's just get straight to the exciting part:
The Garmin Fenix 6X Pro Solar is truly impressive on all counts. The amount of features is phenomenal and the battery life deserves even bigger superlatives.
GPS and the onboard maps work flawlessly, and the included training features, which can even be upgraded with the in-house Garmin app, are very convincing as well.
Only the menu interface is not always intuitive and might require a short familiarization phase in the first few days. However, once you have overcome this, there are hardly any cons.
Of course, the comparatively high price tag remains as a small drawback for many. In the end, it depends on your personal preferences whether it really has to be the Garmin Fenix 6X Pro Solar. For many, the little brothers, i.e. the Garmin Fenix 6S and Fenix 6, will certainly suffice.
However, one thing is clear: the money is certainly not badly spent, even in the premium version, and you really do get a very impressive sports watch for a somewhat larger one-time investment, which will probably still be in a class of its own in many years to come.
After all, I would advise you to get an overview yourself. Here you will find the Fenix 6, including all of the important details and further customer opinions. There, you can also compare the different models with each other.
I hope you enjoyed my review of the Garmin Fenix 6 and that it gave you a good overview of the sports watch. If you have any further questions or would like to share your own experiences with this model, I am always happy to receive an email or a comment below this article!
Otherwise, I would just say: Have fun with your new Garmin Fenix 6! ?