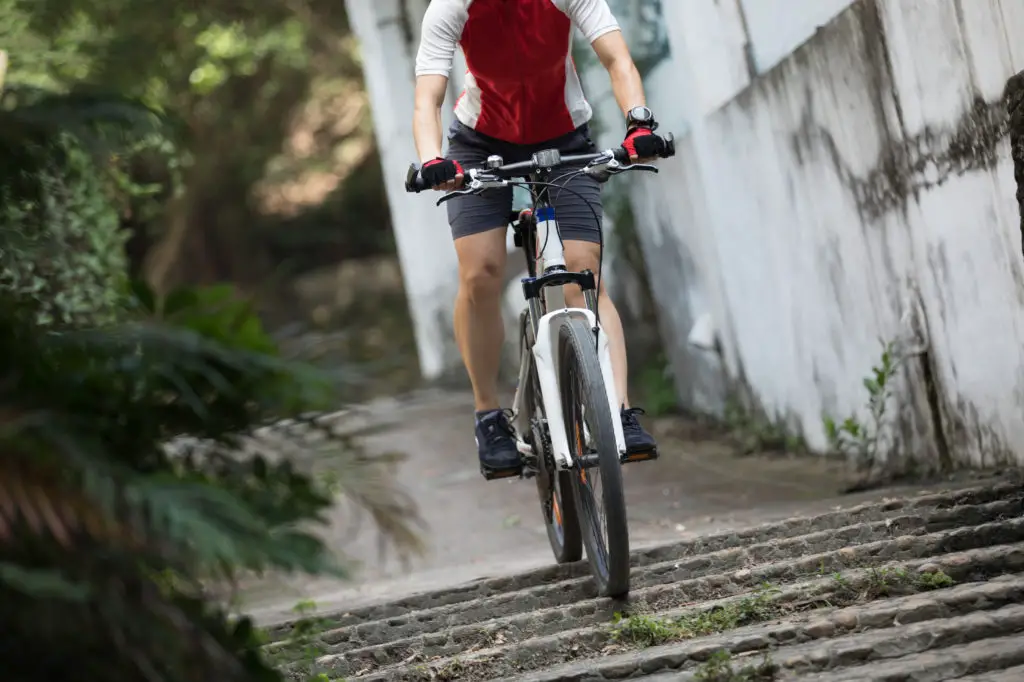 Sports watches, fitness trackers and the like are becoming increasingly popular. Whether as a smart companion in everyday life, or as a sophisticated analysis tool for your workouts – the trackers and watches can help you out in nearly all of the situations you will face during the day. Especially when doing sports, such as cycling, fitness trackers can be really helpful by providing many relevant features.
But what should cyclists look out for when buying a sports watch or fitness tracker? And what are the best models you can currently buy? In this article, we are going to cover all there is to know about these topics. Have fun! ?
Sports Watch or Fitness Tracker for Cyclists?
Smart wristband, sports watch, fitness tracker – this little piece of technology that more and more people wear on their wrist has many names. What are the differences and what is the best choice for cycling?
Well, there's no universal definition, especially since all of these options share more and more common features. Fitness trackers were originally created to keep track of our activity during the day.
Since exercise is unfortunately becoming more and more of a scarce resource these days, fitness trackers are supposed to help us incorporate more movement into our daily lives. Counting steps is a basic feature that all of the devices provide. Fitness trackers are mostly kept quite simple and disguise themselves as slim wristbands that you can wear in everyday life.
Sports watches, on the other hand, not only focus purely on tracking your activity and health data, but often come with numerous additional features, such as integrated GPS, music control, a phone function and much more.
However, since fitness trackers are also becoming increasingly smart over time as well, it is becoming more and more difficult to draw the line here.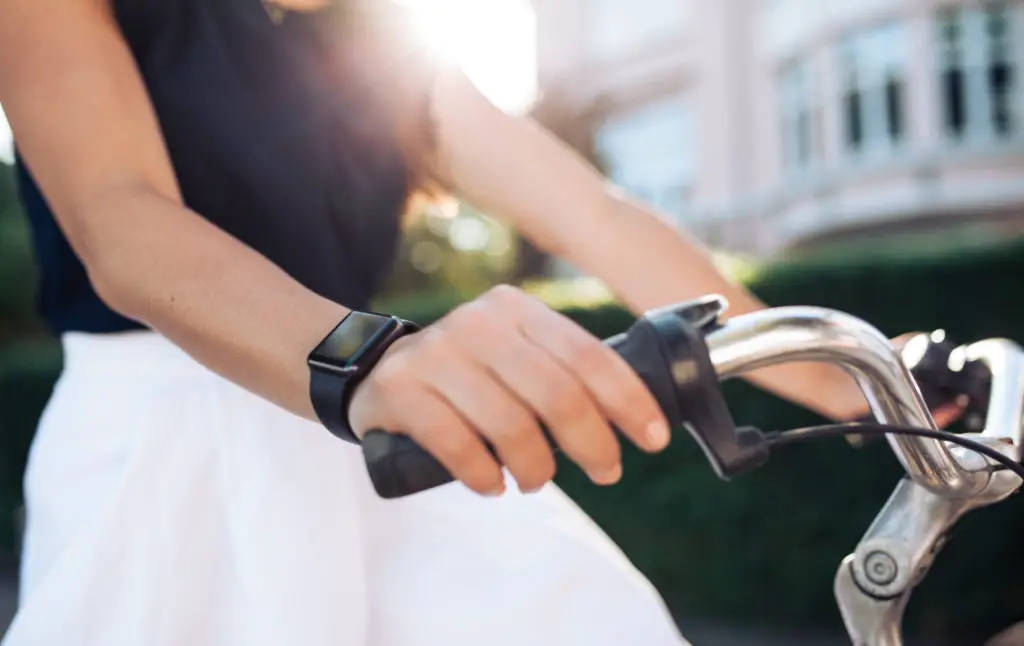 Fitness Trackers
✅ Slim and simple
✅ Inexpensive
✅ Very suitable for everyday use
Sports Watches
✅ Often come with built-in GPS and altimeter
✅ Usually somewhat more expensive
✅ Higher functionality
Relevant Cycling Features
Either way, sports watches and fitness trackers are both very useful and offer tons of relevant features for cyclists as well. So, let's take a look at these cycling-specific additional features.
Distance, Time & Speed
Of course, these data are among the absolute classics, especially when it comes to cycling. How many miles have you covered? What was your pace? And how long have you been on the road?
Of course, no good fitness tracker for cyclists should do without this basic data. GPS builds the foundation for all of these measurements. However, most fitness trackers do not provide an own integrated GPS but use the GPS data of the paired smartphone, so that if you want to track paces and distances, you will always need to carry your phone.
Fortunately, however, there are some positive exceptions. There are some manufacturers that seem to have cycling enthusiasts in their management, that decided to put an own integrated GPS module into their trackers. I'll introduce you to these models later. For sports watches, it's another story. In fact, it's hard to find a modern sports watch that does NOT provide a GPS feature.
Otherwise, there is the option to have the basic data determined via a magnetic sensor attached to the bike.
Especially if you dare to ride your bike in the mountains or in the forest, a device with a barometric altimeter makes sense. The altitude can also be determined via GPS, but the accuracy of a built-in altimeter is significantly higher.
This allows you to not only track the horizontal distance of your cycling sessions but also the distance you have covered in altitude, and also gives you valuable and exciting information about gradients and the elevation.
Cadence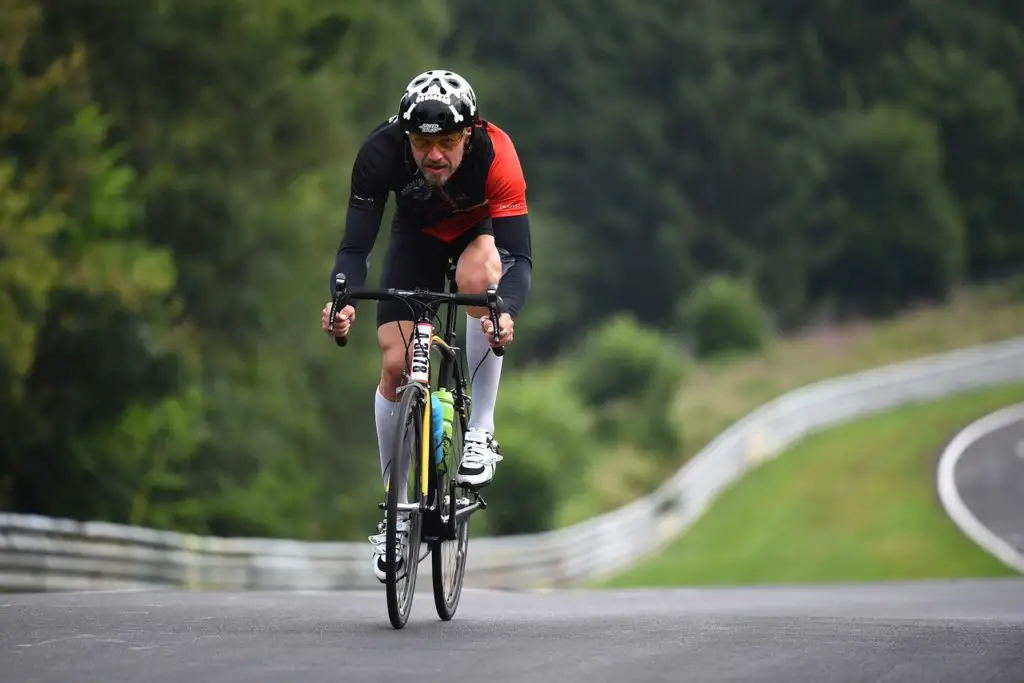 Do you remember the thrilling duels between Lance Armstrong and Jan Ullrich? Head-to-head races that promised excitement until the last second. The enthusiastic cyclists watching these races very closely have probably noticed that both athletes chose a completely different riding style: While Armstrong tended to cycle at a high cadence, Ullrich preferred to use a very low cadence.
It is worth knowing that cadence is an important factor in cycling. Different cadences also have different effects on the intensity of the training, the loads on your body and ultimately also elicit training effects.
Either way, keeping track of your cadence while cycling is a very useful thing to do. To do this, you can simply buy a separate cadence sensor that you can attach to the spokes of your bike in no time at all. These sensors will usually not cost you more than a couple of dollars.
Heart Rate Monitoring
Heart rate, if interpreted and used correctly, can be an important tool to get the most out of your cycling sessions. Many people work out without a plan and are surprised afterwards about overtraining, missing progress or injuries.
In the process, they forget that they have a compass inside them that actually always leads them to the right goal. If it is used correctly. This compass is your own heart rate, which gives you constant feedback about the intensity of your training. You should know that working out in different heart rate zones elicits completely different training effects. You can find out more about these so-called heart rate zones in this blog article of mine.
So, to avoid overtraining or to get the most out of your bike rides, it is recommended to use a fitness tracker or a sports watch with heart rate monitoring. There are two options for this.
First, there are devices with an optical LED heart rate sensor that can track your heart rate on your wrist. This is built into most of today's trackers and watches. This technology is increasingly improved and is now very accurate and reliable, but also shows weaknesses, especially when you are doing irregular movements.
Since the arms and wrists are comparatively static when cycling, the optical heart rate monitoring is pretty accurate and should be good enough for most cyclists.
To be on the safe side, however, there is still option 2: Using an external chest strap. This method has proven itself for many years and is considered very accurate and reliable. External chest straps can usually be connected to fitness trackers and sports watches via Bluetooth or ANT+ and come with a very high reliability.
Optional: Topographical Maps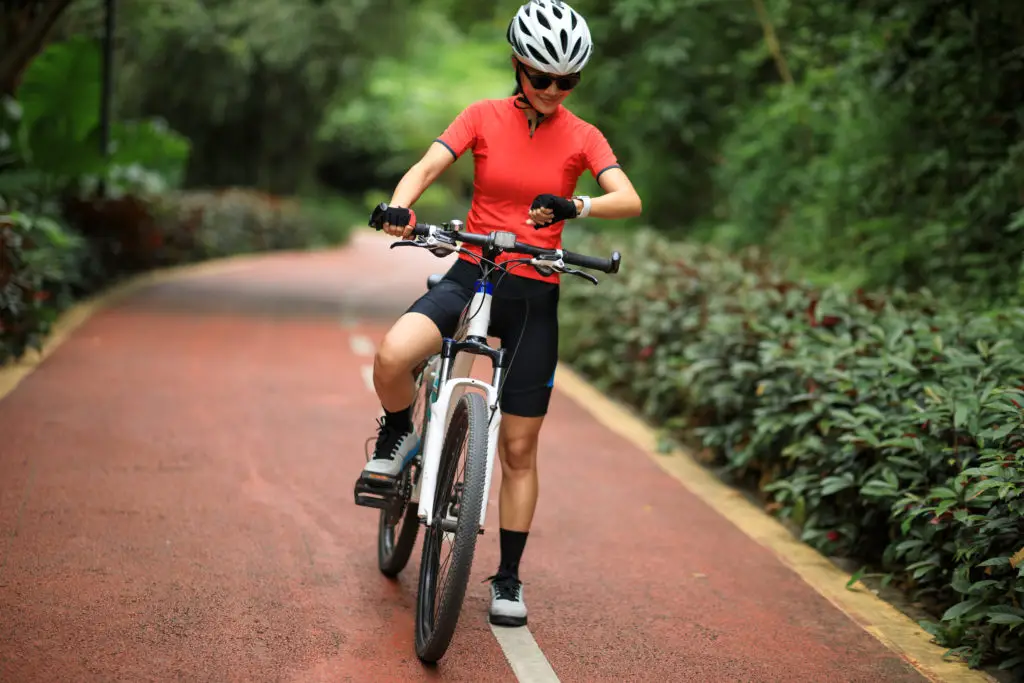 If you're like me and have a terrible sense of direction, then a fitness tracker or sports watch with topographical maps might be a good idea as well. Basic models can navigate you from A to B with a simple compass needle or plain arrows, while more sophisticated watches provide detailed topographical maps.
However, maps are one of those features that are only found on more expensive sports watches, as they require a slightly larger display.  But don't worry, even a slim fitness tracker can help you to stay on the right path during your bike rides.
Other Features of a Good Fitness Tracker for Cycling:
strong battery
robust and weatherproof
waterproof
comfortable design
Why not just a Bike Computer?
Now you might wonder why you should get a fitness tracker or a sports watch in the first place when you can just buy a bike computer as well?
That's a good question because modern bike computers are equipped with all the cycling functions described above. The big difference, however, is that bike computers are designed exclusively for cycling and can only be used during your bike sessions.
Fitness trackers and sports watches, on the other hand, are only a little more expensive, but they can also support you in other sports or in your daily life. Besides the classic cycling data that bike computers can track as well, fitness tracker or sports watches can keep an eye on your health-related data. Additionally, most trackers are very stylish and it just looks awesome wearing them.
The Best Fitness Trackers for Cyclists
The Fitbit Charge 4
The Fitbit Charge 3 was one of the most popular fitness trackers for years, and actually I don't even know why I'm using the past tense here. In fact, the Charge 3 still belongs to the absolute top and millions of people around the world are wearing it right now.
The only drawback of this model, which is a thorn in the side of cyclists in particular, is the lack of an integrated GPS. It is all the more pleasing that Fitbit has recently launched the Fitbit Charge 4, which knows how to fill this gap.
The Charge 4 comes with all the advantages of its predecessor and adds the very helpful GPS feature on top. The tracker can track time, distance and speed without the help of your phone and shows this basic data in real time on the display.
The Fitbit app is worth mentioning as well, as it allows you to view all data in great detail after your training sessions.
In addition, the device is waterproof and very robust and comes with a decent battery life, which is of course very important for cyclists.
The only catch is that Fitbit trackers cannot be paired with external chest straps or cadence sensors. If wrist-based heart rate monitoring is enough for you and you can do without cadence measurement, you will love this tracker.
In my opinion, the Fitbit Charge 4 is currently the best fitness tracker for cyclists, since almost all other models either lack an integrated GPS module or provide too few features in general. But fortunately, we will talk about the much more feature-rich sports watches as well ?.
If you're more into the wristband look and don't want to dig too deep into your pocket, you certainly won't go wrong with the Fitbit Charge 4 for cycling. However, it's best to take a look at this model yourself. Here you will find it.
The Best Sports Watches for Cycling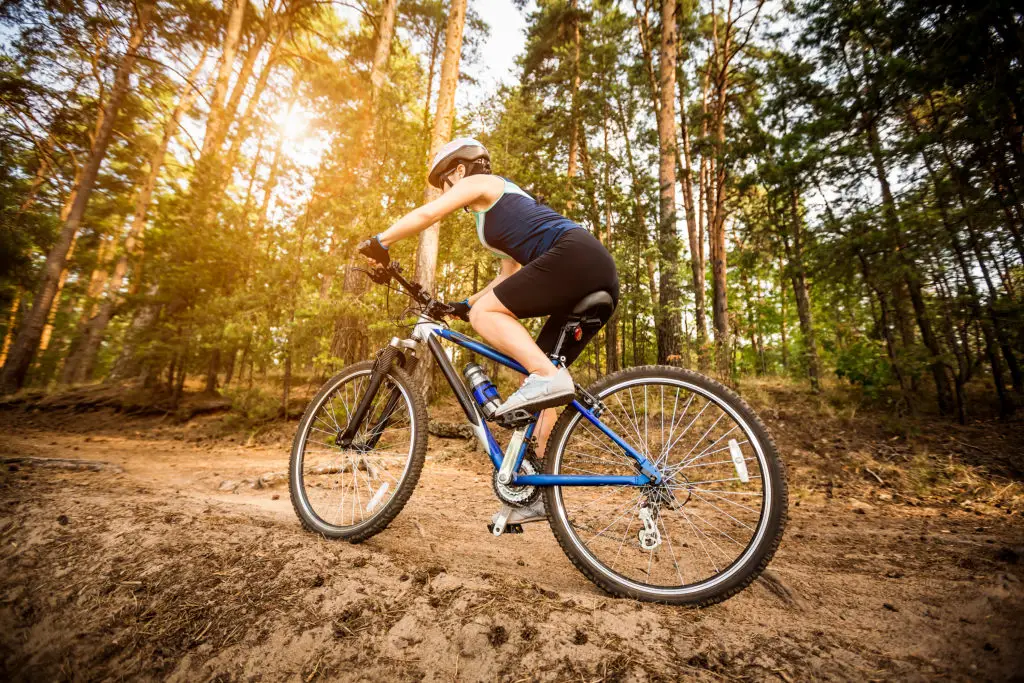 The Polar Vantage V2
The Vantage V2 is Polar's new flagship sports watch. The multisports GPS watch, as Polar has named it, is an awesome device that comes with several new features. It is designed specifically for outdoor athletes, which is why the watch has already earned an outstanding reputation among cyclists and triathletes. Due to its many advantages, this is also quite rightly the case!
The heart rate monitor on the wrist has been completely revised. The new and innovative Polar Precision Prime Technology tracks your heart rate very accurately and reliably. Other than that, the watch is also compatible with a corresponding chest strap from Polar. Likewise, it can also be paired with a cadence sensor.
The battery life is very good as well and ensures that cyclists are not let down even when out on a very long bike ride. Additionally, Polar has put together a very robust, water-resistant and high-quality product.
As if all of the mentioned things weren't enough, the watch also comes with an integrated GPS module as well as a barometric altimeter that support you while cycling. After your bike rides, you can also use the Polar app, which will help you to analyze your sessions in even more detail.
All in all, the Polar Vantage V2 is a perfect sports watch for cycling. But again, it's best to get an overview of this model for yourself first. Here you can take a look at it.
For those who want to save money, the Vantage M, the little brother of the Vantage V2, might also be a good choice. This is another very good sports watch for cyclists. You will have to do without some the mentioned features and accept a slightly worse battery life but other than that, I can recommend you to take a look at the Vantage M as well. Here you can do so.
The Garmin Fenix 6
Besides Polar, Garmin is one of the giants among the sports watches manufacturers and should not be missing in any best-of list. So, very unsurprisingly, we will now talk about my favorite Garmin watch.
But first things first: The Fenix 6 is Garmin's flagship sports watch. In the last months, I had the pleasure of putting the watch through its paces.
And well, where should I start? The amount of features is just impressive and there really is nothing more that cyclists could wish for.
The very detailed topographic maps, which turn the sports watch into a sophisticated navigation device, make this device stand out from other watches. Outdoor athletes and cyclists in particular will love this watch!
Garmin designed the Fenix device for outdoor athletes, which you will also notice because of its outstanding battery life.
If you're planning a bike ride for several days, the Fenix 6 is the ideal companion, because the battery lasts up to 20 days in "expedition GPS mode". You can also buy the Solar version of the Fenix 6, which will extend the battery life even more.
Chest straps and cadence sensors from Garmin are also compatible and can be easily paired with the watch.
The Garmin Fenix 6 also features a barometric altimeter, an accelerometer, a thermometer, a pulse oximeter to determine the oxygen levels in your blood, as well as GPS and other navigation systems such as GLONASS and Galileo.
Oh, and as if that wasn't enough, there are many smartwatch features, such as music control, notifications and much more. In summary: Is there anything this watch can't do? I don't think so ?
The Fenix 6X is not the cheapest of sports watches but all in all, it's just the best sports watch for cyclists and you should definitely take a closer look at it to find out more. Here you will find it.
Final Thoughts: Fitness Trackers/Sports Watches for Cycling
No matter if you choose a fitness tracker or a sports watch, the smart wearables are extremely useful companions for cycling! There are hundreds of different models on the market and your choice should ultimately depend on your personal preferences, of course. The devices recommended above are excellent models for cyclists.
I hope that I could help you with this article. If you still have further questions or would like to share your own experiences on this topic, feel free to contact me.
Otherwise, enjoy your next cycling trips with your new fitness tracker or sports watch. ?