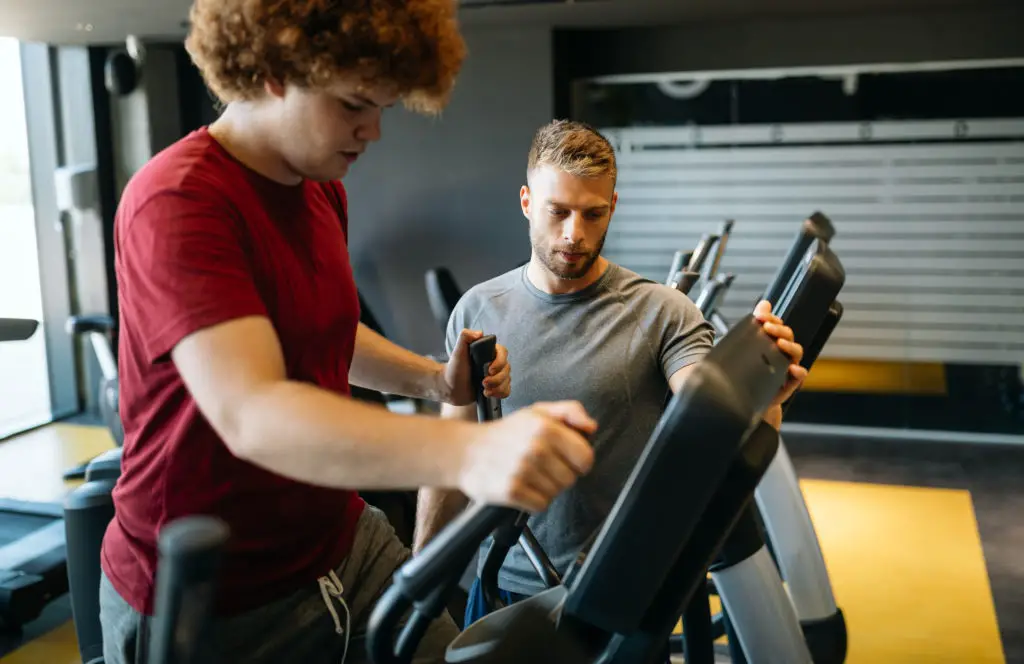 The elliptical is still one of the most popular cardio machines. Unfortunately, the maximum user weight is often limited to 250 lbs or even 220 lbs. This is a great pity because actually, the elliptical is the perfect exercise machine to lose weight and would therefore be a great choice for overweight people.
In today's article, I will introduce you to the best heavy-duty ellipticals with weight capacities of 300 lbs and above and explain why the elliptical is especially suitable for overweight people. You will also learn what to look out for when buying a heavy-duty elliptical. Have fun! ?
Why the Elliptical is Perfect for Overweight People
If you are overweight and want to lose weight, you really have endless options to achieve this goal. You could decide for running, going to the gym, taking yoga classes, or swimming, just to name a few… In fact, this list would be endless! So why exactly should you choose an elliptical?
Basically, the elliptical falls into the category of cardio machines and simulates walking or running at a leisurely pace. If you analyze the motion pattern of running outside, you will quickly notice something that is particularly problematic for overweight people.
When running on a treadmill, for example, our joints are subjected to 3-4 times our own body weight with every step. Running puts great stress on your joints, especially your knee joints and the lower back are affected.
Now if additionally, you are overweight, the impact force will increase even more, so that in this case, your joints will be put under even greater stress.
For overweight people, it is better to run on a treadmill than outside, because most running surfaces include a shock-absorbing system reducing the impact. However, the treadmill is still a high-impact exercise machine.
Ellipticals on the other hand, provide a low-impact workout. Since the feet remain in constant contact with the pedals, the impact forces are eliminated. This in turn is much easier on the joints and will help you to work out in a healthier way. Ellipticals are therefore a real blessing, especially for overweight people over 300 lbs!
Does the Elliptical Help You Lose Weight?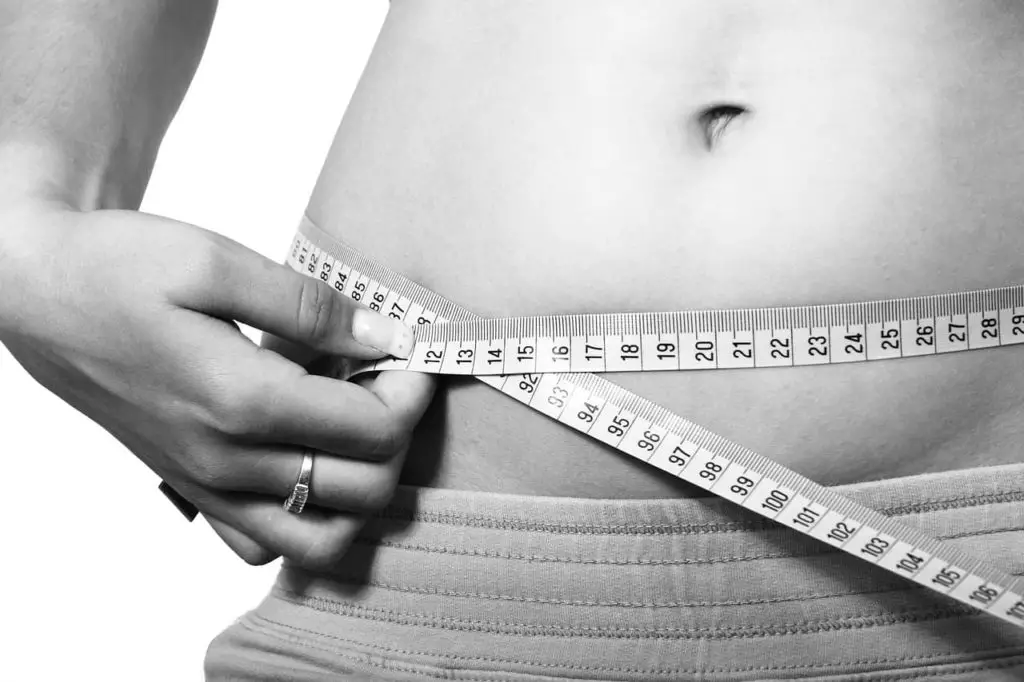 Ok so now you know that the elliptical is a low-impact cardio machine that's particularly suitable for overweight people, but does the elliptical help you lose weight as well? The answer is a resounding yes!
What many people don't know is that in addition to the actual cardio workout, the muscles are toned as well when using the elliptical. It is said that with the correct posture and use of the arms (grab the handlebars firmly) about 85% of the muscles can be worked. In addition to the legs as the obvious muscles worked by the elliptical, the trunk and arms are targeted as well.
Because the elliptical works so many muscles, we are also burning a hell of a lot of calories, because our body needs to supply all of these muscles with energy. Therefore, if you are overweight and want to lose weight, the elliptical is a very good choice.
It is the combination of strength and cardio exercise that makes the elliptical so effective. For comparison purposes, I have put together a small table showing the average calories burned in different kinds of activities.
| | |
| --- | --- |
| Activity | Calories Burned |
| Elliptical | 700 |
| Swimming | 630 |
| Moderate Jogging | 600 |
| Stationary Bike | 550 |
For your information: These values are based on my own experience and refer to a 1-hour workout. The values will vary depending on how tall and heavy a person is and many other individual factors. However, the differences between the different exercises should occur in each individual case.
There is so much to consider when it comes to losing weight with an elliptical that I have dedicated a separate article to this topic. In this article you will find a step-by-step weight loss guide for the elliptical. Just take a look if you are interested: Here you can find the article!
What Overweight People Should Consider When Using a Heavy-Duty Elliptical
The Proper Form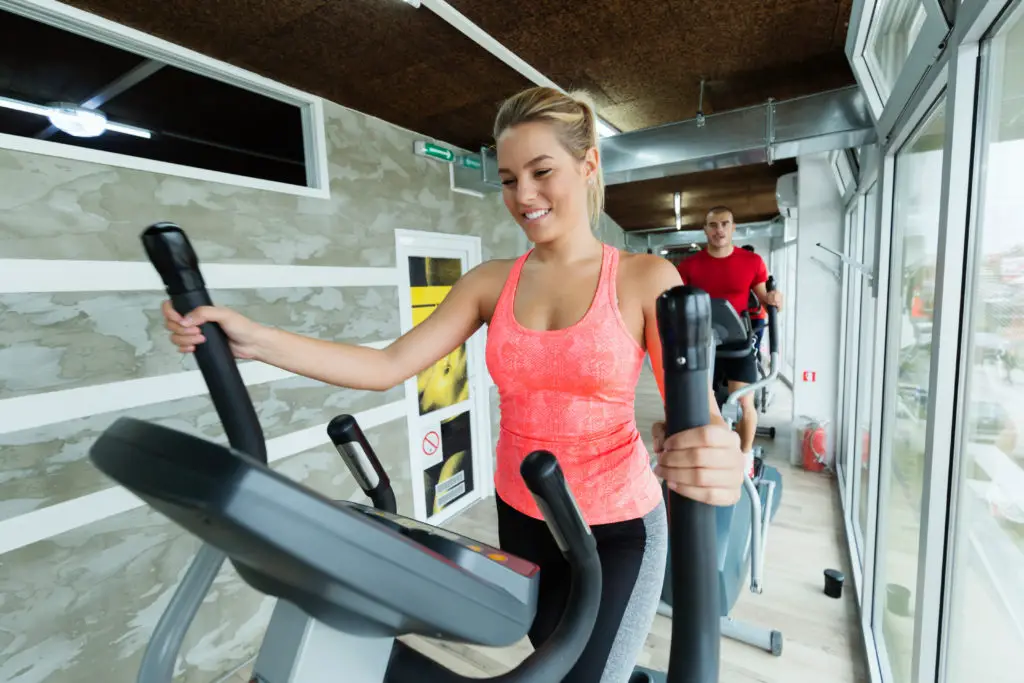 No matter if you're 180, 250 or 300 pounds… No matter if beginner or advanced… No matter if you use the elliptical, treadmill or exercise bike… There is one thing that should always be the first priority and that is the proper form and execution of the exercise.
Especially for overweight people, working out with the wrong posture can cause joint pain and some severe injuries.
For example, you should avoid the well-known hunched posture that people often do during the workout when they are simultaneously reading a book or looking at their smartphone.
This posture is one of the main reasons why people suffer from back pain after the workout. You should therefore make sure that you keep your shoulders back and head up with a forward gaze. In general, you should always try to keep your back as straight as possible.
More Tips on How to Use the Elliptical:
Grab the handlebars firmly and work with your arms. This makes the workout more effective
The entire foot should rest on the pedal, not just the tip or the ball of the foot
The pelvis should be directed forward and not tilt
If you consider all these points, you should be on the right track! Nevertheless, as always, listen to your body. If you experience pain at any point of the elliptical workout, take it slow, check your posture or take a break if necessary.
The Flywheel Weight
The flywheel weight is another crucial factor influencing how joint-friendly the elliptical workout will be. But what exactly is the flywheel weight?
On the elliptical, our feet are following an elliptical path. Due to gravity, it is much easier to push the pedal from top to bottom than to come back up from below. This, in turn, causes the force applied to the pedal to fluctuate during the entire movement, resulting in an uneven load. In other words, the motion does not feel quite smooth and so-called "dead spots" might occur.
A high flywheel weight provides the solution for these cases. Simply put, it stores the swing energy that we generate ourselves from top to bottom and returns it to us when normally we would have to apply more force. This makes the movement smooth, healthy and easy on the joints.
Normally I recommend a flywheel weight of at least 20 pounds.
Which Flywheel Weight for Overweight People?
For overweight people over 300 lbs, I would recommend choosing an elliptical with a flywheel weight of at least 30 pounds.
The Price
The fitness industry is booming at the moment! Ellipticals are becoming increasingly popular as well, so that numerous manufacturers now see the opportunity to make big money. Unfortunately, more and more cheap low-quality products are entering the market now as well…
However, especially for overweight people over 300 lbs, it plays a decisive role using a high-quality elliptical! So, don't be tempted by a low price, because often it is exactly these products that give up the ghost after only a few months.
This might save you money at first, but in the long run it will be much more expensive for you. Additionally, if you want to work out in the most effective way possible and use several different training programs, a higher-priced elliptical is often the better choice.
An elliptical for over 300 lbs should cost anywhere between $1000 and $1500. But believe me, the models I'm about to introduce to you are worth their price, because they will normally last many, many years and allow you to exercise at the highest level right from the start.
In addition, they are low-impact, easy on the joints, minimize the risk of injury and allow you to work on your goals in a healthy way.
3 Awesome Heavy-Duty Ellipticals for Overweight People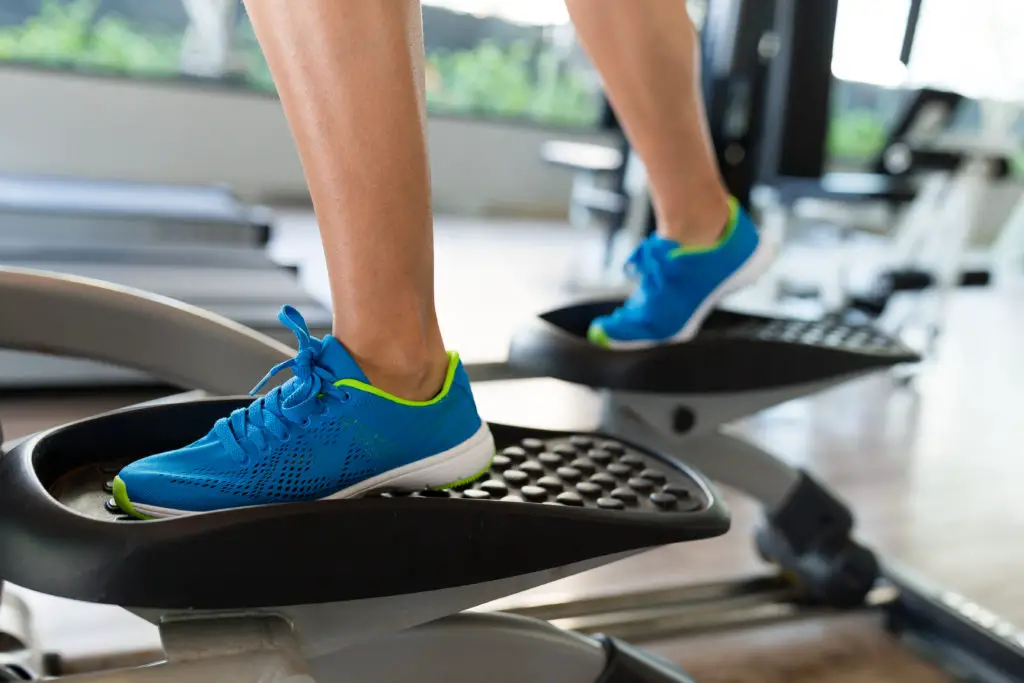 The Nautilus E628
In my opinion, the Nautilus E628 is currently the best elliptical for overweight people. The flywheel mass of 30 pounds is definitely large enough and allows a healthy and joint-gentle workout without "dead spots" at any time.
Nautilus is a very trustworthy manufacturer in general. The company is located in the United States and has been convincing its customers with various exercise equipment for many years now. The E628 Elliptical is another awesome cardio machine.
It comes with 29 preset training programs, including weight loss programs specifically designed for overweight people. No matter if beginner or advanced, 200 lbs or 300 lbs, this elliptical is the perfect choice for everybody.
Moreover, you will get a wireless heart rate chest strap and some nice extra features, such as the Bluetooth connectivity, on top.
However, most notably, this elliptical has a weight capacity of 350 pounds, so that overweight people can use it comfortably. All in all, if you're interested in buying an elliptical, you should definitely take a closer look at this cardio machine. You can find it here.
The Nautilus E626
No, I didn't accidentally choose the same elliptical twice. Apart from the last digit, this elliptical has the exact same name as my first recommendation. It is actually the little brother of the E628.
Besides the small name difference, the weight capacity is 300 pounds, i.e. 50 pounds less than the E628. Additionally, the flywheel weight is 22 pounds instead of 30 pounds. Apart from that, you will still get a high-quality elliptical that's perfectly suitable for overweight people.
It is very stable, durable and comes with a high functionality. If you'd like to learn more about the differences of both products, you should also take a closer look at the E626. Here you will find it.
The ProForm Hybrid Trainer
If you are wondering why I have only recommended Nautilus ellipticals so far, don't worry. Now we will talk about another manufacturer. I would like to emphasize that in no way I am sponsored by any of these companies… I am just trying to recommend the ellipticals that I consider to be the best for overweight people.
Besides the Nautilus E628 and the E626, the ProForm Hybrid Trainer is another very good elliptical. Actually, it is not only an elliptical but a recumbent bike as well. You can use this machine for both purposes. If you don't feel comfortable standing for so long, you can just sit down and use it as a recumbent bike.
This makes it a perfect solution for overweight people. The elliptical has a weight capacity of 350 pounds. If you're interested in this 2-in-1 solution, you should have a closer look at it for yourself. Here you will find all the further information you'll need.
This is How to Get Started with the Elliptical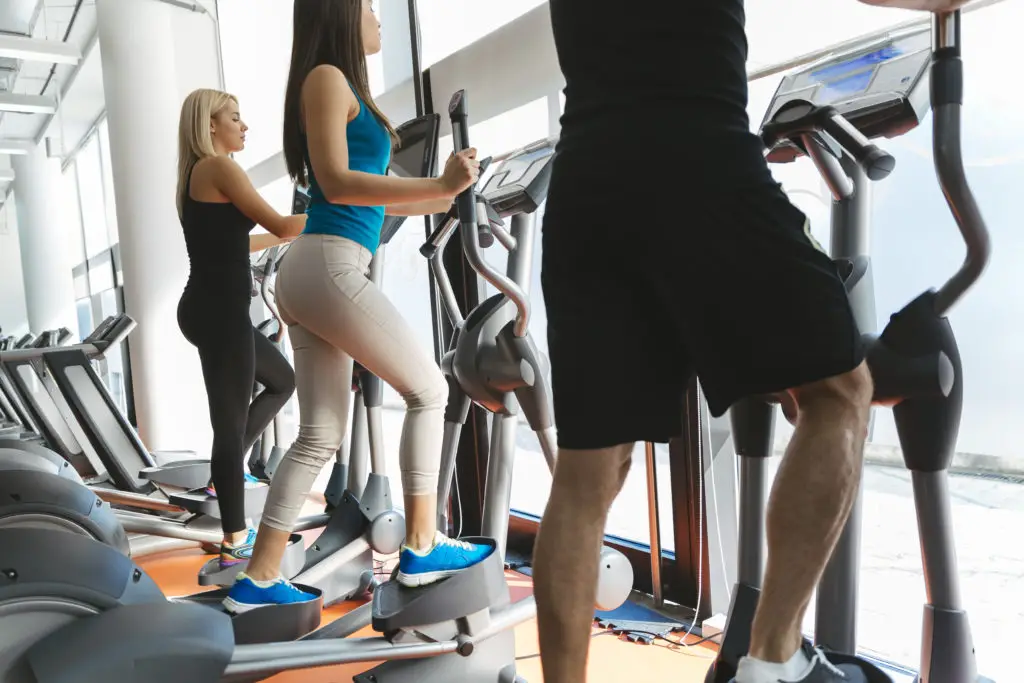 Ok so far, so good. Ideally, you have now found the perfect elliptical for you. The first step has been taken… But what happens next? How do you use the elliptical correctly to achieve your goals?
There are tons of questions regarding how to work out on an elliptical. That's why I have dedicated a complete article on this, which will help you get the most out of your workouts from day 1 on. In this article, you will find 5 tips for the beginning of your journey, as well as a complete workout plan for the first few weeks. You can find the article here.
Final Thoughts on the Best Ellipticals for Overweight People Over 300 lbs
The elliptical is the perfect cardio machine for overweight people weighing 300 lbs or more, as it's not only particularly effective for losing weight, but is also very easy on the joints. However, it is especially important to use a high-quality product. The machines recommended in this article are very good examples.
I hope I could help you with this article. If you still have further questions or suggestions, feel free to contact me.
Otherwise I would say: Have fun with your new heavy-duty elliptical for over 300 lbs and good luck in reaching your goals! ?