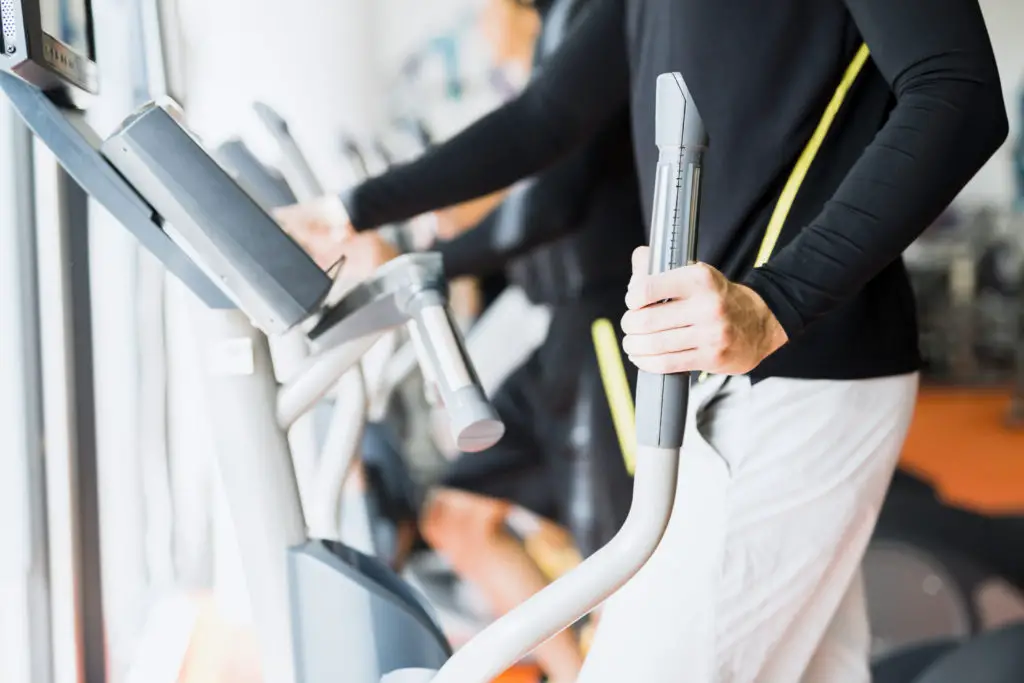 Ellipticals are among the most popular cardio machines and they are increasingly used at home as well, and rightly so. Ellipticals provide an extremely effective home workout and help you to burn those calories. However, potential buyers are often concerned about the space that the elliptical machines take up.
Luckily, many manufacturers are familiar with these worries and have now developed folding ellipticals that take up very little space and can be stored in a space-saving manner. In today's article, we are going to take a look at these models and talk about what you should look out for before the purchase. Have fun! ?
How Much Space Does An Elliptical Take Up?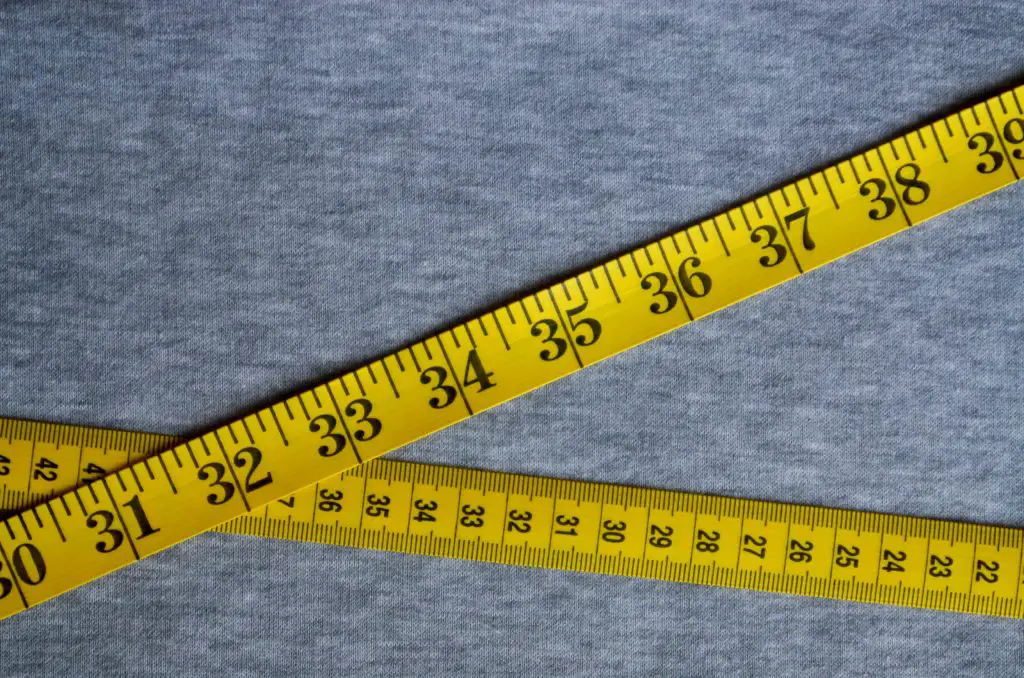 Let's first look at how much space an elliptical normally takes up. Does such a piece of exercise equipment even fit into an average apartment? This is a frequent and absolutely justified question that worries many potential buyers in advance.
An elliptical is usually somewhere in the following size range:
height: 60'' – 70''
width: 20'' – 30''
length: 50'' – 65''
These are just rough guidelines and as you can see the dimensions can vary greatly from device to device. However, it can serve you as a first orientation which can help you to imagine placing an elliptical in your own home.
If you are worried about these digits and think you can't provide that much space, don't worry! We will now come to the solution! ?
The Advantages of a Folding Elliptical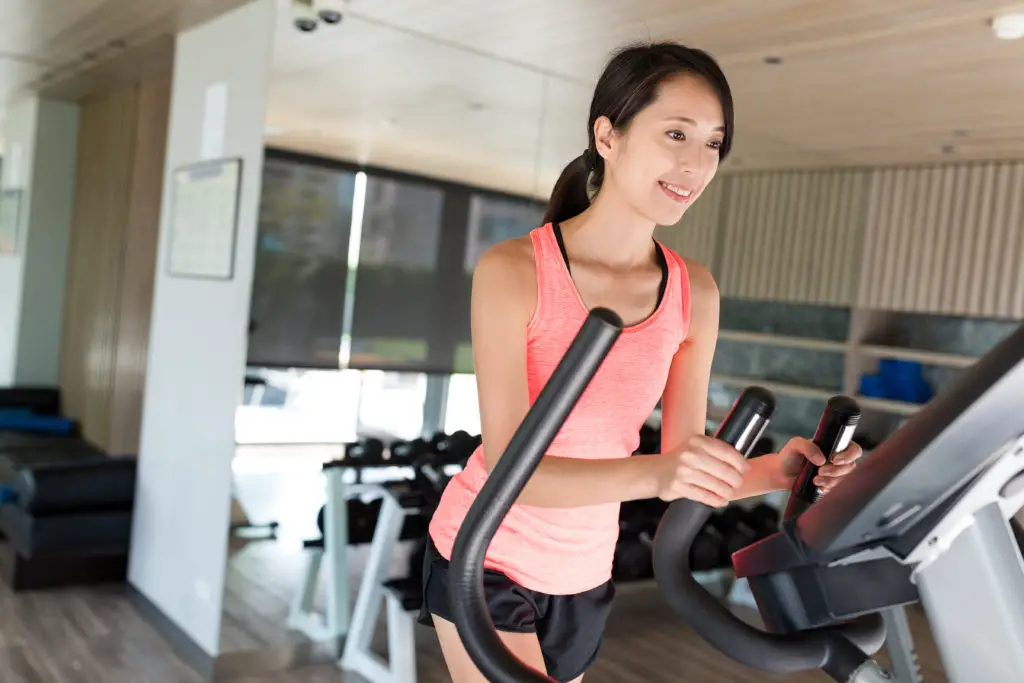 Especially if you're living in a small apartment, the dimensions I just shared with you might represent a real problem. In fact, as a student living in a very small apartment for years now, I can totally relate to that. ? Nevertheless, I always came up with a solution to accommodate cardio machines at home and I also already found space for several elliptical machines.
When it comes to space, many manufacturers provide an ideal solution: Folding ellipticals. This means that the cardio machines require the amount of space mentioned above when in use but can be stored in a very space-saving way when not in use. In most cases, the size is reduced to a minimum so that the ellipticals can be stored in the corner of your room.
But it is not only the space-saving design of the folding ellipticals which stands out as an advantage. In contrast to "normal" ellipticals, these models are usually lighter, handier and easier to move. In most cases, they come along with transport wheel as well, also making them more suitably for somewhat older or weaker people.
Since the folding ellipticals are usually lighter and smaller, they often come along with a lower price as well. On average, these models are priced far below their non-folding counterparts.
All Advantages at a Glance
Can be stored in a space-saving way
Light, handy and easy to move
Cheap
At this point I would like to point out that folding ellipticals also come along with some disadvantages. Overall, these models are usually more suitable for beginners. The reason for this is that the individually adjustable flywheel weight is often lower, which results in a reduction of the training effect.
Usually there are less training programs as well. For beginners, the functionality will certainly be sufficient, but advanced users often do not get their money's worth with the folding ellipticals.
Furthermore, in many cases the devices are only suitable for persons up to 220 Ibs or 250 Ibs due to their very light construction. Unfortunately, there are only a few folding ellipticals for overweight people.
But don't worry, there are exceptions! I will later introduce you to two ellipticals, which are not only foldable but offer a high functionality and a high maximum user weight as well. ?
3 Simple Things to Consider Before Buying a Folding Elliptical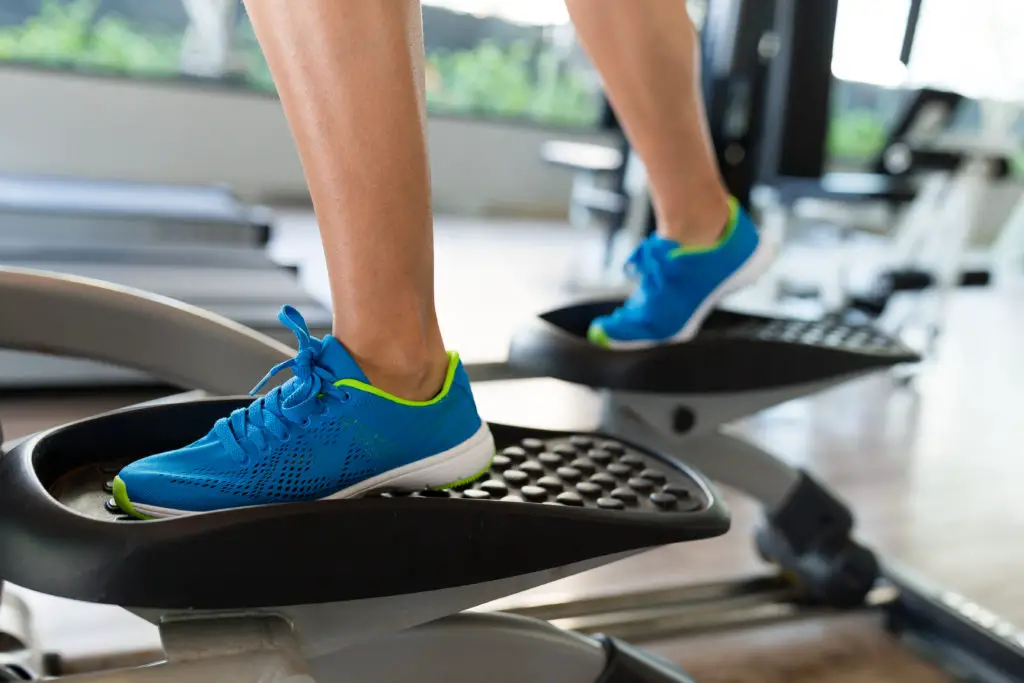 A folding elliptical has numerous advantages and is the ideal choice for beginners. Nevertheless, once again it is important not to be penny wise and pound foolish and choose a high-quality elliptical machine. In the following, I would like to briefly discuss the most important aspects to consider when buying a folding elliptical.
The Flywheel Weight
The flywheel weight impacts the fluidity of the pedaling. The heavier the flywheel, the smoother the movement on the elliptical will feel.
The foldable models are mostly based on a lightweight design and often do without a few pounds of flywheel mass. However, I would recommend that you use a flywheel weight of at least 15 pounds even with a folding elliptical.
The Stride Length and Pedal Distance
As with any other cardio machine, the primary goal of an elliptical should be to provide a motion pattern that is as natural as possible.
The elliptical movement when exercising with an elliptical most closely simulates walking or running at a leisurely pace, but avoids the stress on the joints caused by the impacts of our feet hitting the ground. In order to come as close as possible to normal walking, it is important to consider the stride length. This describes the length of the elliptical path that is covered during the movement.
It is recommended to set a minimum stride length of 18 inches.
Likewise, the horizontal pedal distance should not be too large, as this contradicts our natural motion pattern as well. The distance between the pedals should not exceed 8 inches to avoid overloading the knee and hip joints.
Basically, the movement is most joint-friendly with a combination of a long stride length and a narrow horizontal pedal distance.
The User Weight Limit
As I mentioned earlier, the user weight plays a crucial role in finding the best folding elliptical. Unfortunately, however, this is considered far too rarely. The foldable devices are usually a bit lower in their weight capacity because they rely on a lighter construction.
However, if the specified user weight limit is exceeded, the lifespan of the cardio machine will be affected and reduced. Furthermore, it often happens that the elliptical starts to squeak after a while in this case.
In Summary: Characteristics of a Good Folding Elliptical
Flywheel weight of at least 15 pounds
Stride length of at least 18 inces
Horizontal pedal distance should not exceed 8 inches
Appropriate user weight limit
The Best Folding Ellipticals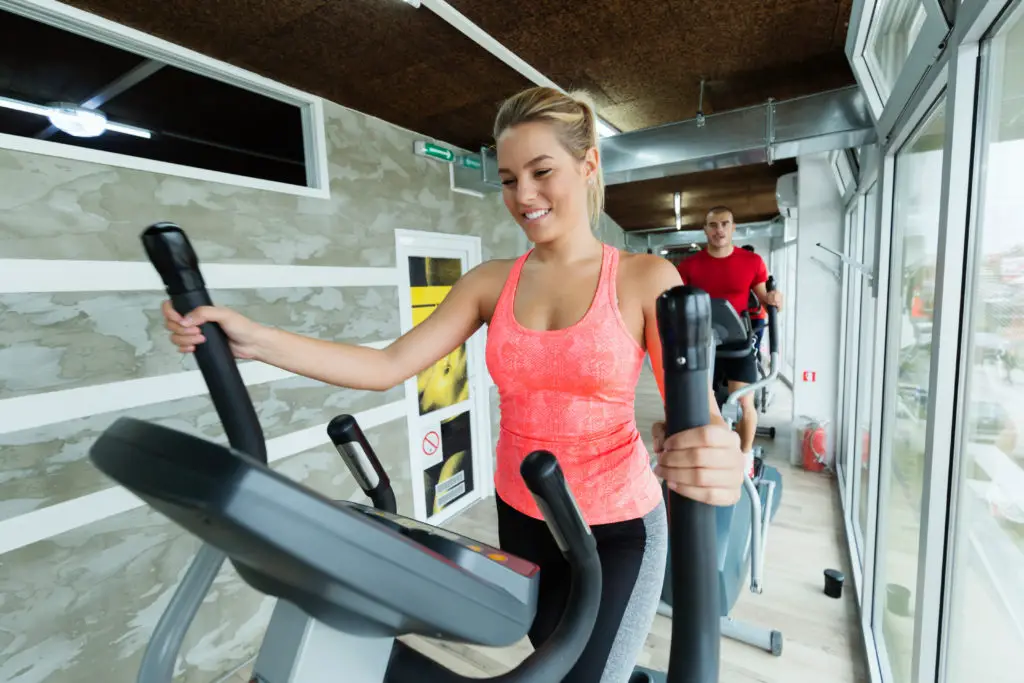 The NordicTrack SpaceSaver SE7i
The NordicTrack SpaceSaver SE7i is not only one of my absolute favorites but belongs to the most popular ellipticals anyway. This machine is perfect for home use in every respect. The first big benefit it provides is already comprised in its name, as this elliptical trainer really is very space-saving. It is foldable so that you can reduce its size to a minimum and store it very easily at home.
It comes with an 18 lbs flywheel weight allowing for a smooth motion pattern. Together with the 22 digital resistance levels, NordicTrack offers a high functionality with this elliptical. The elliptical allows training at the highest level – no matter if you're a beginner or advanced athlete.
Moreover, it comes with a user weight capacity of 325 lbs. All of these points as well as the fact that it's whisper quiet, make this folding elliptical the perfect choice for your home gym. If you would like to take a closer look at it, you will find it here.
The ProForm Smart Strider 695 CSE
The ProForm Smart Strider 695 CSE Elliptical is another great folding cardio machine. Just as for my first recommendation, it's no longer necessary to sacrifice a lot of your living space for your workout. This elliptical trainer folds up and can be saved in a very space-saving way. With the transport wheels, it will also be very easy to move the machine.
Other than that, it's just a very good, high-quality elliptical machine in general. You'll get 24 pre-installed, additional workout apps helping you to find challenging workouts for your specific fitness goals. A very nice feature is the LED Display that's very bright and big.
The weight capacity of this machine is 300 pounds. Last but not least, this elliptical also comes with a silent magnetic resistance system that allows for a very quiet workout that will certainly not disturb your neighbors.
I'd recommend that you just take a look at this folding elliptical as well to find out more. Here you will find it.
Final Thoughts on Folding Ellipticals
A folding elliptical makes it possible to exercise your entire body and burn calories in the comfort of your own home, even in a small apartment. However, you should pay attention to a few important points.
These include, above all, the flywheel weight, the stride length, as well as the user weight limit. The models mentioned in this article are perfect examples that can both be recommended without reservation.
I hope I could help you with this article. If you still have further questions or suggestions, you can always write me a mail and I will try to answer as soon as I can.
But for now, have fun with your new folding elliptical! ?