Fitness trackers are becoming more and more popular and help us to incorporate more movement into our increasingly inactive daily lives. But did you know that fitness trackers can also be very useful for kids? Fitness trackers are a great gift idea in general and when kids are unwrapping their fitness tracker gift box, their face is usually sparkling with joy and excitement.
But not all fitness trackers are suitable for children. In this article you will learn why fitness trackers are useful for kids, what to look out for when buying them and what the best models are. Have fun! ?
Why Fitness Trackers are Useful for Kids
Unfortunately, the everyday life of children is increasingly determined by electronic devices, which makes exercise a scarce commodity. They use their phones to communicate with their friends, play videogames on the Playstation and watch their favorite movies on Netflix… Is it really useful to give kids another electronic device in the shape of a fitness tracker?
Fitness trackers are smart devices just as phones or TVs are, but in contrast to these devices, they actually incorporate more movement in the everyday life of our children while the other options usually decrease the activity level.
Above all, fitness trackers count the steps taken during the day. Experience shows that it is a lot of fun and extremely exciting for kids to observe their own steps. Many kids' fitness trackers also provide feedback and compliments using famous childhood heroes such as Spiderman, which might be an extra incentive to get active for your child.
In many cases, there will be digital rewards for movement and activity. Likewise, children can immerse themselves in the world of their heroes and experience little "adventures" there. In addition, other tasks such as doing homework can also be transferred to the tracker.
Many fitness trackers for children can also be paired with their friends' devices. This way, taking steps can quickly turn into an exciting competition. Kids love challenges and collecting steps together with their friends is great fun!
What You Should Look out for When Buying a Fitness Tracker for Your Child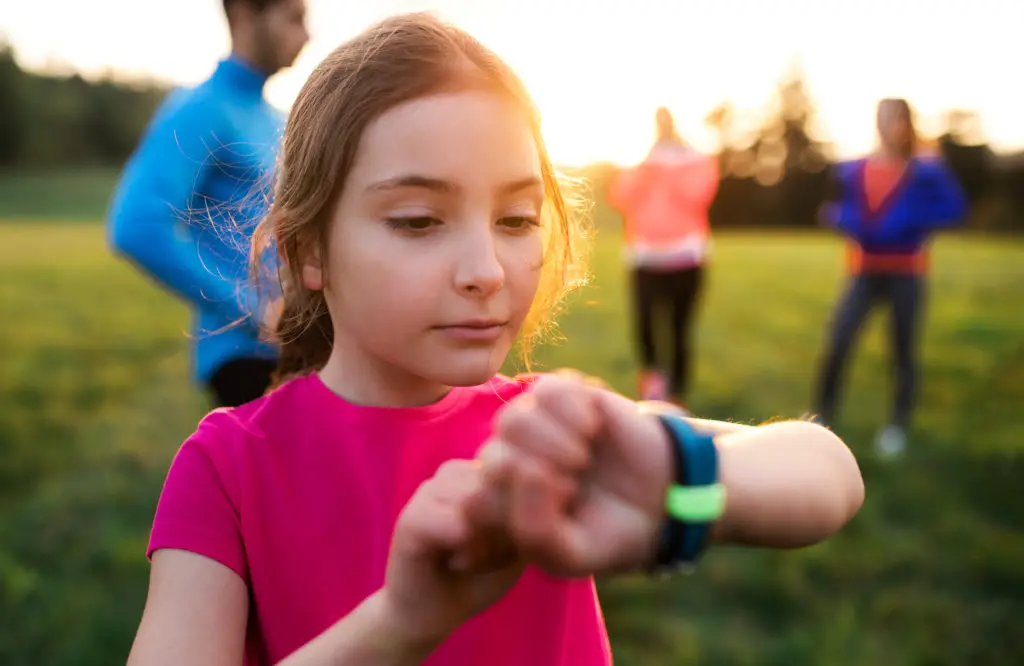 The Price
We all know that kids tend to break things. Well, not on purpose of course, but it can often happen accidentally. When playing hide and seek or when throwing a football in the backyard, it can always happen that things break.
And yet, nobody can blame the kids for these things to happen. Of course, we want our children to discover the world playfully and we just have to accept that it's unavoidable that things might be broken in this process.
When buying a fitness tracker for children, it is advisable to choose a device that takes this aspect into account. Above all, the tracker should be rugged and scratch-resistant.
It might also be useful to choose a waterproof fitness tracker for kids. It depends on the activities of your child, but if swimming is part of your child's daily life, then a waterproof tracker makes a lot of sense.
However, I would recommend choosing an affordable tracker, because as I said, kids tend to break things and accordingly you won't be able to avoid broken trackers from time to time.
More expensive models usually justify their price by various additional features, such as altitude measurement, blood pressure measurement or sleep tracking, which are not very important for children anyway.
A good fitness tracker for kids will usually cost you anything from 50 to 100 dollars.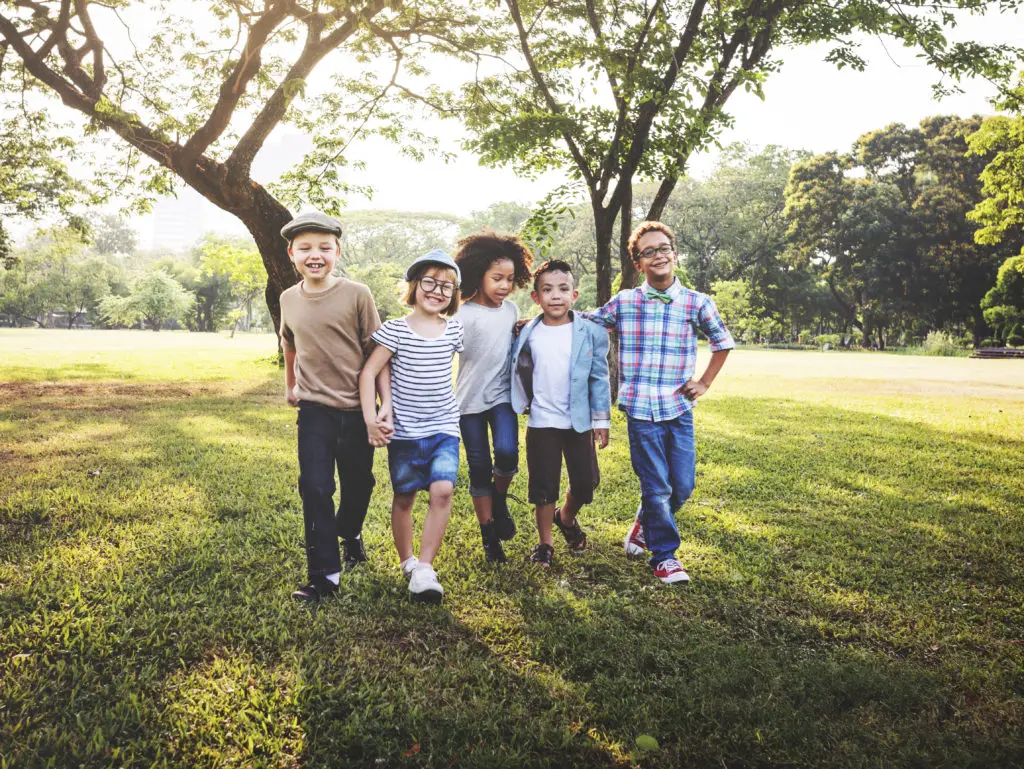 The Battery Life
Let's continue with some of our childhood memories. I think we all remember those summer days when we just played outside with our friends all day long and completely lost track of time.
As kids we just had an endless amount of energy and could have played forever if only the sun had continued to shine. A fitness tracker for kids should therefore have a similar amount of energy, or in other words, it should come with a big battery life.
Design and Comfort
No matter how useful fitness trackers may be – if they are not visually appealing, our kids will probably not wear them. For our youngest, it is especially important that the trackers come with a great design and just look cool.
Fortunately, the manufacturers have also been thinking along the same lines and have now designed fitness trackers specifically for children. For example, there are trackers with a Spiderman, Princess or Lego design. This way, the trackers, which are usually boring for adults, become cool wearables that kids like to wear just because of this look.
Of course, it's also important that they are comfortable to wear, because children in particular are quick to throw away an uncomfortable tracker. When it comes to comfort, fitness trackers are definitely the right choice, because they are usually very narrow and fit comfortably on the wrist.
I'd recommend a tracker with a silicone wristband, as experience has shown that they fit the wrist better and also have the nice side effect that they grow with the child.
But now it's time to take a look at the best fitness trackers for kids! ?
The Best Fitness Trackers for Kids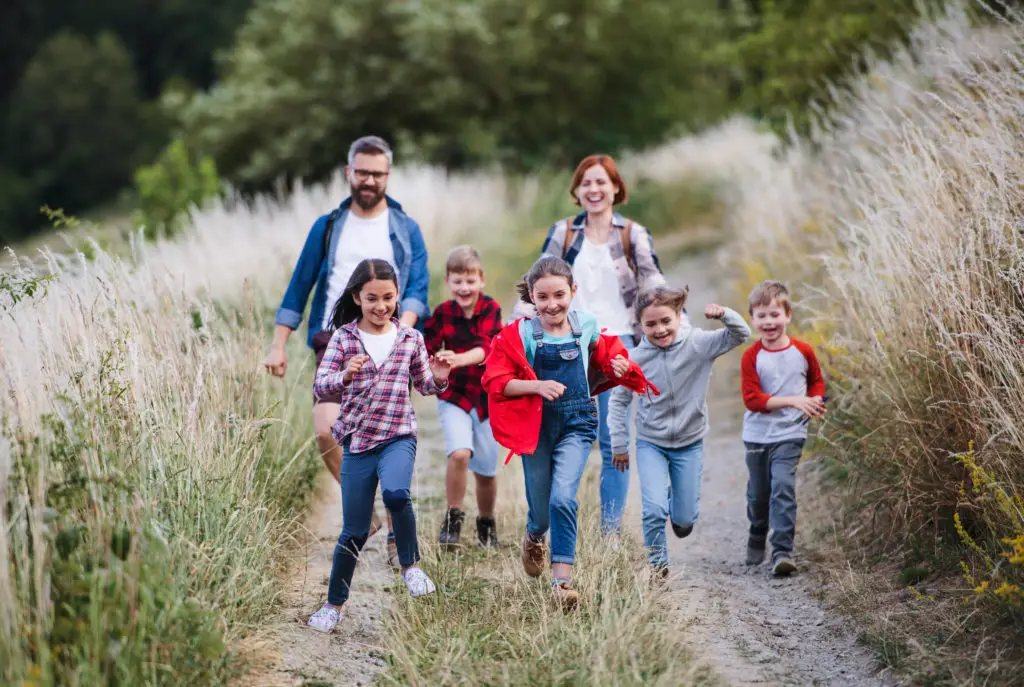 Garmin Vivofit Jr.
You can always rely on Garmin! The sports product giant with headquarters in Switzerland has been convincing its customers with the highest quality for decades. The Vivofit Junior is yet another impressive example, and best of all, this tracker was specifically designed for children.
First of all, the design is a real eye-catcher and, in addition, kids can immerse themselves in the adventure world of Star Wars, Minnie Mouse, Spiderman and many more. Using the Toe-to-Toe Step Challenge, children can compete with their friends to see who can take more steps and additionally there are some other challenges that might be very interesting for kids.
Parents can also create new games or distribute virtual gold coins using an extra phone app, and the tracker itself sends out congratulations and awards. The possibilities are just endless.
This fitness tracker is also very rugged, has a strong battery (up to 1 year!) and is waterproof.
In short: The Garmin Vivofit Jr. is a fitness tracker that makes children's eyes sparkle and that kids will love because of its features. I can highly recommend you to take a look on this device for yourself. Here you will find it in all of the different designs.
Fitbit for Kids: The Fitbit Ace 2
Fitbit has made a real name for itself and is one of the most popular manufacturers of fitness trackers in general. Accordingly, it is not really surprising that there is also a Fitbit device specifically designed for children. I'm talking about the Fitbit Ace 2 Fitness Tracker.
Here, too, kids are accompanied through the day in a playful way and can earn virtual rewards while being active or compete against friends.
The Fitbit Ace 2 is also very rugged, has a good battery life and is waterproof. In addition, experience has shown that Fitbit's wristbands are always very comfortable to wear and can be wonderfully integrated into the everyday life of your child.
This fitness tracker does not appear quite as "childlike" as the Garmin model, which is why it's still considered "cool" by somewhat older kids. ?
Ultimately, you know best which fitness tracker is right for your child. So again, I'd recommend that you take a look at the Fitbit Ace 2 for yourself. Here you will find it.
No Smartphone, No App and No Bluetooth: Fitness Tracker for Children with GPS
GPS is the very well-known global positioning system, which is also increasingly used in our smart devices including fitness trackers. The GPS feature is of course especially useful for kids' fitness trackers: Kids can be guided to the nearest bus stop and in emergency situations you can also locate your child. For the latter, there is often an integrated SOS function.
Many fitness trackers come with GPS, but it is often the case that the tracker only uses the GPS data of your phone. However, if we don't want our children to have to carry a smartphone around with them all the time, we need a fitness tracker with its own built-in GPS.
Here I can recommend the "normal" version of the Garmin Vivosport. This version is a bit simpler in its design but has a built-in GPS and is also highly recommendable for children.
I guess that again, it's best to take a quick look at this tracker for yourself. Here you can do so.
Final Thoughts on the Best Fitness Trackers for Kids
Fitness trackers are extremely useful for children and just help to incorporate more movement in the daily lives of our kids. In addition, they come with a lot of fun features and in most cases, kids just love wearing them.
There is hardly a better way to invest your money and when you will see the joy and excitement in the eyes of your child, this investment will pay off even more! ?
I hope that I could help you with this article. If you still have questions or want to share your own experiences regarding this topic, feel free to contact me.
Otherwise, I wish your child a lot of fun with his or her new fitness tracker! ?