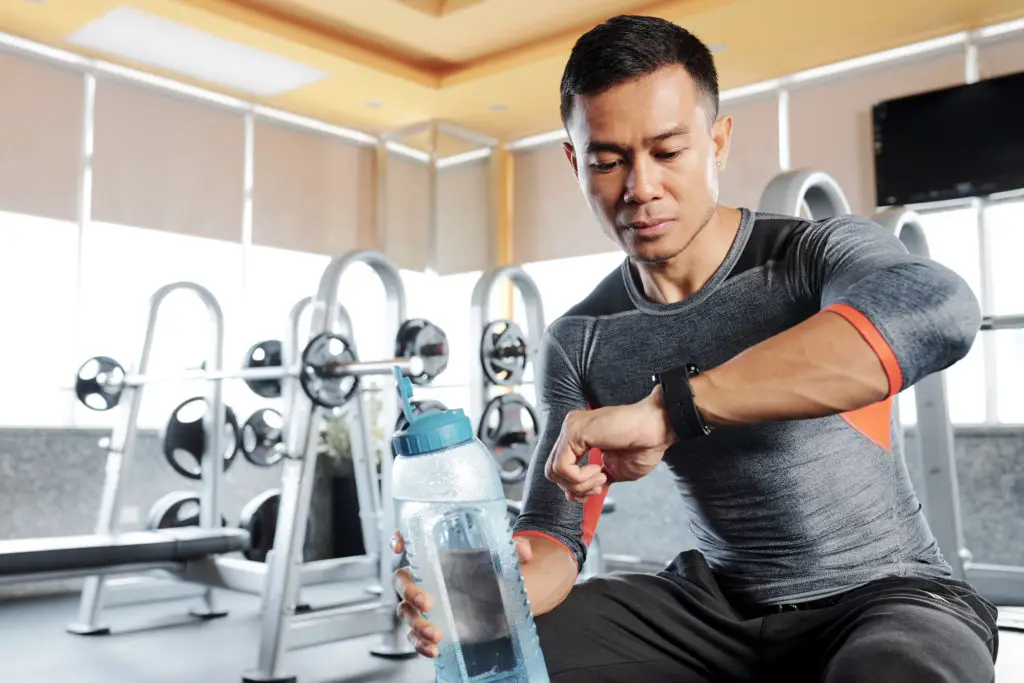 Fitness trackers are all the rage right now. The smart wristbands are worn by more and more people and come with an increasingly impressive functionality. Initially, they came onto the market as simple pedometers with the aim of incorporating more movement into our everyday lives.
Meanwhile, however, their functionality goes far beyond simply counting steps: The wristbands have become true all-rounders! But are fitness trackers also useful for your weightlifting workouts in the gym? In this article, we'll take a look at how fitness trackers can help you with your weight training and later on, I will introduce you to the best models. Have fun! ?
Why Fitness Trackers Help You to Get the Most out of Every Rep
Fitness trackers were originally intended to be simple pedometers. 10,000 steps should be covered per day – that's a rule of thumb that has been circulating in the fitness world for years. Since the majority of people do not reach this value, fitness trackers came onto the market to incorporate more movement into our increasingly sedentary lifestyles.
But exercise is not just about taking steps. A cyclist can cover an entire day's ride without taking a single step. A swimmer can swim for hours without the pedometer counting anything.
And the same is true for the weightlifter. Even if you don't take any or only a few steps during your weight training sessions in the gym, obviously you are still being active.
Fitness trackers of the older generation, however, only take the steps into account when it comes to things like your general activity level or your daily calorie expenditure. Fortunately, modern trackers are more sophisticated so that they also include other data.
Heart rate measurement is one example. While we don't cover any steps during weight training, our heart rate still goes up. And that, of course, has an impact on how active we were on any given day.
Now let's take a look at how a fitness tracker can help us during weightlifting.
The Weight Training Mode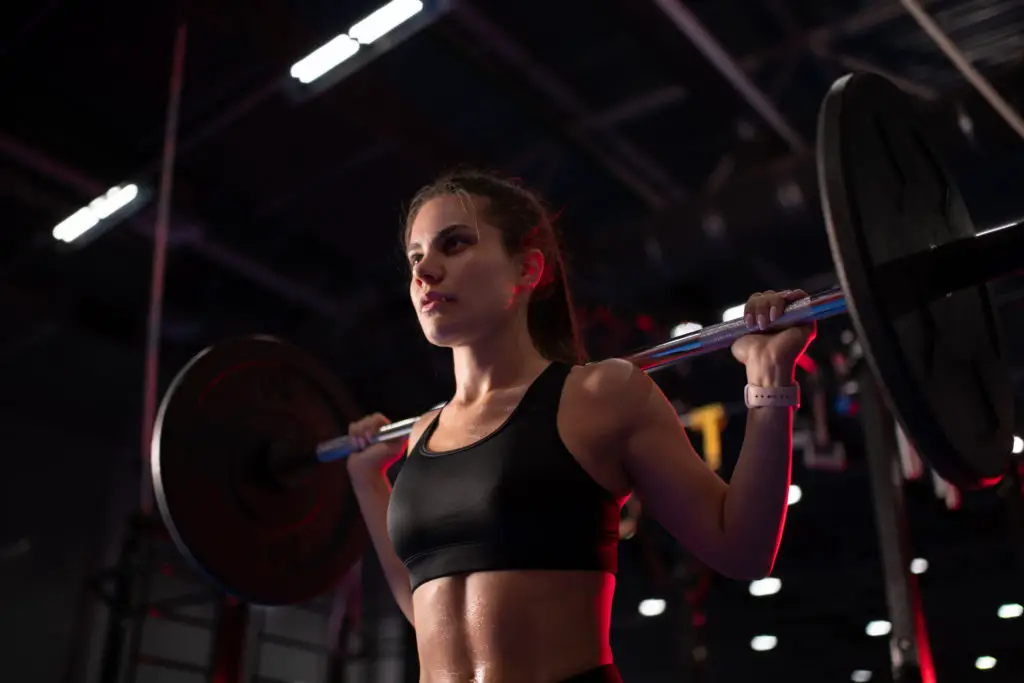 Ideally, a fitness tracker comes with a special weight training or workout mode. Normally, fitness trackers interpret strong arm movements as steps. In weight training, however, our arms cover a large range of motion, even though we are not taking any steps.
If we are in weight training mode, it recognizes that our arm movements are not due to steps taken, but because we are performing certain strength exercises.
We can then simply specify the exercises manually. Otherwise, modern fitness trackers in workout mode can even detect which exercises we perform and how many repetitions we do based on motion and rotation sensors.
How reliable is this? Well… In my experience, it depends on the exercise. "Simple" exercises – in terms of being easy to track – such as bench presses or deadlifts are reliably detected by most fitness trackers, but when it comes to more difficult exercises, there can be some inconsistencies.
Additionally, the repetitions will not always be counted reliably either. In the end, we are still talking about fitness trackers, and not about personal trainers, so yes, they will definitely help you with your weightlifting sessions, but you have to be aware that there will be inaccuracies.
Personally, I rarely use the weight training mode for these reasons and continue to diligently write down my performance data on a piece of paper. I've always done it that way, though, and it's just fun for me, too. In this respect, I'm certainly a bit old-school. ?
Nonetheless, fitness trackers can still be very useful. They provide an overview of your strength training and help you to classify your performance and track your progress. If the measurements are inaccurate, we can easily make changes with the help of the included phone app and correct the incorrect values.
Nearly all of the fitness trackers on the market come with an additional phone app that serves as a personal diary for your weightlifting journey. This in turn can not only help us with our training and load control, but might also lead to a strong motivational boost.
Depending on the fitness tracker, explosive strength can also be measured. Again, the motion sensors are used for this purpose. The influence of speed in weightlifting is a science in itself and what exactly you can do with the values depends entirely on your training routine and your goals.
For example, some fitness trackers can recommend you to reduce the weight when they notice that you have become significantly slower in the execution of the reps.
Heart Rate Monitoring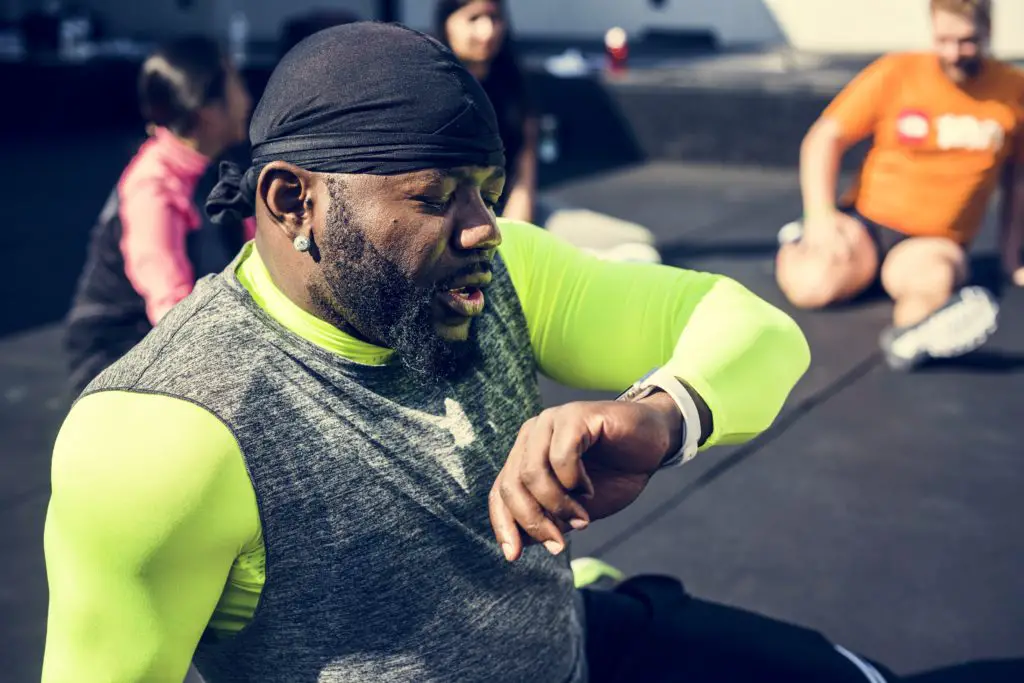 In contrast to counting steps, which only gives a reliable impression of how active we have been in certain activities and sports, our own heart rate plays a key role in almost every sport.
It is important to know that working out in different heart rate zones has a very different effect on our body and also plays an important role in weightlifting.
To keep track of your own heart rate, there are two main options: The measurement of the heart rate via a chest strap and the optical heart rate monitoring on the wrist.
The chest strap has been used for many years. It measures the heart rate at the chest, i.e. directly at the heart, and tracks the changes in electrical voltage that goes along with our heartbeat. This method is very accurate and reliable. However, many people find the chest strap uncomfortable and annoying.
The optical heart rate monitoring, on the other hand, is part of the fitness tracker itself and tracks your heart rate directly on your wrist. For this, the optical LED sensor perceives color changes on the skin that occur when the pulse is elevated.
This method is more comfortable and suitable for everyday use. However, it must be said that it still does not achieve the accuracy of a chest strap and is not considered for medical studies. However, the optical heart rate measurement is becoming increasingly accurate and can definitely be used for most cases.
For an overview of the performance data of your weightlifting workouts and in order to track your personal progress, this method is sufficiently accurate in my eyes. But this decision is, of course, up to you! ?
Counting Calories
Besides the heart rate values, it is the calorie expenditure that interests many athletes most. In order to count the calories, most fitness trackers rely heavily on the steps taken.
However, as already mentioned, relying on the steps alone is not very meaningful. For a more accurate determination of the calorie expenditure, you'll need a fitness tracker that tracks your heart rate, no matter if via chest strap or optical sensor.
There is no fitness tracker that can count your calories with a 100% accuracy, but the calorie values of a good fitness tracker are still definitely useful and can give you a good picture of the intensity of your strength training.
Finding good fitness trackers for weight training is not that easy, despite the huge offer. In the following, I would like to introduce you to the best models in this category from my point of view! ?
The Best Fitness Trackers for Weightlifting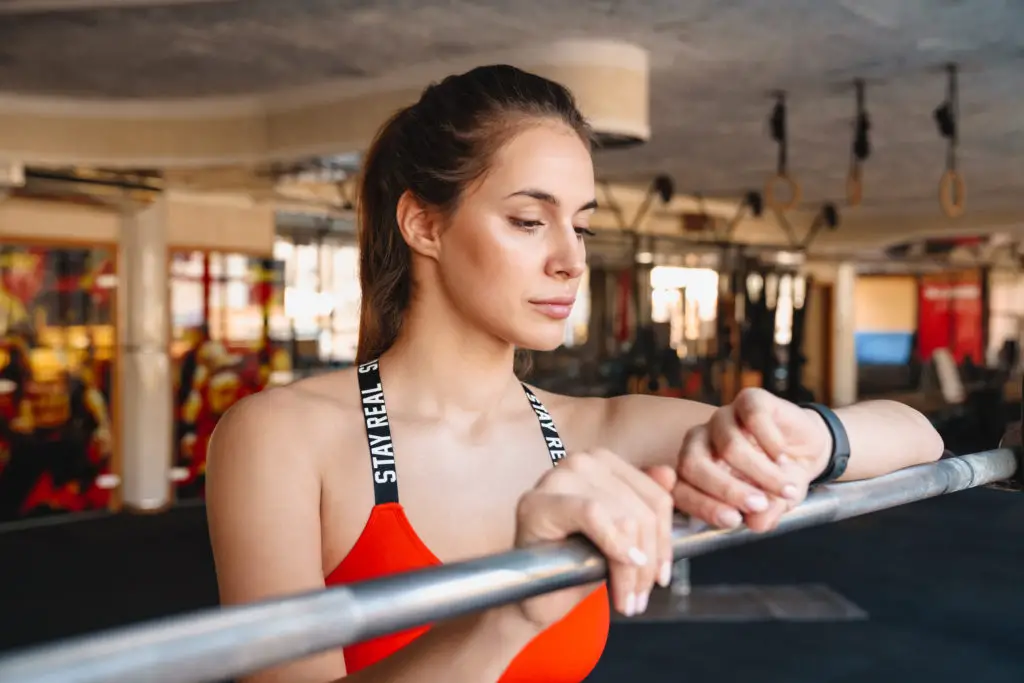 Garmin Vivoactive 4
The fitness market is flooded with an endless amount of products. Unfortunately, this also means that there are more and more cheap low-quality goods. I would recommend you to choose one of the proven manufacturers, especially when it comes to weightlifting. A good example of such a manufacturer is Garmin.
Garmin is a true giant on the sports market and has been convincing its customers for many, many years with products of the very highest quality. For strength athletes and weightlifters, the Garmin Vivoactive 4 in particular has emerged as an excellent model.
This sports watch is a true all-rounder! The heart rate monitoring is accurate and reliable, and the watch itself is super suitable for everyday use. And now for the really interesting part: The Garmin Vivoactive 4 comes with over 40 preloaded workout plans and animated exercises for your weight training, which you can play on the display.
The watch can automatically count repetitions during the workout, and afterwards you can look at numerous interesting data and facts about your strength training in the detailed smartphone app.
If there is a fitness tracker that comes close to the concept of a personal trainer, then it is the Garmin Vivoactive 4 in my eyes. By the way, this watch also has its own music storage, which is another quite interesting feature for the gym.
I already had the pleasure to wear the Vivoactive 4 for many months, even during my weightlifting workouts, and as you can see, I'm really excited about this watch, but I'd say it's best if you take a look at it for yourself. Here you will find it.
Garmin Vivosport
Yet another Garmin tracker. As you can see, I really think highly of this manufacturer. I have never really been disappointed by a Garmin product, so I am not surprised that the Garmin fitness trackers are among the absolute bestsellers year after year.
If the just presented Vivoactive 4 is a little too expensive for you and you can do without some of the many additional features, then the Garmin Vivosport might be interesting for you: It is a slim fitness wristband that lives up to its name, because the focus here is really on sports.
And weight training is not neglected either. The heart rate can be measured with an in-built optical heart rate monitor and the calories are calculated in combination with the data from the motion sensor.
It also comes with a weight training mode that automatically counts your reps. Personally, I'm not a big fan of this feature and prefer to leave it to handwritten notes, but for some this may certainly be quite useful.
The bottom line is that the Garmin Vivosport isn't as feature-rich as the Vivoactive 4, but for this price, I don't think you'll find a better model for weight training. Once again, I would advise you to take a look at this fitness tracker for yourself. Here you will find it.
Polar Vantage M
Now I have talked so much about Garmin, that I almost forgot that there is another sports manufacturer, which is known for watches and trackers of the very highest quality: I would almost have a guilty conscience if I ended a best of list about fitness trackers and sports watches without at least mentioning the Finnish manufacturer Polar.
After all, Polar trackers are almost always a good choice! The Vantage M is a fantastic sports watch that I can highly recommend. It would certainly go beyond the scope of this article to list all of the advantages of this device, so I let's try to keep it short.
The Polar Vantage M is convincing due to its high suitability for everyday use, its accurate and innovative heart rate monitoring and last but not least due to its very good price-performance ratio. In addition, Polar watches always come with the Polar Flow app, that's just a fantastic add-on to the device itself.
It is very detailed and just a dream for almost every athlete. There are up to 130 different sports that you can choose between among which you will obviously find weightlifting as well. Otherwise, you can also edit already tracked training sessions in retrospect and classify them as strength training.
In addition, that watch comes with a Smart Coaching feature, that serves as a digital personal trainer for your weight training and provides you with individual training plans.
I could certainly go on for hours talking about this watch, but I guess that again, it's best to just take a quick look at this product for yourself. Here you can do so.
Final Thoughts on the Best Fitness Trackers for Weightlifting
Fitness trackers are becoming increasingly popular and rightly so! Whether in everyday life or during sports – a good fitness wristband can assist us around the clock with plenty of useful features. Fitness trackers can also be a very useful purchase for weight training, from which you may not expect the qualities of a personal trainer and not the accuracies of medical studies, but from which you can still benefit greatly.
I hope that I could help you with this article. If you still have further questions or would like to share your own experiences on using a fitness tracker for weightlifting, feel free to contact me. ?